Freedom From Fibroids
Jun 09, 2018 Cedars-Sinai Staff
For 2 years, Mocha Anderson planned her entire life around the cantaloupe-sized fibroid growing in her uterus.
---
"Fibroids can take over, and mine took over. Now I'm free, and if I'd known, I'd have had them removed long ago!"
---
"Fibroids can take over, and mine took over," says Anderson, 49. "Now I'm free, and if I'd known, I'd have had them removed long ago!"
Fibroids are hard, compact, noncancerous tumors that can grow into the wall of the uterus. They can be as small as a pea or as large as a melon. For Anderson, they interfered constantly.
She lists the ways. Intimacy? Not with the bleeding, pain and belly bulge. Vacations? She was hesitant to schedule one because she never knew when the pain and bleeding might be especially bad. Cute pastel sundresses? Forget it.
"Every single time I wore white—guaranteed—somebody's tapping me on the shoulder to tell me I've bled through my clothes," she says. "Every. Single. Time."
---
---
A problem that grew too big to ignore
Fibroids are common. As many as 80% of women will have a fibroid by age 50. African-American women have an even higher chance of developing fibroids. Pain, heavy bleeding, bloating, increased urination, fertility problems and pain during sex are among the problems they can cause.
"They account for up to $9 billion in annual healthcare costs," says Kelly Wright, MD, a surgeon at the Cedars-Sinai Minimally Invasive Gynecologic Surgery Center. "They're a huge problem."
These tumors sometimes will shrink during menopause, or not cause symptoms. Women may choose to "watch and wait" before considering surgery. But for women with severe symptoms or fertility problems, surgery may be the best option.
Anderson had put off considering surgery, hoping she'd be lucky and her fibroids would shrink as menopause approached. That wasn't the case. Anderson's fibroid grew large enough that several times she was congratulated on being pregnant. Her clothes were tight, and the bleeding became more frequent and more severe. She decided she needed to talk to a doctor about surgery.
Anderson is no stranger to operating rooms. She's worked in them at Cedars-Sinai for 28 years as a surgical technician, preparing the OR for surgeries by making sure the tools were all there and everything was sterile. Being a patient herself, however, was new.
She told her doctor she wanted a minimally invasive hysterectomy, which would remove her uterus through several small incisions. Her doctor told her that her fibroids were too big, and she'd have to consider a traditional surgery that would leave a large scar across her stomach.
---
---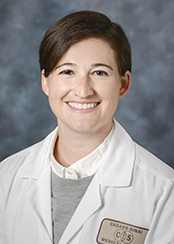 Minimally Invasive Gynecologic Surgery
Guerin Children's Provider
Minimally Invasive Gynecologic Surgery
Guerin Children's Provider
Guerin Children's Provider
In-person

&

Telehealth

Visits
Seeking a second opinion
The news devastated her. She shared her disappointment with her co-workers, including a few surgeons, and was pointed toward Wright. Wright was confident after her appointment with Anderson that the surgery could be completed with small incisions.
"She just told me, 'Mocha, I've got you. I can do this,'" Anderson says.
Not every woman is a candidate for the minimally invasive approach, such as women who have certain types of cancer or are at high risk of cancer.
"Otherwise, it's a misconception that large fibroids can't be removed in a laparoscopic fashion, but many physicians don't feel comfortable taking out a large uterus this way," Wright says.
---
---
In addition to less scarring, which was especially important to Anderson, minimally invasive surgeries often mean shorter recovery times. When Anderson woke up, she was expecting to head to a hospital room. Instead, she was allowed to go home the same day.
The word Anderson uses again and again when she talks about her life without fibroids is "free." Free to make plans. Free from pain and worry about the bleeding.
Make an Appointment
---
Find a Doctor
Call Us 7 Days a Week, 6 am - 9 pm PT