Taking Control of ALS - Advice for Patients and Families
May 29, 2017 Cedars-Sinai Staff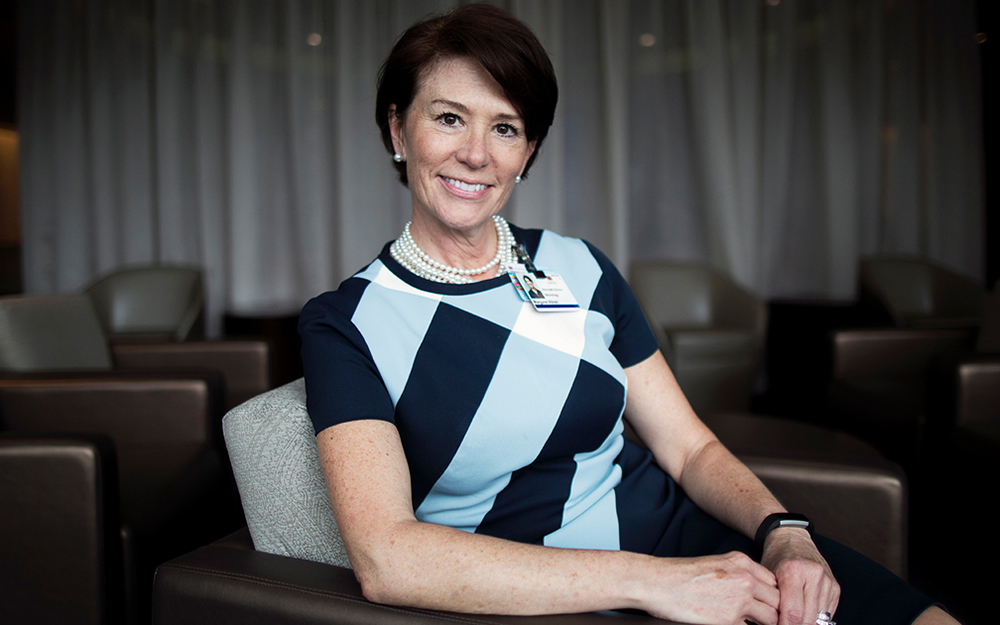 Peggy Allred often meets people who have just been diagnosed with amyotrophic lateral sclerosis, or ALS.
She's worked with ALS patients her entire career and is often the first person new patients meet at Cedars-Sinai. She is now associate director of Neurology, and 6 months ago was the administrator of the ALS research program at Cedars-Sinai.
As the first person families may interact with after an ALS diagnosis, she hopes to provide education to patients so they can make informed choices. She is passionate about being the go-to person in the clinic, talking to patients about opportunities at Cedars-Sinai and beyond. And she welcomes questions about clinical trials here and at other medical centers.
---
"It's important to be hopeful, so let's not embark on anything that will take that away."
---
"The first thing patients do is Google ALS, and they get terrible information," she says. "The headlines are always: You're Going to Be Dead in Two Years, Were You Misdiagnosed by Your Doctor? Stem Cell Research Is the Cure. There is a horrendous amount of unchecked information."
Peggy sees herself and the team of doctors, speech pathologists, and nutritionists as a safety net for patients.
"We are your Cedars-Sinai gut check, so when a family member sends you that news article or blog they read, send it to us and we're going to say, 'Here is scientifically what we know, here are the reliable resources in your area.' It's important for you to be hopeful, so let's not embark on anything that will take that away."
---
"The lack of a cure is not a reason to give up the fight."
---
ALS is a group of rare neurological diseases that affect the neurons responsible for controlling the muscle movements we need to walk, breathe, talk, and eat. Some know it as Lou Gehrig's disease, after the famous New York Yankees player who set many baseball records before he retired due to the disease.
The disease grows worse over time, and there is no cure or treatment that can reverse its progression. More than 90% of cases seem to occur at random, with no clear risk factors or family history of the disease.
The lack of a cure is "not a reason to give up the fight," says Peggy.
"The progression of the disease can be controlled if you take the time to work with a dedicated team," she says. "At Cedars-Sinai we've built an ALS clinical trial portfolio, and access to trials for patients with ALS to ensure that we have research opportunities no matter where they are in the disease process."
Peggy Allred's tips for ALS patients and their families:
You don't have to do anything at first
There are no rules. ALS is usually not a fast-moving disease, so it's OK to take your time to process before taking action, she says.
When the time is right, find a program that specializes in amyotrophic lateral sclerosis
Working with an internist alone limits your care options. In a program like Cedars-Sinai's, you find a team familiar with the specific issues facing ALS patients: doctors, researchers, dietitians, counselors, nurses, and others who take an interdisciplinary approach to patient care. You will also learn about trials that your internist may not be aware of. Allred recommends seeking out programs recognized by the ALS Association as centers of excellence.

There are three ways to look at clinical trials
Weigh the cost to your body, your mind, and your finances. Make sure you're not putting too much stress on any one area of your life. Contributing to research is often meaningful and important to patients, and clinical trials may provide access to new treatments. Consider your decision carefully, she says.
Embrace technology
For patients in middle stages of ALS, there are devices to record your voice before the degeneration of the vocal cords. There are also electric wheelchairs and accessories that increase mobility by using your eye movements. Look into all of the medical tools to ease communication because communicating at every stage of your treatment is very important for patients, families, and caregivers.
Take control of your ALS
The road to managing amyotrophic lateral sclerosis has many forks, many decisions about treatment. At each crossroad, your decision can extend your life and make it easier. Having your plan and wishes known ahead of time helps you maintain control.
Get comfortable asking for help
Have a chatty friend with the gift of gab? Ask her to get on the phone and help you find a clinic. A sister who's a great cook? Reserve a meal with her on weekends. It's important for ALS patients to maintain their weight, stay hydrated, and keep their pulmonary system as clean as can be. Call on the people around you, and let them know how they can help.
Make an Appointment
---
Find a Doctor
Call Us 7 Days a Week, 6 am - 9 pm PT