A Technology Transfer Office Success
Jul 02, 2018 Cedars-Sinai Staff
More than 15 years ago, Mark Pimentel, MD, executive director of the Cedars-Sinai Medically Associated Science and Technology Program, had a hunch that an antibiotic might alleviate the suffering of his patients with irritable bowel syndrome (IBS). This widespread, debilitating disorder affects an estimated 35 million people in the United States.
In 2000, Pimentel hit on the idea that IBS might be a bacterial disorder that could be treated with antibiotics. "It was a paradigm shift," he said, explaining that at the time, IBS was most often viewed as a psychological disorder brought on by stress.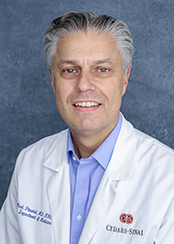 ---
"The investigator is the most valuable piece in this relationship. We have 'the keys to the car.' We design the clinical trials. We bring the players to the table."
---
Pimentel began studying rifaximin, which was then prescribed in Europe to treat traveler's diarrhea, because unlike some other antibiotics, it did not seem to generate drug-resistant bacteria. Now he just needed to persuade the drug's U.S. marketer, Salix Pharmaceuticals Inc., to give him a shot at exploring whether rifaximin would work on IBS.
It is not just Pimentel's scientific talent that accounts for these developments, as he will readily concede. Cedars-Sinai's experts on intellectual property have helped him at every step of what he called "a long, arduous process"—and one well worth the effort, he added.
"The only way to help millions of people is to go through this process," Pimentel said in an interview discussing Cedars-Sinai's acquisition of patent rights and a licensing agreement for his groundbreaking use of rifaximin to target IBS.
After a brief exploratory contact with Salix, Pimentel consulted James Laur, vice president for Technology and Business Affairs, and the Cedars-Sinai Technology Transfer Office (TTO). "They were involved from day one," Pimentel said. The TTO crafted a confidential disclosure agreement, or CDA, between Cedars-Sinai and Salix to ensure that any shared information was kept private. (Premature disclosure of an invention can jeopardize the patent.)
---
---
Once the CDA was in place, the TTO negotiated a research agreement and, later, licensing and other pacts. Their expertise relieved Pimentel of a big responsibility. "It's important that the inventor does not be the financial negotiator," he explained. "Jim and his team have all the tools to do that."

Throughout his journey from discovery to pending FDA approval of his invention, Pimentel has been hands-on. "The investigator is the most valuable piece in this relationship," he said. "We have 'the keys to the car.' We design the clinical trials. We bring the players to the table."
In 2003, Pimentel had a chance encounter with a Salix marketing executive at a medical conference that led the executive to pitch his rifaximin concept to the corporate board. "Two weeks later, the licenses began coming in," Pimentel recalled.
---
---
Salix went on to fund multiple studies by Pimentel, working with the Cedars-Sinai Industry Sponsored Research Office to negotiate the clinical trial agreements. These studies included a double-blind clinical trial published in 2006 in the Annals of Internal Medicine that showed rifaximin to be the first potential drug treatment to provide IBS patients with long-lasting relief even after they stopped taking the medication.
Today, his treatment has received approval by the U.S. Food and Drug Administration, and he regularly receives inquiries from drug companies wanting to collaborate with him on research. The drug could be prescribed for IBS in the United States.
Cedars-Sinai continues to benefit from Pimentel's rifaximin discovery, acquiring a series of patents related to different uses of the antibiotic in IBS cases.
But in the end, Pimentel said, the key reason for pursuing legal protection of his invention was to improve healthcare. "We did it because we wanted to cure patients," he said.
---
---
And that would be an incredible enough story, if that is where it ended.
After receiving FDA approval for the use of rifaximin (brand name Xifaxan) for the treatment of IBS-D, Salix Pharmaceuticals began paying Cedars-Sinai significant royalties for the use of the technology that Pimentel invented. The Cedars-Sinai TTO has led the process of protecting its intellectual property rights and licensing them to Salix.
The royalties that Cedars-Sinai receives from sales of Xifaxan, are first shared with the inventor, in accordance with the Cedars-Sinai royalty sharing policy. The Cedars-Sinai share of royalty income is used to help fund its ongoing research programs.
Salix Pharmaceuticals has been acquired by Valeant Pharmaceuticals, a much larger pharma company. This provides expanded markets and distribution resources for Xifaxan, leading to increased sales, greater royalties and broader contribution to ongoing research.
---
Make an Appointment
---
Find a Doctor
Call Us 7 Days a Week, 6 am - 9 pm PT