Student Pursues 'Dream' in Magnetic Resonance in Medicine
Sep 28, 2022 Sarah Spivack LaRosa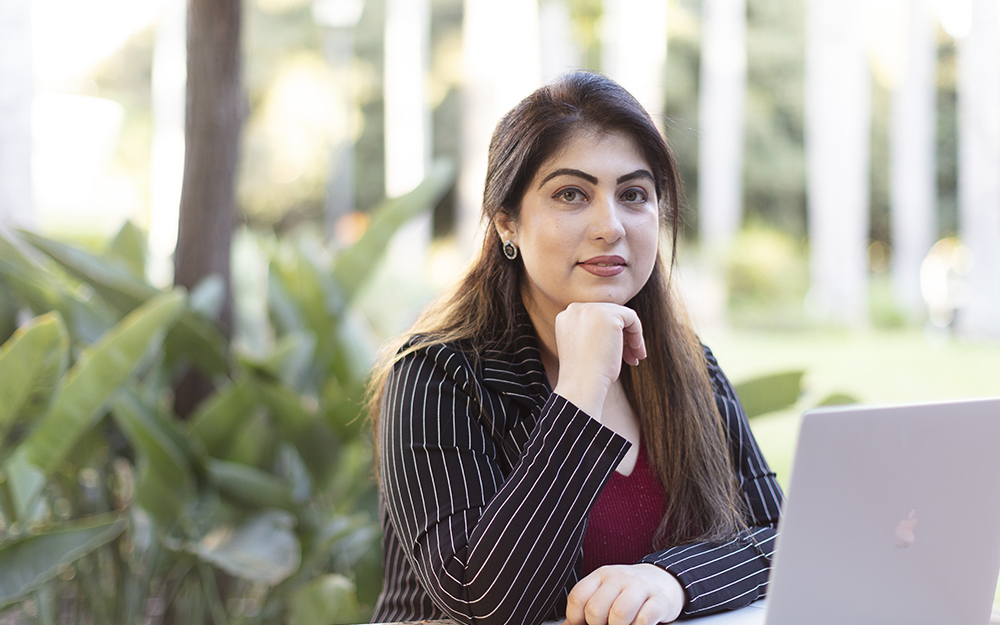 Sehrish Javed is a phenom, according to Debiao Li, PhD, her mentor.
"Sehrish is one of the most motivated students I have ever worked with during my 30-year career as a professor. She is an inspiration for anyone who wants to pursue a dream through dedication and hard work to overcome challenges," says Dr. Li, director of the Biomedical Imaging Research Institute in the department of Biomedical Sciences at Cedars-Sinai. "She benefited greatly from the highly collaborative training and research environment at Cedars-Sinai and we are proud of her accomplishments."
Sehrish completed the Master of Science in Magnetic Resonance in Medicine program at Cedars-Sinai in 20 months instead of the usual two years and published three scholarly papers while pursuing her degree. She accomplished all this while juggling three kids under the age of 8—and she's not finished yet. She hopes to enroll in a new PhD program in imaging in Fall 2023.
While she is dedicated to pursuing a career in imaging, Sehrish says her academic path has not always been smooth sailing.
---
"It's so magical that you can see within the body and analyze these images."
---
How did you get interested in medicine and imaging specifically?
Sehrish Javed: I had a strong inclination to medicine from the start. Whenever I used to read anatomy and physiology as a part of my bachelor's degree subjects, it captivated me. However, right after finishing my degree 12 years ago, I got married and couldn't continue my studies. But at that time my husband was pursuing his doctoral degree in medical imaging, and he would discuss all his research with me.
It's so magical that you can see within the body and analyze these images. Participating in his studies amazed me and enhanced my motivation to study and work in this field. But it's funny—whenever I thought to resume my studies, I got pregnant. This happened three times, and I had to postpone my plan twice—but not the third time!
---
---
With three young children, when did you finally find the time to enroll in the
Cedars-Sinai

master's program?
SJ: It was hard to find the time and a suitable opportunity. First, our son was born when we were living in London. Then we moved to New York City and that's where we had our first daughter. We moved to Los Angeles, where I got pregnant with our second daughter. I was so determined to get enrolled in Cedars-Sinai's master's program that I started preparing for the GRE exam during my pregnancy when the other two kids were under 6.
It was challenging for me to focus on studies while going through an emotional roller coaster due to hormonal imbalance. But I did not give up and kept preparing for the entry exam even during a 10-night hospitalization at Cedars-Sinai for my daughter's birth. I was lucky to have my husband by my side, who is now a research scientist at Cedars-Sinai in Dr. Li's group. He shared all the household and child-rearing responsibilities to make this transition smooth for me.
How did the
Cedars-Sinai

program support you in your studies?
All the contributions I have been able to make are because this team is so good—Dr. Li and the other faculty are so encouraging of new students. When I stepped into this, my background was not in this field, but the teachers here were very accommodating. They scheduled classes according to the needs of the students, understanding that we are all different and catering to each of us.
---
---
You've published three papers in one year—quite a feat for anyone, much less a master's student. What are you studying?
SJ: I was fortunate enough to participate in a major R01 project in Dr. Li's lab on predicting pancreatic cancer. The continued guidance from my supervisor, Dr. Li and other teachers enhanced my knowledge and abilities to make appropriate use of the time and given resources. I was introduced to several issues related to cancer prediction and possible solutions. Working on these projects was challenging but exciting too as there was not a single day that I did not learn something new.
What discoveries did you make?
SJ: For my first project, I created a model for predicting a form of pancreatic cancer called pancreatic ductal adenocarcinoma (PDAC). We had pre-diagnostic images from patients who developed PDAC later in life. These CT scans were considered normal at the time of the screening. We identified hundreds of features on these scans that are invisible to the naked eye and indicate cancer risk. We used the knowledge of those features to generate an artificial intelligence model capable of examining an image and finding those abnormal features. The AI trains itself and learns to tell you if an image shows a pattern that indicates PDAC might develop later in life.
I mapped the pancreas in a novel way for another project. Many techniques are available to delineate the pancreas, but no one has ever attempted to label the boundaries of the internal structure of the organ. The pancreas has a head, body and tail. That matters because different types of tumors appear in the different regions—and they need to be treated differently.
I made a model that can use CT images to segment the pancreas into these sub-regions, which could be helpful to make more specific predictions about where a tumor will arise, to enable better treatment plans. We have new funding from the NIH to do an expanded version of this study, collaborating with multiple centers so we can do a larger analysis and create a more robust model.
What obstacles have you faced on your career path?
SJ: I'm originally from Pakistan but grew up in Saudi Arabia where it's uncommon for women to get graduate education. Most females understand that it requires much struggle and sacrifice to get a master's degree after one gets married. So being a wife and mother where I come from, it's not imaginable to obtain such a valuable degree—and to be able to pursue my dreams in a field which is not only a career but a service to humanity. It's something I cannot take for granted. I could never dream of having the life I have now.
---
---
What excites you about the future?
SJ: My goal is to contribute to the field of applied AI in medicine. I want to be someone who can help in the diagnosis and prediction of cancer. I have lost family members to this disease. Whatever I do, I always think the science needs to be more precise; we need to save more lives.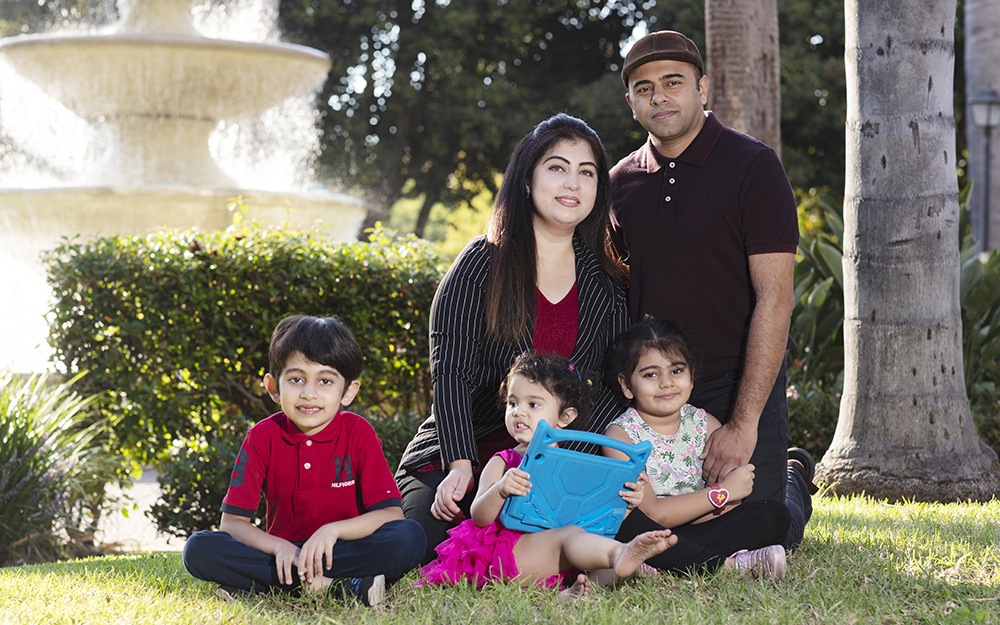 Make an Appointment
---
Find a Doctor
Call Us 7 Days a Week, 6 am - 9 pm PT