At Sibling Support Day, Kids Bond with New Siblings Even Before They Meet
Aug 30, 2017 Cedars-Sinai Staff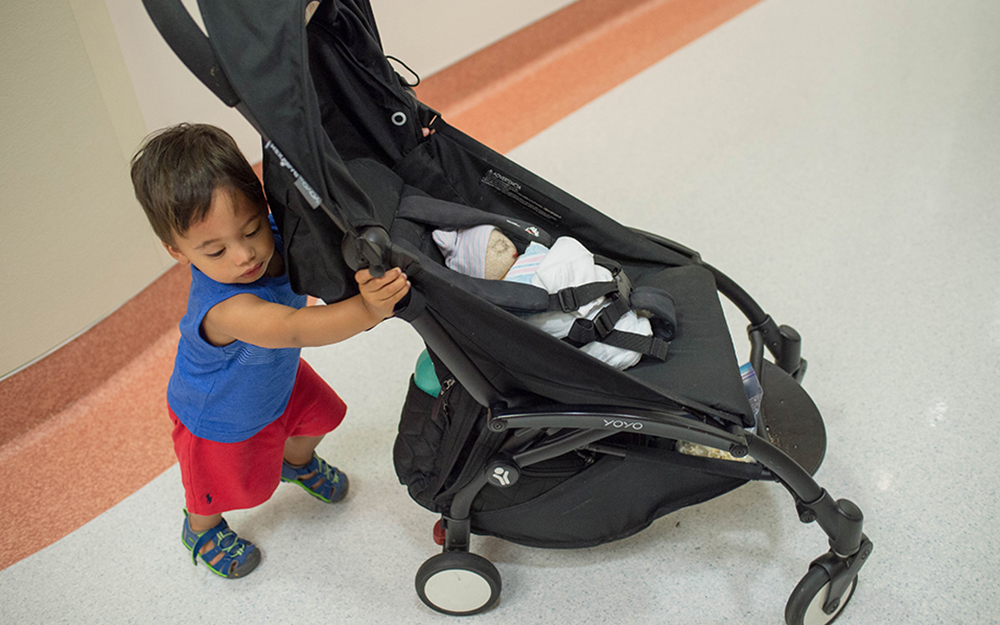 Meredith Shafer cannot wait to meet her newborn baby sister.
Sporting a yellow t-shirt with the words "My sister rocks," the 2-year-old gently cradled and kissed a homemade doll weighing exactly 6.31 pounds, the same as her newborn sister Magnolia, who was born prematurely.
"Shhh. It's ok baby," whispered Meredith as she rocked the doll.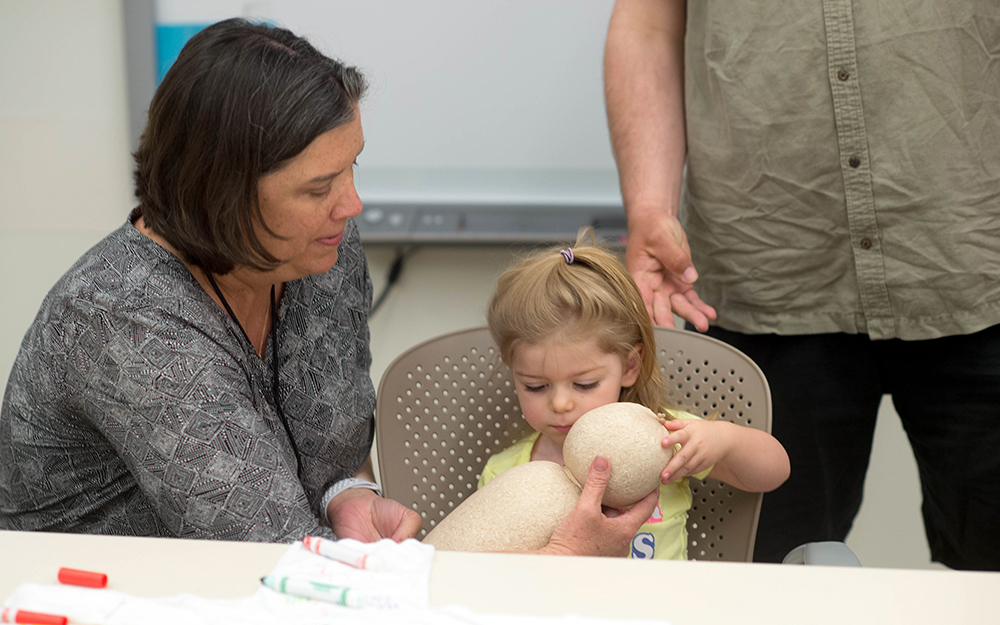 At Sibling Support Day, kids with siblings in the Maxine Dunitz Children's Health Center neonatal intensive care unit (NICU) create dolls to represent their newborn brother or sister. The dolls are made of nylon knee-high socks filled with dry rice and they weigh exactly as much as the new baby brother or sister.
Children younger than 3 are not allowed in the NICU, so the dolls provide big brothers and sisters a unique way to "interact" with a new sibling they haven't yet gotten to meet. The dolls give kids a chance to see what it's like to hold and talk to the infant before the baby comes home.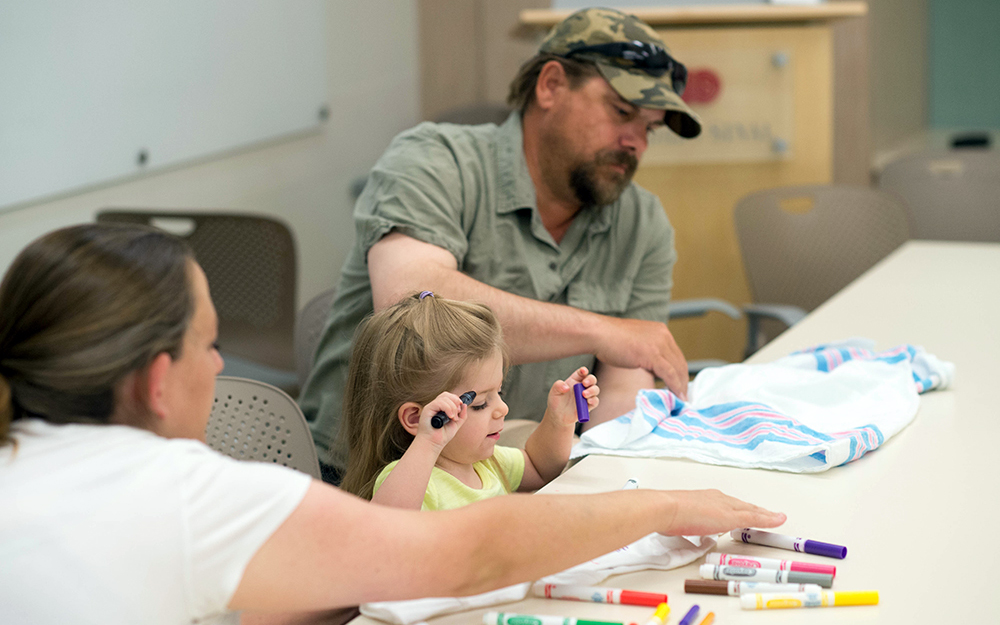 "In the NICU it's all about the baby, mom, and dad, but this day gives the other children in the family ownership and the ability to bond with their little brother or sister," says medical social worker Randie Cloutier-Chaine, who started the program in February.
Sibling Support Day offers the whole family a time to do something fun together and it gives kids an opportunity to express their feelings—good or bad, happy or sad, says Randie.
Each family is given a doll, a onesie, and a baby beanie to decorate with markers.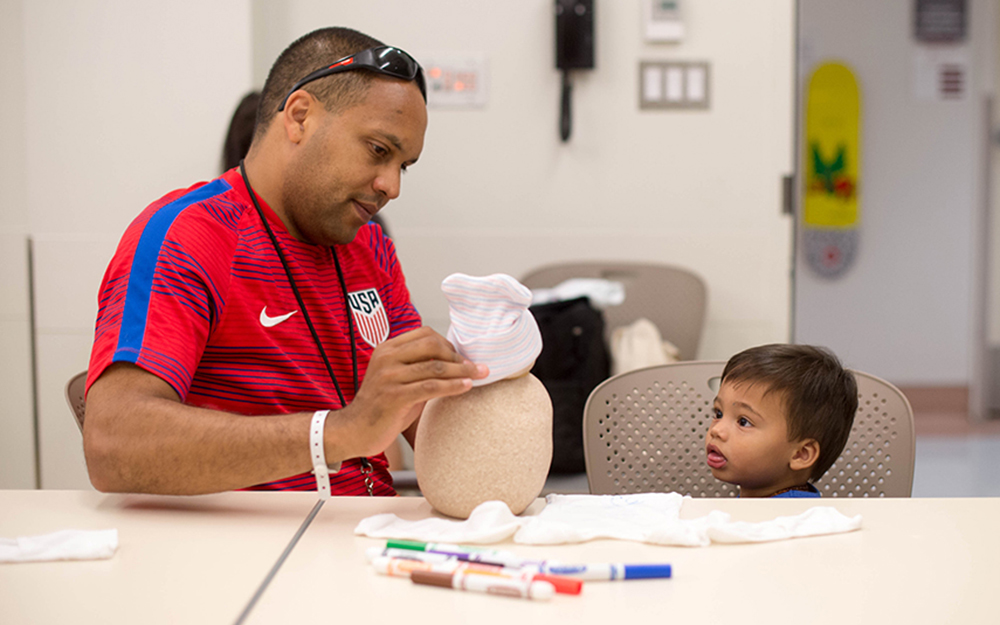 Parents help new big brothers and sisters learn how to hold the baby, put on a diaper and beanie, and wrap the infant in a blanket.
---
---
"Even though Magnolia isn't home yet this was a great way for Meredith to relate to having the baby around," said Jennifer, Meredith and Magnolia's mother.
As Meredith talked to her "baby sister," Jennifer says she couldn't help but get emotional.

"I thought it was so sweet. She was kissing her and telling her it was going to be ok," said Jennifer. "I really can't wait for Magnolia to come home and see that caring, sweet side of Meredith."
Make an Appointment
---
Find a Doctor
Call Us 7 Days a Week, 6 am - 9 pm PT