Post-ICU Clinic Supports COVID-19 Patients After ICU Stay
Jan 18, 2021 Cedars-Sinai Staff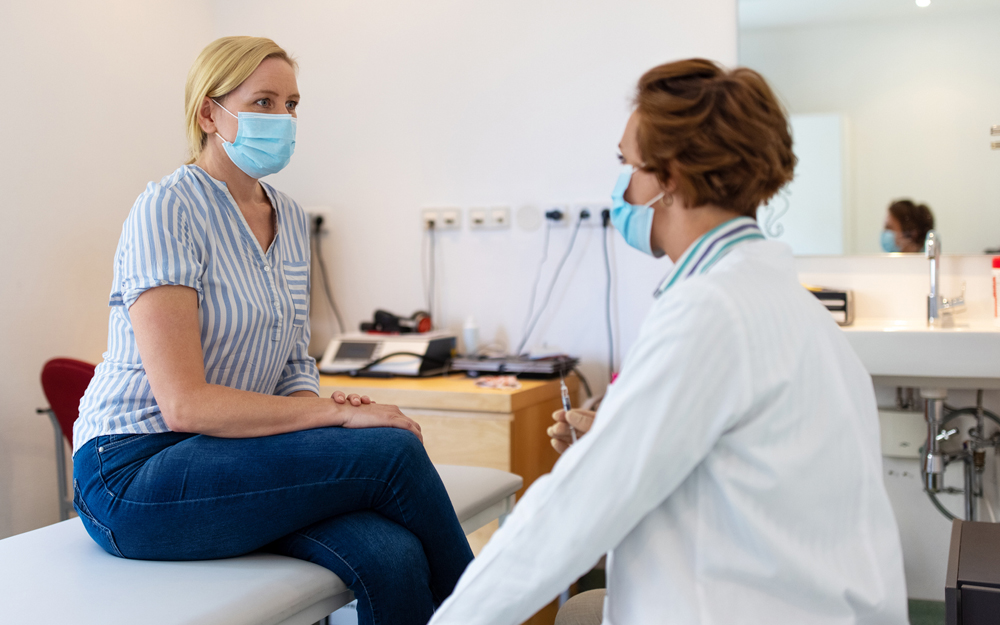 For many patients, the road to recovery from critical illness does not end with discharge from the Intensive Care Unit (ICU)—that is often just the beginning.
Patients who have COVID-19 or another critical illness that results in an ICU stay are at risk for continued health complications—physical, mental and emotional—long after discharge. Post-intensive care syndrome (PICS) is an umbrella term for a collection of symptoms that may present in these patients following a stay in the ICU. 
---
"It's great to be able to get people back from severe illness. Any critical care physician will tell you it's satisfying to see someone doing well. Now it's just as rewarding to know we can provide the care and resources patients need after leaving the ICU, too."
---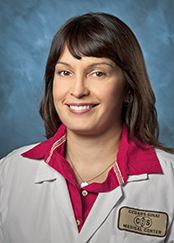 The likelihood of developing PICS can increase for patients who experience severe disease such as sepsis or septic shock, or who have received treatment that includes mechanical ventilation.
PICS can present with a variety of symptoms, including breathing difficulties, muscle weakness or neuromuscular pain, organ impairment such as kidney failure, and decreased memory or other cognitive decline.
"What people don't often think of is that patients can end up developing a lot of deconditioning, as well as psychiatric and cognitive affects that are less noticeable," says Dr. Isabel Pedraza, director of the Medical Intensive Care Unit at Cedars-Sinai. 
"You can tell when someone is short of breath, but you may not always be able to tell when someone is having cognitive difficulties. A very large proportion of patients who were critically ill develop memory impairments that don't allow them to return to their job in the first year."
---
---
The emotional symptoms can cause long-term disruption to a patient's quality of life. Studies done on patients with PICS show that they present with post-traumatic stress disorder (PTSD) at nearly the same rate as combat veterans. 
Often, patients are initially admitted to the ICU due to advanced respiratory problems. Pulmonologists, as ICU providers, know what medicines patients are prescribed, understand the effects of mechanical ventilation and are aware of specific therapies that can improve patient outcomes. More than just the ability to work up a pulmonary problem, pulmonologists understand how a stay in the ICU can negatively affect a patient's health—in both the short and long term.
---
---
Major research and academic medical centers such as Cedars-Sinai are leading the charge, opening post-ICU clinics to screen patients for PICS symptoms, monitor recovery and direct patients to relevant specialists.
This coordinated approach ensures patients receive tailored care for long-term symptoms associated with a stay in the ICU. A post-ICU clinic, like the one at Cedars-Sinai headed by Dr. Pedraza, gives physicians the tools they need to screen, diagnose and treat these patients across specialties.
With her background in critical pulmonology, Dr. Pedraza is well-suited to the task of assessing post-ICU respiratory symptoms and problems, in addition to the myriad of other symptoms with which patients may present. Dr. Pedraza has long been frustrated with the knowledge that patients are discharged from the ICU and left to battle continued symptoms and complications on their own—often without awareness of PICS as a syndrome. 
"Our job in the post-ICU clinic is to use our expertise, exams and questionnaires to screen patients for symptoms of PICS," says Dr. Pedraza. "We then refer the patient to the appropriate specialist. We have a multidisciplinary group of specialists who are interested in this topic and prepared to provide comprehensive care to these patients." 
After months of work by Dr. Pedraza and her team, Cedars-Sinai launched its post-ICU clinic in January 2021. The team partners closely with hospitalists, discharging physicians and case managers to screen patients in the hospital and again within 30 days of discharge for symptoms such as organ failure, respiratory difficulty and cognitive decline, as well as mood-related conditions such as anxiety, depression or PTSD.
---
---
The need for a post-ICU clinic was exacerbated during the COVID-19 pandemic as more patients were admitted and discharged from the ICU. Now, the team in the post-ICU clinic works closely alongside experts in the COVID-19 Recovery Program to ensure patients are receiving the best care possible. The programs serve similar patient populations and often work to treat similar symptoms.
Because of the incredible volume of patients in a relatively short span of time, the COVID-19 pandemic presents a unique research opportunity and has illuminated the long recovery that many critically ill and hospitalized patients face following discharge.
Physicians treating patients in the ICU have classically been focused on immediate short-term outcomes—saving patients' lives. As medicine evolves and treatment of COVID-19 and other critical illnesses improves, physicians have broadened their focus to longer-term outcomes and quality of life for post-ICU patients. 
"It's not always that you go to the ICU and survive and then things are great," says Dr. Pedraza. "That's very much not the case. An ICU stay is a life-changing event."
---
---
Life-changing for patients, certainly, but for their families as well. Long-term support for families —support groups, partnerships with other post-ICU clinics in Southern California and a financial assistance program—is on Dr. Pedraza's radar for the future.
In addition to being medically challenging, an ICU stay can be incredibly stressful financially. Many families struggle to recover from the medical, emotional and financial stress of an ICU stay, especially when the patient is the primary earner. 
More than anything, Dr. Pedraza speaks with hope and pride when it comes to increasing positive medical outcomes for these patients.
"It's great to be able to get people back from severe illness. Any critical care physician will tell you it's satisfying to see someone doing well," says Dr. Pedraza. "Now it's just as rewarding to know we can provide the care and resources patients need after leaving the ICU, too." 
In fact, physicians and ICU staff can benefit from PICS awareness and the post-ICU clinic, as well. Studies have shown that information about patient improvement and positive outcomes following a hospital stay can boost morale.
---
---
"It's hard to see people dying—especially when they are alone in the time of COVID-19," says Dr. Pedraza. "It's a high level of tragedy day in and day out, and it's reassuring to know that what you're doing makes a difference. I would love for the clinic to continue to grow so that ICU staff can have the opportunity to interact with patients who have survived their critical illness."
Dr. Pedraza hopes that through this work, she can help spread awareness to other physicians of the cost—financially, medically and emotionally—of an ICU stay. As more physicians recognize the need to screen patients for symptoms of PICS, more patients can get the help they need. 
Make an Appointment
---
Find a Doctor
Call Us 7 Days a Week, 6 am - 9 pm PT