Cedars-Sinai Nurse Educator Shares Gratitude With Song
Apr 06, 2020 Cedars-Sinai Staff
On a recent Sunday morning, the start of another long and uncertain workweek, Gregory Eichelzer, RN awoke to an encouraging note.
From the window of his West Hollywood apartment building, he had a clear view of a giant thank-you note, pasted by a neighbor on her apartment window.  
---
"It's a wonderful feeling to have that kind of support and rewarding to see nurses gaining recognition."
---
Moved by this message, just one in an outpouring of gratitude from friends, family and neighbors, Gregory took to his balcony to sing a song of solidarity to his building. In his rendition of Josh Groban's "You Raise Me Up," he substituted "me" for "us," to represent all healthcare workers.
Gregory, a clinical nurse educator in the Cedars-Sinai Emergency Department, belted out the tune to applause and hollers from neighbors on their balconies, on the roof and through their windows. A video posted to Facebook drew hundreds of comments and requests for more songs.
"I think it's time we all keep raising each other up, and as a healthcare worker, it's important that you're helping us," he says in the video, during an interlude in the song. "We're scared, but we can get through this together."
Gregory trains the Emergency Department nurses who are on the front lines caring for an escalating number of patients with COVID-19. Curriculum has shifted dramatically since the pandemic erupted, he says
---
---
Nurses are practicing procedures and protocols while wearing extra personal protective equipment, such as masks, and adjusting to performing their duties with far fewer clinicians in patient rooms in order to reduce staff exposure. 
Gregory praises the nurses he trains for remaining nimble and committed to treating their patients. 
"Part of being an ER nurse is flexibility," he says. "You're expecting anything to come through the door at any time, so they already have that skill set during this pandemic. They're able to adjust at a moment's notice."
---
---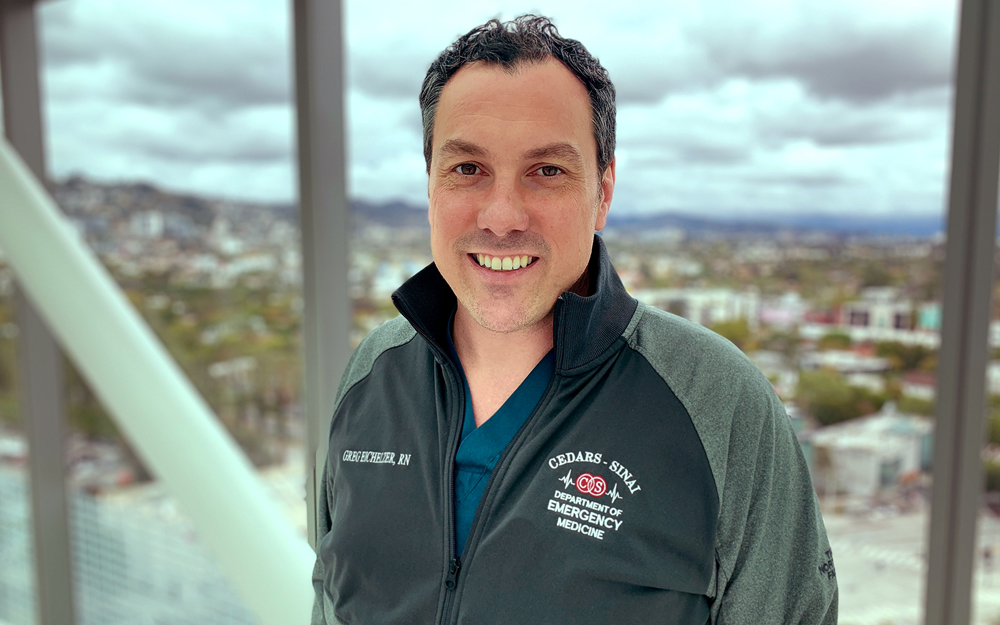 Gregory says he's humbled by the global recognition of essential workers, citing the citywide 7 p.m. clap in some areas of New York, which coincides with shift change for healthcare workers.
He says his serenade also was inspired by requests from neighbors citing videos of Italian citizens singing together from balconies while confined to their homes. 

"I've sung my whole life, and my building knows that I sing—so I just thought it would be a good way to thank them," he says. "It's a wonderful feeling to have that kind of support and rewarding to see nurses gaining recognition."