MS Patient Finds Care & Support She Needs
Jul 15, 2017 Cedars-Sinai Staff
Anyone who wants insight into artist Michelle Constantine just needs to look at her work. You'll find elaborate quilts shaped like F-16 fighter jets, glittery silkscreens, or collages that represent geography of Los Angeles. Look a little more, and you'll see paintings of syringes and representations of drugs such as prednisone.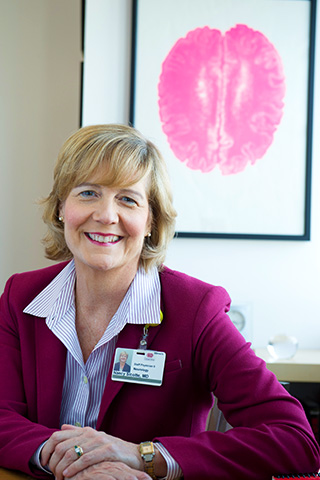 Or, take a peek into the office of Nancy Sicotte, MD, and see the image of a brain.
It's there for a reason. Sicotte is the director of the Cedars-Sinai Multiple Sclerosis Center, and Constantine is one of her patients. The image is of Constantine's brain scan, reimagined as a piece of art by the artist.
Art is life for the 31-year-old artist and educator, and even with multiple sclerosis, that's not going to change if she has anything to say – or create – about it.
"The definition of who I am is more tied to what I do and how I do it. I never wanted multiple sclerosis to be something that is a focus in my life," said Constantine, who was diagnosed with multiple sclerosis in 2006. "Being an artist, educator, culturally Lebanese and from Los Angeles is who I am. And by the way, I have MS."
In the spring of 2006, Constantine was halfway through receiving an art degree from Art Center College of Design in Pasadena, when she woke up one morning to find her legs numb from the thighs down.
"I literally woke up one morning and it felt like I slept funny, but then it didn't go away," she said.
---
"She's best thing that has happened to me in terms of my health care as a person with MS. Dr. Sicotte has always made me feel like she truly cares."
---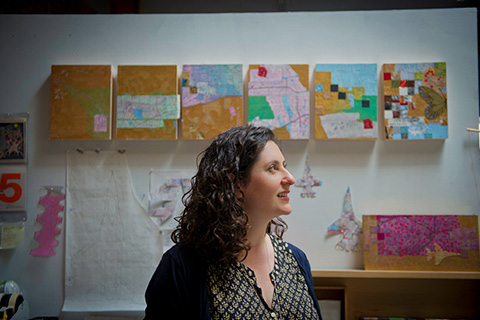 Thinking it was stress from school, sleep deprivation or a pinched nerve, Constantine was confused. At the time, the 23-year-old with curly brown hair looked and felt normal for the most part, but she felt something else was happening under her skin.
She visited her primary care physician and a couple of neurologists, who eventually diagnosed her with multiple sclerosis, the disease when a person's immune system mistakenly damages healthy nerves in the brain and spinal cord. The damage disrupts or stops the normal flow of nerve impulses, hindering body function.

Constantine began searching for a neurologist who was compatible with the way she wanted to live her life and in tune with the latest research. When she crossed paths with Sicotte, she immediately knew there was a connection. She ended up following Sicotte when she became director of the Cedars-Sinai Multiple Sclerosis Center.
"She's best thing that has happened to me in terms of my health care as a person with MS," Constantine said. "Dr. Sicotte has always made me feel like she truly cares."
Sicotte said what has stood out to her about Constantine is her commitment to having a full, rewarding life despite her diagnosis, by finishing art school, working, hosting multiple art shows, getting married and participating in four National Multiple Sclerosis Society MS Challenge Walks, raising thousands of dollars each time.
---
---
"Just because you get a diagnosis of multiple sclerosis doesn't mean your life ends," Sicotte said.
Soon after being diagnosed with multiple sclerosis, Constantine started to create two bodies of work based on life experiences – the first exploring her body's role in the medical process and the other reflecting her experience of being displaced from a war zone.
"I find as an artist, anything you make is who you are, so I'm constantly reweaving things back in from my life," Constantine said.
She created silkscreens of her MRI brain and spinal scans, using bright colors and textures. She also started to paint work about her medications, including a 7-foot syringe inspired by the injections of Copaxone she had to take to regulate relapses of multiple sclerosis.
Her other work focused on a trip to Lebanon the summer after being diagnosed. That was the time of the 2006 Lebanon War, or the 2006 Israel–Hezbollah War, which forced Constantine to be evacuated. The war left a visual imprint in her mind – specifically that of F-16 fighter jets tearing across the sky. She decided to make a large quilt using feminine fabric, while also cutting out images of the fighter jets, making a series of prints and adding glitter.
But the one work that stands out to Sicotte is the neon pink brain in her office.
---
---
"I was really touched by it, and very impressed by her decision to use her disease as the basis for her art," Sicotte said. "It was her way of processing it, and it was soon after she was diagnosed and she was trying to come to grips with it and that's the way she does it. I thought it was very therapeutic for her and I was very touched that she gave me such a beautiful image."
Constantine is surrounded by the images she created in a shared studio in Eagle Rock. A skylight illuminates a portion of the space where she creates. When she's not there, she's teaching two classes at the Art Center and three UCLA extension classes, two of which are online.
"My average day changes, depending on what I'm teaching and what projects I'm working on," Constantine said. "But the only place where MS fits in is in the evening when I give myself my injection on Monday, Wednesday and Friday, unless I have a relapse, or I'm really fatigued, but those things can be expected."
After participating in the 2014 MS Challenge Walk – an annual three-day, 50-mile walk from Carlsbad to San Diego – Constantine has now charged herself with starting her own foundation or nonprofit for young adults, women or artists who have multiple sclerosis.
---
---
"I keep thinking, if someone would have given me $5,000 when I got out of school, when I was struggling and thinking about health insurance and what to do with my life, I could have taken the money and could have focused on my goal of being an artist," she said. "I think about how my life could have been different if I received some kind of financial support and I was thinking about how I could make that kind of impact for somebody else."
What multiple sclerosis has given Constantine though is empathy, strength and has made her aware of how much she's able to deal with and what others are going through.
"I think in the same way that MS affects every person differently who has it, I think that people approach it differently," Constantine said. "My approach is that I don't want it to define my life. I want my life to be just the way it is going to be, with MS included."
Tags:
Make an Appointment
---
Find a Doctor
Call Us 7 Days a Week, 6 am - 9 pm PT