Navy Veteran Gets Lifesaving Heart Surgery
Jul 09, 2021 Captain Eric Axel Jensen as told to Bill Sullivan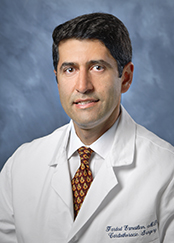 My name is Captain Eric Axel Jensen, and I served as a U.S. Navy attack pilot during the Vietnam War, flying missions from the deck of the aircraft carrier USS Coral Sea in the South China Sea. But there is another war that I survived, and Dr. Fardad Esmailian helped me win that battle.
A few days before New Year's 2013, I experienced severe back pain, was driven to the emergency room and diagnosed with a staph infection, or MSSA. Within a couple of days, this deadly bacteria had swept through my body—including my spine and every internal organ. My kidneys, liver, lungs and heart were all compromised. Three of my vertebrae came under attack, and had the bacteria advanced further, I would have been paralyzed.
Doctors at a hospital in Orange County told my wife that I had the worst case of MSSA they had ever seen, and a lot of people with a lesser attack had died. As the days in intensive care turned into weeks, my wife watched as I suffered a series of strokes and my body began to decline. I became so full of fluids that I looked like the Michelin Man.
---
---
The bacteria had eaten through the aortic valve in my heart, and my lungs were filling with fluids. Doctors warned that death was imminent, and I was put on life support. Unable to get a clear plan of action, my wife and daughter considered options. My daughter is an ICU nurse and suggested Cedars-Sinai in Los Angeles. Soon, I was on a helicopter bound for L.A.
I arrived in the ICU at Cedars-Sinai in an induced coma. And it was here that Dr. Esmailian entered our lives. Three of my heart valves were leaking, and signs of brain problems were emerging. My only hope was to repair the heart valves.
I was brought out of my coma just long enough for Dr. Esmailian to explain the surgery. Dr. Esmailian was honest and direct with us: The only way was open-heart surgery, and without the surgery I would surely die. With the surgery, I might also die, but he was prepared to give it his best shot.
After three hours of surgery, Dr. Esmailian emerged from the operating room and told my wife that the operation had been a success. He had successfully replaced my aortic valve with a bovine (cow) valve and repaired my mitral valve.

---
---
I remained intubated after surgery. My blood is notoriously thin and was not coagulating. It took six hours and many platelet transfusions to thicken my blood, then I had to go back into surgery to clean up all the blood lying inside my chest.
This second surgery was also a success. The surgery was on February 4, and I remained intubated for several days. Then they inserted a trach, but I couldn't speak. On February 14, they inserted a voice box which enabled me to speak. I looked over at my wife, Joan, and spoke my first words.
"I love you," I said.
I was totally unaware that it was Valentine's Day.
Dr. Esmailian's skill had given my heart and lungs the traction that they needed to survive. Once released from Cedars-Sinai, I was able to recover and get my life back. I was also able to avoid dialysis for my kidneys, even after stage 3 kidney and liver disease. My success was helped by having been in strong physical condition prior to the illness. I owe my survival to the wise, loving and attentive care of my wife, Joan, and by the miraculous surgery provided by Dr. Esmailian.
Recovery required determination. Each week, I pushed my walk a little farther every day until I reached my current range of 3-4 miles several days a week. I work in the garden and do a lot of maintenance jobs around the house. Although I still get a bit lightheaded and tire more easily, my follow-up exams show that I am doing great. I have traveled to England several times and been on many cruises, where I've been able to swim, snorkel and dive under water.
---
"Dr. Esmailian's skill had given my heart and lungs the traction that they needed to survive."
---
After a massive infection once inhabited my entire body, I am now medication-free. I am a walking miracle, and a picture of me is posted on the Miracle Wall at the hospital in Orange County—even though it was Dr. Esmailian at Cedars-Sinai who saved me. Most importantly, I've had seven more years with my wife, two children and three grandchildren. I am grateful for each day. Life is most precious with those you love.
Every Christmas I write a holiday card containing a heartfelt "THANK YOU" for saving my life to Dr. Esmailian. I am convinced that Dr. Esmailian's courage to take on my losing battle and his skill as a surgeon delivered me. I was surprised to receive a handwritten letter reply.
"It is I who needs to thank you," said Dr. Esmailian. "For if you had not fought to protect this country, I would not have the privilege to pursue my career as a thoracic heart surgeon."
It was then that we realized that there is a circle of relationship and commitment between doctors and patients that becomes sacred. The miracle of having our lives come together at a critical point in time reminded us that there are heroes among us each and every day.
---
Tags:
Make an Appointment
---
Find a Doctor
Call Us 7 Days a Week, 6 am - 9 pm PT