Living the Part: Hip Replacement a Medical Miracle for Actor
Sep 01, 2018 Cedars-Sinai Staff
Actor Danny Woodburn managed his career while living with severe pain. After two hip replacement surgeries, he can truly focus on his craft.
Danny Woodburn finds himself standing a lot — on sets, during auditions, and, sometimes, on the red carpet. He's an accomplished stage, film and television performer, and a veteran of the comedy club circuit. However, during most of his years in the public eye, the spotlight has been eclipsed by chronic pain.
---
"I had never lived a life where I didn't feel my bones ache"
---
Danny was born with spondyloepiphyseal dysplasia congenita (SEDC), a type of dwarfism. The rare genetic disorder affects collagen, the substance that supports the hardening of bones. Over time, walking or standing caused Danny's femur to grind against the hip bone, resulting in the deterioration of cartilage.

"I had never lived a life where I didn't feel my bones ache," says Danny, who is best known as the irrepressible Mickey Abbott on Seinfeld.
When the discomfort became so severe that it prevented Danny from walking down the block, cooking, visiting museums, or focusing on his profession, he turned to the specialists at Cedars-Sinai Orthopaedics.
There, he found doctors who were not only compassionate, but who understood the complexities of his body. They gave Danny a solution that could liberate him from his pain: hip replacement surgery.
---
---
A Challenging Role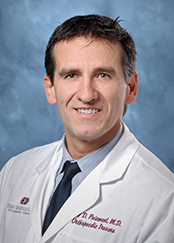 About 30,000 people in the U.S live with one of the 400 types of dwarfism. SEDC occurs in about 1 in 100,000 births and is associated with early-onset osteoarthritis, pain, inflammation, damage to joints, and dislocation of the hips.
By age 20, Danny had endured 16 surgeries. Some were for hardware removal while others were osteotomies, which are operations to cut or lengthen the bones: five surgeries on his hips, four on his knees, and two on his ankles. "Operations are usually inevitable for individuals like Danny," says Dr. Guy Paiement, Danny's orthopaedic surgeon and the residency director for Orthopaedic Surgery at Cedars-Sinai. "Without some type of reconstruction of the bones, most little people will become impaired, and will need a walker or wheelchair to remain mobile."
Recovery sometimes required Danny to wear a body cast that started at his toes and ended just above the navel. Each time a body cast came off, Danny had to relearn how to walk. Before being discharged from the hospital, he would spend up to four weeks doing intensive physical therapy, sometimes 11 times per week, just to be able to walk with crutches.
The pain did not stop Danny from pursuing both a college degree and a career. Nor did it prevent him from tirelessly advocating for people with disabilities. "Having a disability does not make you brave," he says. "Fighting through the road blocks society puts up for people with disabilities is what makes you brave." Danny serves as the co-vice chair of the SAG-AFTRA PWD Committee, an advisory member to the National Disability Theatre Company. He also works with the Ruderman Family Foundation International Council on Disability and co-authored the Ruderman White Paper on Employment of People with Disabilities in Television.
According to the paper, people with disabilities make up nearly 20% of the U.S population but are significantly under-represented on television. Even when characters with disabilities are portrayed, more than 95% are played by able-bodied actors.
"My advocacy for little people is born out of my own experience," says Danny, "but it has expanded to all disabilities."
---
---
A New Independence Day
In 2005, Dr. William Brien, an orthopaedic specialist at Cedars-Sinai, started keeping a close eye on Danny. He had Danny come in for regular checkups and monitored the pain that was radiating from his hips.
Years later—under the care of Dr. Paiement—Danny underwent his first hip replacement surgery in 2014. He felt strong and continued to work for a couple years — until his left hip began to collapse. The problem came at an especially inopportune time: Danny was wrapping a movie in Canada that required him to sing and dance. The constant pressure on his left hip made the pain, and the work, unmanageable.
Dr. Paiement identified the source of Danny's excruciating pain: his left femur ball wasn't lining up properly with the hip socket. The constant friction caused the hip joint to deteriorate quickly, resulting in the pain, swelling, and stiffness Danny felt throughout his body.
To gain access to the deteriorating socket, Dr. Paiement had to cut part of the femur and the adjacent muscles. After inserting a customized titanium femur ball and socket, he re-attached the muscles. It was July 5, 2018. "I call it my new Independence Day," says Danny. "At 54, I can walk without pain and I have Dr. Paiement to thank for that."
While many hip replacements have a longevity of about 20 years because the metal wears down, "Danny's hips will last him a lifetime," says Dr. Paiement, who has spent the last decade working closely with the Little People of America Inc. to better understand their unique anatomy. "Danny weighs about 125 pounds, which puts less stress on his new hips and increases their durability," he explains.
---
---
A Red Carpet Moment
Six months after his left hip surgery, Danny attended the premiere of a film he starred in, Anthem of a Teenage Prophet. As expected, there was a lot of standing, shifting weight from one leg to the other, walking, and talking.
If not for the hip replacements, Danny says he would have been in enough pain to be distracted and short-tempered at the event. Instead, he was able to work the carpet and enjoy himself. "Dr. Paiement quite literally extended my career," he says. That's exactly what Dr. Paiement says he wants for Danny — to remain a working actor free of hip pain.
"I finally got to experience a completely unconscious ability to walk, stand, and chat with people without being reminded that I have pain to attend to," says Danny. "And that's what I call a medical miracle."
Make an Appointment
---
Find a Doctor
Call Us 7 Days a Week, 6 am - 9 pm PT