Focusing on Helping Others
Jul 20, 2017 Cedars-Sinai Staff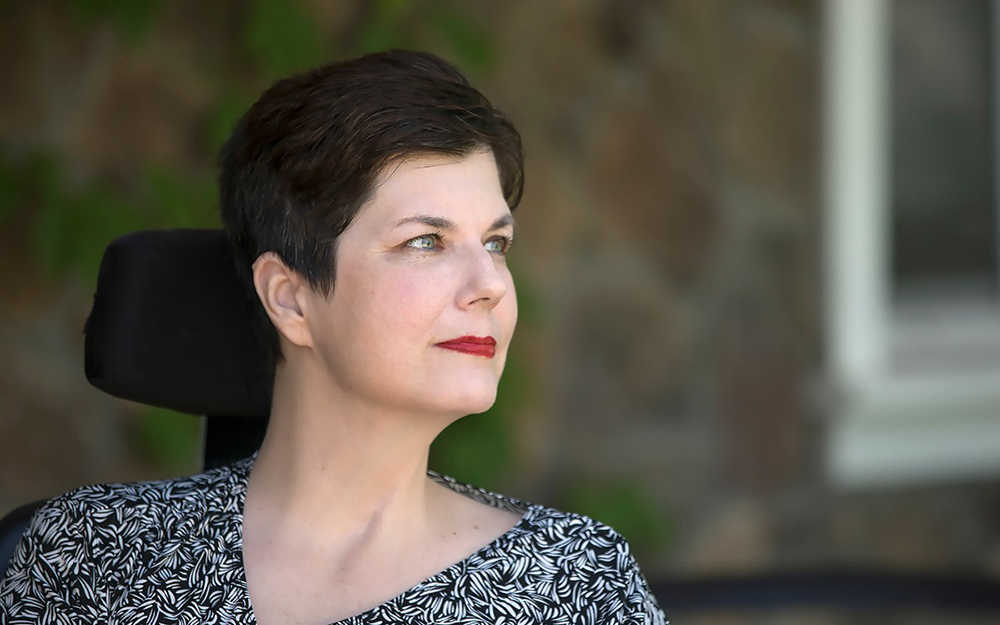 Mary Huffman sums up her philosophy for living with ALS simply. She's going to Stephen Hawking her way through it. For her, that means being her best every day, and finding a way to help someone else.
Mary Huffman solves problems.

After she tried coloring mandalas and picked up a few of the coloring books that have become popular for adults, she didn't like the format. So, she designed a beautiful and practical new version with a friend and turned it into a thriving online business. If a wall is empty, she has an inspirational quote that can go there. If someone is in need, she finds a way to help.
That much has stayed the same since she was diagnosed with amyotrophic lateral sclerosis, or ALS, in September 2017. Every day is still about how she can help someone.
"I wear a shirt with my philosophy on it," says Mary, 48. "It says, 'ALS Mom. I'm going to Stephen Hawking the crap out of this.'"
---
"Every single person I interact with is warm and caring and knowledgeable. They all have good senses of humor. They make me feel so well cared for that, even going through this, I have the confidence that I'm getting everything I need."
---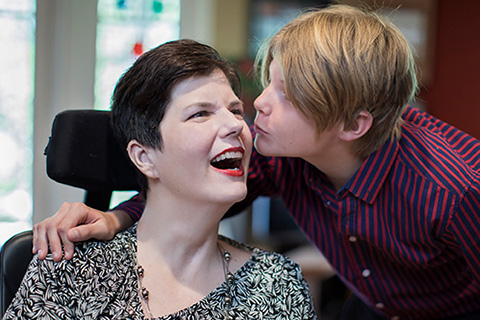 Those are Mary's own words as she draws inspiration from the most famous person to have ALS since Lou Gehrig. Hawking, the brilliant theoretical physicist, lived and continued to work for more than half a century with the disease. ALS affects the nerve cells of the brain and spinal cord that control muscle movement. A little more than 6,000 people in the U.S. are diagnosed with the disease each year.
So far, ALS is a disease without a solution. There isn't a cure in sight. Treatment is focused on improving comfort and quality of life. Mary was diagnosed with the fast-moving form of the disease, and now must stay in bed much of the time.
One of the first things she did after being diagnosed in September 2017 was set up a website—Mary's Legacy—devoted to helping people. She shares her story, photos, and a practical list of tips and life hacks for those with ALS or mobility issues. Her "Mary's Life Tricks" section is smart and sometimes offers funny advice for everything from taming the "anxiety monster" to handling criticism with grace. She updates it regularly and stays active in online ALS communities from her tablet computer.
---
---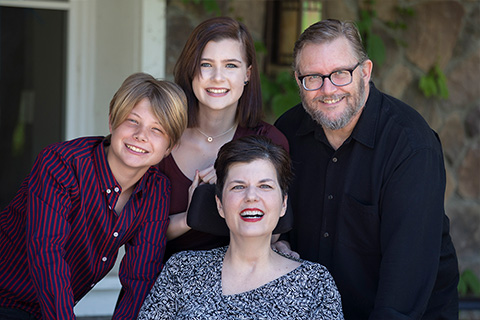 Friends call Mary a joy-bringer, a cheerleader, someone who can stay positive "without being Pollyanna." Sums up her 15-year-old daughter, Anna, "She's like Snow White, always kind to everybody.
Kindness to all was a value she learned at home. Mary grew up poor. Neither of her parents had a high school diploma. They inspired her to see the value of hard work and education. This drove her to do volunteer work as well as to study rigorously. She earned a bachelor's from UCLA and an MBA from Stanford University. While she was at Stanford, Mary met her husband, Ted Huffman, when their eyes met across a crowded room at a party. Within a few years, they were married and moving to Europe together. They worked and traveled there for 5 years, then came home to Southern California to start a family.
"He has stuck with me through hundreds of adventures, and difficulties as well," Mary says. "And he just has the greatest sense of humor."
---
---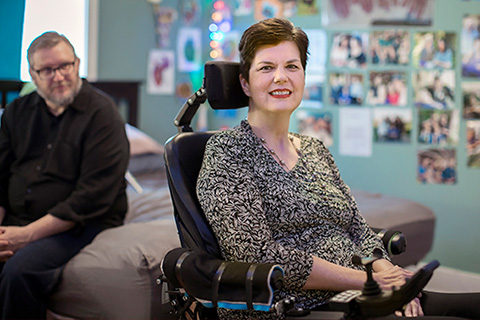 Their two children, Anna and 13-year-old Johnny, are a lot like their mom in many ways. As a 3rd-grader, Johnny started his first charitable fundraiser to help a younger kid who had cancer. He did the same when a teacher at his middle school had a brain tumor.
After learning of her mother's diagnosis, Anna asked a question that surprised and moved her mom.
"Should I live my teen years normally, making mistakes and learning? Or should I be perfect to make you proud?" The answer came easy to Mary. "I told her that being able to articulate that makes me so proud. Learn now. Don't wait to learn later."
Mary's room is lined from floor to ceiling with memories. Snapshots from her brother's recent wedding, vacation selfies, arms slung around friends and loved ones during some wonderful times. It includes new memories, too. Every visitor takes two selfies with Mary, a pretty portrait and a goofy one.
---
---
Then there's a panoramic group shot of more than 60 loved ones, gathered around her at a party held last fall shortly after her diagnosis.
"This has helped me so much to stay positive," Mary says. "Just to have everyone smiling at me all day."
She spreads this positivity through her coloring book business, too. She just published a coloring book with a licensed social worker that combines anxiety-busting strategies with stress-relieving coloring exercises. It has some of her favorite features—the spiral at the top makes it lay flat and easy to color, thick pages, and a heavy cardboard backing so you can even color on your lap.
Her drive to give back plays a role in her treatment at Cedars-Sinai. She's donated pages from her coloring books for Cedars-Sinai to give to other ALS patients and their families. She likes that her care team has so many of the traits that she values.
"Every single person I interact with is warm and caring and knowledgeable," she says. "They all have good senses of humor. They make me feel so well cared for that, even going through this, I have the confidence that I'm getting everything I need."
---
Make an Appointment
---
Find a Doctor
Call Us 7 Days a Week, 6 am - 9 pm PT