Faces of Cedars-Sinai: Neurologist Dr. Marwa Kaisey
Apr 19, 2021 Katie Rosenblum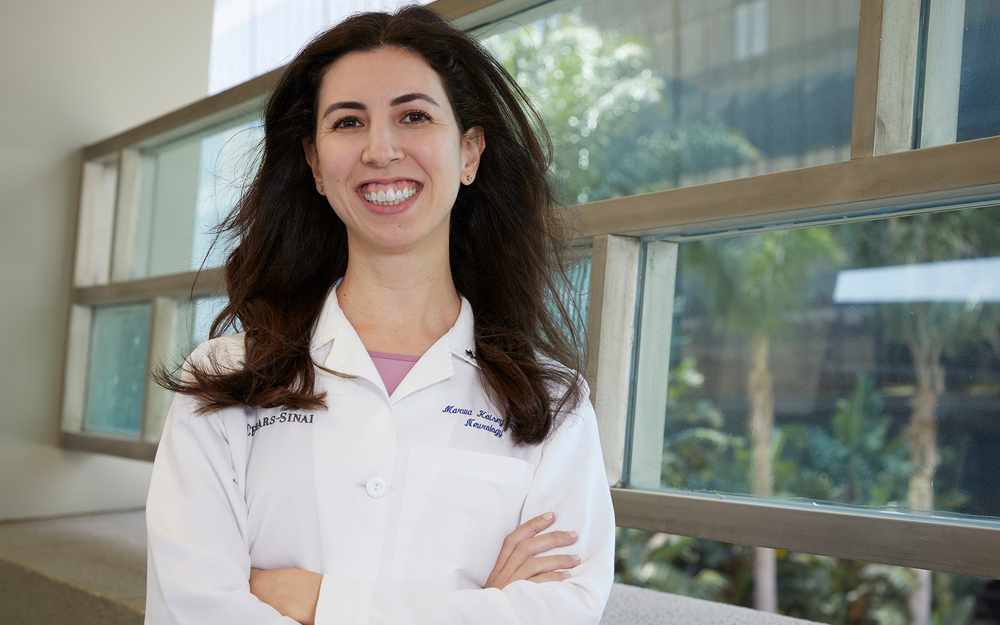 My patients are often diagnosed young, often in theirs 20s and 30s, and I like having the tools to be there for them and guide them through this process.
---
Why did you pursue neurology?
Dr. Marwa Kaisey: I originally went to school for marine biology but took a neuroanatomy class and found it was the most fascinating thing I'd ever studied. I decided I wanted to be a neuroscientist and further understand how this object, the brain, is the basis for who we are and how we think. 
I worked in a neuroscience lab with mice and cells as an undergrad but really missed human interaction. Neurology was the perfect fit—I could continue my fascination with the brain and interact with people every day. 
---
---
Why did you choose MS as your specialty?
MK: It felt like an inevitable path. In neurology I liked the outpatient clinic side, then MS felt like a great fit because there's a lot we can offer in terms of treatment. It can be a devastating diagnosis to get, but it comes with a lot of options that allow us to help patients maintain neurologic function and a great quality of life.  
My patients are often diagnosed young, in their 20s and 30s, and I like having the tools to be there for them and guide them through this process. My mom was diagnosed with MS when I was a teenager, so maybe some part of me wanted to do it for that reason, too. 
---
---
What do you love most about your job?
MK: The long-term relationships I build with my patients. MS is not a curable disease, but it is usually treatable. I see my patients for years and get to know them as people. I get to know their families (before COVID-19), hear about career moves and be a part of their lives. I get to see their milestones in life such as getting married and having babies. 
I also love the variety in my day. I spend half my time on clinical work and half on research and teaching. It never gets boring. That's something I love about the Department of Neurology at Cedars-Sinai in particular—many of us work in multiple spaces and collaborate on our teaching, research and patient care. 
---
---
Where did you grow up?
MK: I was born in Baghdad. My family's been there for over a thousand years, but I've lived in Jordan, England, Philadelphia and then San Diego. I did my undergrad at UCLA and then went to med school at the University of Michigan before coming back to L.A. for residency. So, I've been all over! 
What do you love about living in L.A.?
MK: So many things: It's a place with a lot of diversity, great food and beautiful weather. 
What do you like to do when you're not working?
MK: Before COVID-19, my husband and I liked to travel. We liked going to music shows—we're both big hip hop fans, and I grew up on classical music. We also love live stand-up comedy and trying new restaurants. 
You recently became a mother. Do you have any advice for working moms?
MK: I'm not one to give advice since I'm so new to motherhood, but I'm trying to be present and put my phone away when I'm with my daughter. My schedule is very busy, and she goes to bed early, but I try to make sure I have some time with her every day—and I want to make that time count.
Make an Appointment
---
Find a Doctor
Call Us 7 Days a Week, 6 am - 9 pm PT