Faces of Cedars-Sinai: Dr. Geoffrey Marecek, Orthopaedic Trauma Surgeon
Nov 23, 2021 Amy Paturel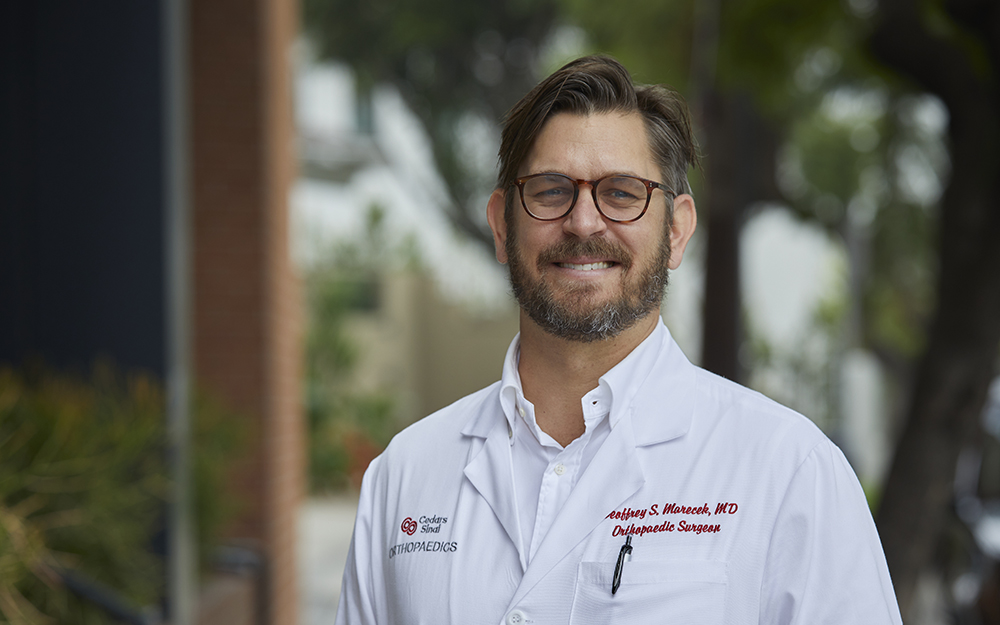 A traumatic injury from a car accident, gunshot wound, even riding a bicycle, can halt lives in an instant. In many cases, patients and family members are forced to make life-altering decisions during the most stressful moments of their lives.
With clear communication, high tech tools and compassion, Dr. Geoffrey S. Marecek, an orthopaedic trauma surgeon at Cedars-Sinai, helps put patients back together while ensuring they receive the most comprehensive care available. We asked him to share the ins and outs—and highs and lows—of operating under pressure.
---
"I went into orthopaedics because I loved the idea of meeting people, making them better and sending them on their way quickly. "
---
Why did you decide to specialize in problem fractures and bone defects?
Dr. Geoffrey S. Marecek: I majored in biomedical engineering as an undergraduate and that taught me the basic mechanics that apply directly to orthopaedics. During my second year of residency at Northwestern in Chicago, Dr. Milton "Chip" Routt, now professor in the Department of Orthopedic Surgery at UTHealth, presented an educational session on pelvic fractures and I was hooked.
He was doing things I had never seen—it was mind-blowing. I secured a fellowship with Dr. Routt's team where I learned how to tackle the most difficult fracture cases. So when I took a position at USC to rebuild the trauma center there, the most complex cases related to problem fractures and bone defects tended to find me.
---
---
What are the most common injuries that bring people to the
Cedars-Sinai

trauma center?
GM: Cedars-Sinai is the busiest trauma center in Los Angeles. We see gunshot victims, people involved in car accidents and athletes with complex injuries. We take care of patients with pelvic fractures, clavicle fractures, femur fractures and more. Now we're developing a niche program where patients come to us after they've been treated unsuccessfully elsewhere.
Maybe there's bone loss within a fracture or maybe they're a year or two into a reconstruction process and their bones are not healing well. In those cases, patients come to us because they need a the most cutting-edge science to address their problems.
---
---
Can you describe some of the cutting-edge techniques you are using now, and those on the horizon?
GM: We have made tremendous strides related to bone transport, and recently, we became the first center in the West to use automated technology for deformity correction. So instead of patients manually turning different colored struts multiple times a day as part of their treatment plan, we're able to upload a program into the external software, so the necessary adjustments happen automatically.
This new technology is not only more convenient for patients, but it also prevents common adjustment errors that can lead to treatment delays. The field of deformity correction and bone defect management is really exploding. Over the next two to five years, I expect that new technology around stem cells and 3D printing will allow us to fill in bone defects with less surgery and a lower risk of complications.
What is the greatest challenge in communicating to patients what needs to be done after a traumatic injury or ongoing orthopaedic pain?
GM: Trauma is challenging. People have to make big decisions during a stressful time in their lives. In many cases, there are conversations about amputation. Some patients are relieved they have the option. Others want to exhaust all other approaches before they even consider amputation.
No matter which type of trauma a patient has endured, it can be difficult having conversations related to their care. There's a lot of crying and second-guessing. Ultimately, my job is to meet patients where they are and help them understand their options so they can make the best decisions based on their unique circumstances.
What surprised you about this type of work?
GM: I went into orthopaedics because I loved the idea of meeting people, making them better and sending them on their way quickly. But with problem fractures and bone defects, I develop these really long relationships with people where I see them continually over the course of four or five years. I get to know many of my patients really well. So when it's finally time to say goodbye, it's like bidding farewell to your college friends after you graduate.
---
---
What is the best part of your job?
GM: Orthopaedic surgery is a team sport, particularly in the niche area of bone defects, limb salvage and amputee care. The group of orthopaedic trauma surgeons we have at Cedars-Sinai is unmatched. More than their skill as surgeons, they're just good people who have similar goals and values. So it's a great place to work.
You feel valued both as a physician and as a person. Equally important, these complex cases require a full range of care, including brilliant plastic surgeons, vascular surgeons, rehabilitation specialists, nurses and supporting staff. I always wanted to surround myself with top-level people, and we have the best in the business.
---
---
What do you do when you're not in the operating room?
GM: I really love spending quality family time with my wife, Alison, a neonatologist at UCLA, and our two daughters, June (7) and Penelope (8). I love cooking and trying new recipes, and because we have a vegetable garden, I put the fruits of our labor to good use.
My daughter wanted to grow pumpkins in the fall, but for summer, we were all about zucchini—zucchini pasta, zucchini fritters, zucchini bread. No matter what we decide to plant, we're always experimenting with how to best use our harvest.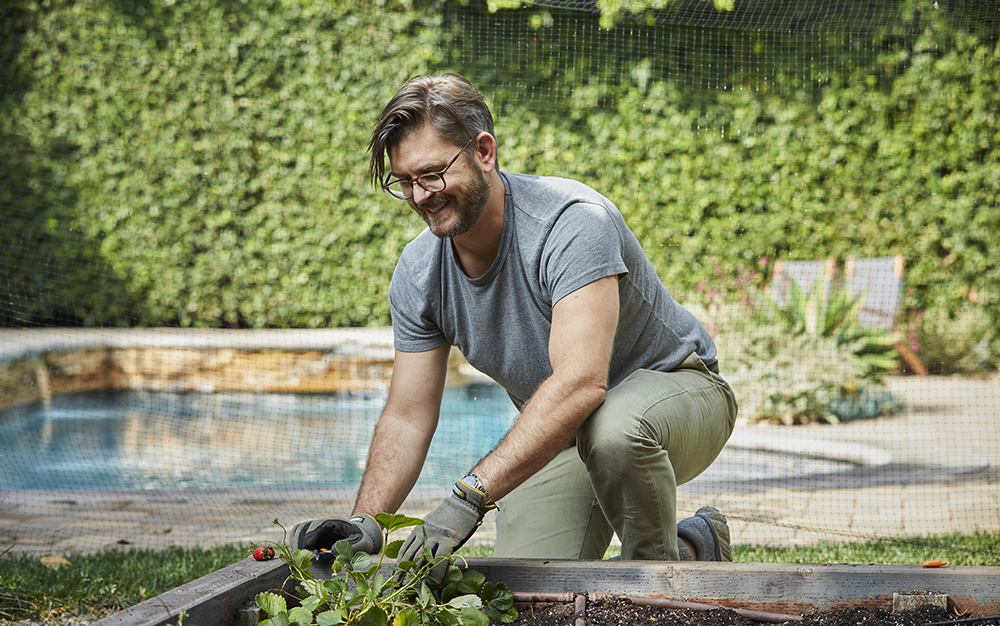 Make an Appointment
---
Find a Doctor
Call Us 7 Days a Week, 6 am - 9 pm PT