Faces of Cedars-Sinai: First-Year Student Brian Minton
May 04, 2021 Cedars-Sinai Staff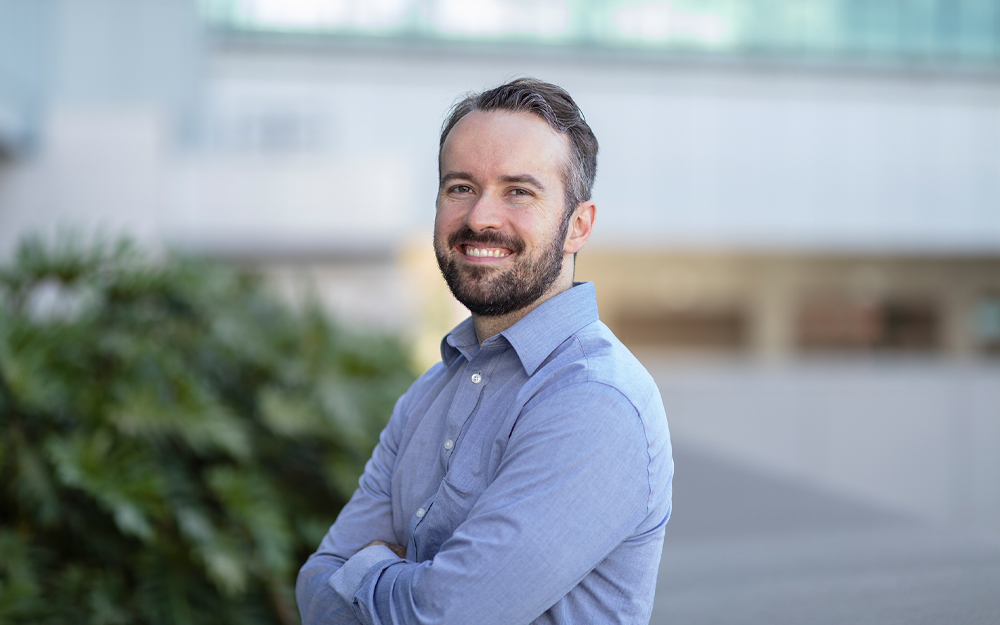 Meet Brian Minton, a member of the graduating class of 2022 in the Cedars-Sinai Master's Degree in Health Delivery Science (MHDS) program.
Name: Brian Minton
Age: 36
Birthplace: Orange County, California
Occupation: Clinical research coordinator in the Cedars-Sinai Samuel Oschin Comprehensive Cancer Institute since 2019. Senior coordinator on the gastrointestinal oncology team, helping to run trials for pancreatic, colorectal and other cancers.
Education: University of California, Irvine, double major in biology and social psychology
Passion: Performing improv comedy with ImprovCity in Irvine and the Impro Theatre School in Los Feliz.
What got you interested in this field of study?
Brian Minton: In 2017, I worked for a digital health startup where I helped to coordinate remote clinical trials through the implementation of telemedicine. I loved the idea of using technology to improve the way that healthcare is delivered. My time at that company and then at Cedars-Sinai has furthered my interest in learning about ways we can improve healthcare.
I've always been more interested in research than in being a clinician, so I wound up in the clinical research field. I find it to be a great intersection between science and people! The curriculum appealed to me more than that of a master's in public health, which was another option I had considered. I am a big believer in following one's curiosity.
What are the reasons you chose this program specifically?
BM: To be honest, the convenience was one reason! I had been wanting to further my education, and when I found out there was a master's program available right at my place of work, it seemed very serendipitous. Then, the more reading I did about the program, the more exciting it became.
The innovative nature of the program (it is one of only a few health delivery science programs currently available in the U.S.), the interesting work of its faculty (I especially was fascinated by Dr. Brennan Spiegel's work with therapeutic virtual reality) and the varied curriculum were all big selling points for me.
What has been the most exciting or surprising part of the program so far?
BM: Certainly, the biggest surprise was the adjustments that had to be made during the COVID-19 pandemic. Originally, the program was going to be in person on the Cedars-Sinai campus, but they have done a great job adjusting us to the online format. Now they are officially certified to continue as a hybrid live/online program, and they have a year's worth of experience to prepare for it!
One thing I have really enjoyed about the program is the variety. Every class is completely different, but at the same time there are common themes that pop up throughout. One thing I wanted from the program was to be exposed to different aspects of healthcare, and I definitely feel like I have.
---
"One thing I have really enjoyed about the program is the variety. Every class is completely different, but at the same time there are common themes that pop up throughout."
---
What advice would you give to someone interested in applying?
BM: Talk to current students and alumni! They can give you the best insight into what the program is like. Attend open houses and reach out to program staff with questions. I did all of the above, and it helped me in my decision to apply.
If this past year has taught us anything, it's that healthcare has to be able to adapt to change. The program's faculty are very forward-thinking and invested in bringing healthcare into the future. They also care deeply about the students and are continuously seeking feedback on how to improve the curriculum. The program will continue to get better and better with every passing year!
How do you explain health delivery science to someone who knows nothing about this field?
BM: Health delivery science is an interdisciplinary field that seeks to understand the best ways to improve the delivery of healthcare in order to achieve better patient and population health outcomes. This includes the use of digital technologies to expand access and improve care, the introduction of new payment models to lower costs, the analysis of large data sets and more.
What doors do you hope your degree will open?
BM: My primary goal at this time is to move into managerial roles in clinical research, but I am also open to exploring opportunities in digital health and other areas focused on healthcare innovation.
---
---
What got you through the pandemic?
BM: The ability to stay in contact with people through technology was so important this past year. This master's program definitely helped give me something to focus on, and technology allowed it to continue despite the restrictions on in-person gatherings.
On top of that, I've been able to stay in touch with friends and family through video calls, maintain a fitness regimen using YouTube videos and even continue performing improv shows through live streaming on social media. 
Do any of the big improv "rules" help you in any way in science?
BM: I believe improv principles can help people in multiple aspects of their lives, from work to relationships and beyond. We even have a physician here at Cedars-Sinai, Dr. Arash Asher, who has studied improv and its benefits for cancer survivors!
The idea behind the "Yes, and" rule of improv is that instead of seeking to control or deny what is offered to us in an improv scene, we instead accept it and then react by building on it with our own ideas. You can't plan too far ahead in improv, as you never know what your scene partners will say or do, so instead you have to mindfully stay in the present, accept what happens in the scene and respond accordingly.
The same goes for life—what is life if not one big improv scene?
Make an Appointment
---
Find a Doctor
Call Us 7 Days a Week, 6 am - 9 pm PT