Faces of Cedars-Sinai: Food and Nutrition Services Supervisor Eva Lukacs
Aug 24, 2020 Cedars-Sinai Staff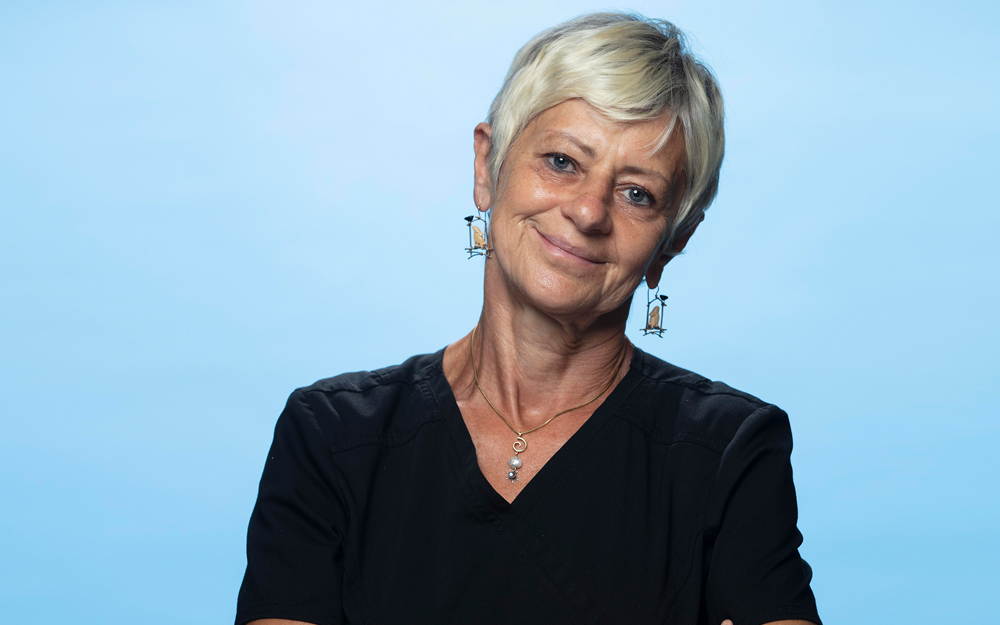 Eva Lukacs, a supervisor in Food and Nutrition Services, has worked at Cedars-Sinai for 32 years.
Born in Budapest, Hungary, Eva began working at Cedars-Sinai shortly after arriving in the U.S. In 2006, Eva received the President's Award—Cedars-Sinai's highest employee honor. 
---
If you want to accomplish your career goals, Cedars-Sinai gives you a lot of opportunity for growth.
---
We talked to Eva about the unusual path that led her to Cedars-Sinai, what she's learned after more than three decades with the organization and how she stays physically active outside of work.
---
---
How did you come to the U.S. and what made you want to get a job at
Cedars-Sinai

?
Eva Lukacs:  I was born in Budapest, Hungary, and immigrated with my family in 1987. We are Jewish and saw what the government was doing to change Hungary, so my husband and I, along with my 10-year-old daughter and 8-year-old son, decided to leave and move to the U.S. for a better life. 
I knew that I had distant family in the U.S. and knew that they lived in Los Angeles somewhere. At first, we arrived in San Francisco because I had a friend who came here from Hungary two years prior to us.
I got a phone book and just started calling everyone who had my last name, asking if they knew us. I found out that I had a cousin in Los Angeles who was an anesthesiologist at Cedars-Sinai. My friend took us to the bus station and sent us to Los Angeles, where my cousin was waiting for me at the bus station there. 
My cousin helped me get a work permit and a Social Security card, so I could start working at Cedars-Sinai as a part-time stewardess.
Wow, that's an incredible story. How did you become a supervisor in Food and Nutrition Services?
EL: In Hungary you have to learn Russian, so when I came to the U.S. I took ESL classes while working full time to master the language. Then, I went to L.A. City College to become a registered dietetic technician.
One of the best days I've had while working at Cedars-Sinai is the day I graduated from college. After I told my supervisor that I had finished my degree, the next day I received a call and was told that I had been promoted to a manager position.
---
---
Few have worked at
Cedars-Sinai

for as many years as you have. What have you learned as a longtime staff member with the organization?
EL: At Cedars-Sinai, I've seen that if you put the effort and the energy in, you have a lot of opportunity for advancement.
It's really up to you. If you want to accomplish your career goals, Cedars-Sinai gives you a lot of opportunity for growth.
---
---
As a supervisor, how do you motivate your employees? What are some ways you're trying to support your staff during the COVID-19 pandemic?
EL: When I see employees who are excelling on the job and have potential, I encourage them to go to school. I tell them that if they finish school, they can achieve their dreams.
During the COVID-19 pandemic, I've learned that my employees need a lot support and it's important to talk to them about how they're doing. They listen to me and I make sure that they feel safe and are not afraid to come to work.
Your shift starts at 5 a.m. every day, yet you lead a very active life outside of work. How do you stay so fit?
EL: I exercise every single day, and I like to do yoga, circuit training and cycling. I've done 70-mile organized bike rides to raise money for causes such as finding a cure for multiple sclerosis and diabetes, but now 50 miles is my limit.
I know that exercise helps with my mental state. When I go home after a stressful day at work, I do some yoga and then afterward I feel like I'm ready for the next day and the next challenge.
---
---
Any plans to retire in the near future?
EL: Cedars-Sinai is a wonderful place to work, and I'm really happy that I've worked here this long. 
I just turned 65. Probably next year I'm going to retire, so we'll see how things go. I like to joke and say, "I hope I can work here a couple more days."
Tags:
Make an Appointment
---
Find a Doctor
Call Us 7 Days a Week, 6 am - 9 pm PT