Understanding COVID-19 Vaccine Trials in Children
Jul 13, 2021 Amy Paturel
Clinical trials to test the safety and efficacy of the COVID-19 vaccine in young children underwent a rigorous process. Scientists couldn't simply take an adult vaccine and begin delivering it in smaller doses. Instead, they had to develop testing protocols that account for developmental and physiological differences that are unique to children.
---
"Trials for children require special ethical and clinical considerations and have to meet a higher standard before they can start recruiting participants."
---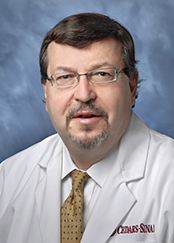 "Their bodies work differently, and they undergo changes as they grow from infancy toward adolescence and adulthood," says Dr. Moshe Arditi, academic director of the Division of Pediatric Infectious Diseases Allergy and Immunology at Cedars-Sinai.
In November, the Centers for Disease Control and Prevention (CDC) approved the Pfizer-BioNTech vaccine for children ages 5-11—a major step toward putting the COVID-19 pandemic in the past.
While children may not be super-spreaders of SARS-CoV-2, the virus that causes COVID-19, they are critical to achieving herd immunity. In rare cases, even kids with a mild case of COVID-19 can later develop a potentially deadly condition called multi-system inflammatory syndrome in children, or MIS-C, that can affect multiple organ systems.
The CDC determined that the vaccine is effective at protecting school-age children from serious illness or hospitalization from COVID-19, which is similar to the benefits for adults. The CDC noted that the risks of COVID-19 in children significantly outweigh the potential short-term side effects of the vaccine.
---
---
Testing standards
The COVID-19 vaccine for children went through the same safety testing and was required to meet the same standards as other vaccines—like those for chickenpox and polio—that have been widely given to children for many years and are known to be safe and effective.
Pfizer expects to apply to the Food and Drug Administration for Emergency Use Authorization (EUA) in children younger than 5 by early 2022. The company had already received EUA for kids 12 and older. Moderna is expected to apply for EUA of its child vaccine as well.
Under the EUA, children between the ages of 12 to 15 receive the same dose as adults for Pfizer (30 micrograms). For younger children, early trials aimed to establish the optimal vaccine dose by dividing volunteer participants into three groups: ages 5 to 11, 2 to 5, and 6 months to 2 years. 
The vaccine for children between 5 and 11 contains just one-third the dose that is given to those 12 and older. The ongoing clinical trials for children under 5 contains even less vaccine.
---
---
Testing vaccines in children
Children have distinct developmental and physiological differences that affect not only their susceptibility to disease, but also how their immune systems respond to health interventions. Clinical trials designed for children—and tested in children—are the only way to develop age-specific, scientifically tested vaccines and treatments for this unique population.  
"Trials for children require special ethical and clinical considerations and have to meet a higher standard before they can start recruiting participants," Dr. Arditi says. Yet, clinical research is critical to develop safe and effective treatments and vaccines for this vulnerable population. 
To address these unique needs, clinical trials in children differ from those in adults in the following ways: 
Informed consent: Before anyone can enroll in a clinical trial, they need to demonstrate that they understand the risks and benefits of participating by signing an informed consent. Because children may not grasp the scope of the trial, parents have to provide consent for them. "With pediatric trials, it's a two-tiered process where both parents and children, depending on their age and maturity, agree to participate in the study," says Dr. Priya Soni, a pediatric infectious disease specialist at

Cedars-Sinai

.
Children's trials come last: These trials happen only after a vaccine is deemed safe and effective in the lab, then in animals and finally in adults, says Dr. Fataneh Majlessipour, a pediatric oncologist at

Cedars-Sinai

. By the time researchers begin vaccine trials in children, we know it is both safe and effective in adults—and it has been reviewed and approved by different regulatory agencies. 
It's a stepwise process: As children grow and change, their immune systems do, too. A 6-year-old is not the same as a 16-year-old. To account for these differences, researchers do "age de-escalation" studies with participants placed in different groups. For example, 6-to-12-year-olds, 2-to-6-year-olds and 6-month-to-2-year-olds. Doses start at the lowest safest level and researchers increase them in different groups to determine whether a larger dose is more effective or whether a lower dose provides a complete response. "It's a bit like the Goldilocks effect," Dr. Arditi says. 
Investigators who are testing vaccines or treatments in children must also factor in issues specific to early childhood, such as bone growth, neurodevelopmental changes, hormonal shifts, social and emotional development and other concerns. 
"With the COVID-19 vaccine, for example, we needed to make sure it doesn't interfere with immunity generated by routine childhood vaccinations—and that standard vaccination protocols are not interfering with the COVID-19 vaccine," Dr. Arditi says. "And that takes some time to assess." 
The Perks of participation
Clinical trials allow kids to play a key role in advancing scientific knowledge. Your child's participation could result in scientists uncovering more effective vaccines—or achieving herd immunity for a deadly virus.
"Children who are in clinical trials tend to be very well connected with their providers," Dr. Soni explains. "They often receive closer monitoring and additional testing that wouldn't be accessible otherwise. So, not only are these children helping to advance science, but they're also getting specialized care and a concierge sort of attention."
---
Make an Appointment
---
Find a Doctor
Call Us 7 Days a Week, 6 am - 9 pm PT