Getting Around the Medical Center Just Got Easier
Nov 05, 2018 Cedars-Sinai Staff
There's now an easier way to navigate Cedars-Sinai medical center—and it's right in your pocket.
The newest update to the Cedars-Sinai app has an interactive map complete with step-by-step walking directions. The app now includes:
Directions to almost 400 locations, including buildings, parking structures, ATMs, bathrooms, and cafes.
A new feature called "My Parking Spot" which helps you find your way back to your parked car.
The app update is part of a new project which also includes a new pedestrian route called the "Plaza Pathway."
"The opportunity to create a positive experience starts well before our patients walk through the doors," says Chief Patient Experience Officer Alan Dubovsky.
"With these exciting digital tools working hand-in-hand with the medical center's new physical wayfinding resources, we've crafted a holistic approach to getting people where they have to be so that they can focus on receiving the care they need."
Follow these instructions to use the new navigation tool:
1. Open the
Cedars-Sinai

app, tap "Medical Center Walking Directions" and then tap the directory button at the top right corner of the screen.
2. Search for a location or select it from the list. Tap the location you would like directions to and then tap "Guide Me."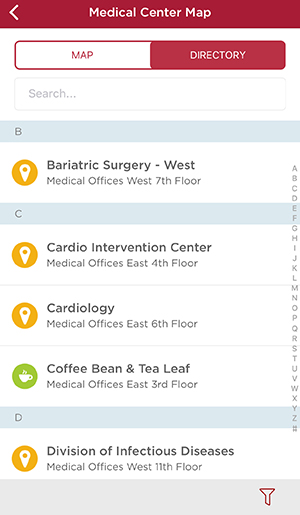 3. Follow the turn-by-turn directions to your destination.
To use the new interactive map, update your Cedars-Sinai app or download it from the App Store or Google Play today.
Make an Appointment
---
Find a Doctor
Call Us 7 Days a Week, 6 am - 9 pm PT