Bariatric Endoscopy: A Nonsurgical Weight Loss Tool
Nov 14, 2022 Amy Paturel
More than 40% of American adults are considered obese, placing them at risk of diabetes, heart disease, cancer and even orthopaedic issues. Bariatric surgeries not only help people lose weight, they also can reverse disease and save lives. Yet, fewer than 1% of people who are candidates undergo the procedure.
"Some patients are nervous about going under the knife. Others have a higher risk of surgical complications, or they're not a candidate for surgery," says Dr. Kenneth Park, an interventional gastroenterologist at Cedars-Sinai. "Now we can offer these patients another option: Bariatric endoscopy, which can achieve similar weight loss without laparoscopic or open surgery."
Here, Dr. Park answers patients' most pressing questions about the latest options for assisted weight loss.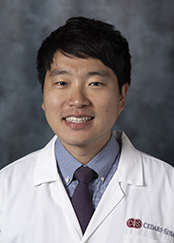 IM Gastroenterology
Accepting New Patients
---
"Now we can offer weight loss patients another option: Bariatric endoscopy, which can achieve similar weight loss without laparoscopic or open surgery."

---
What is bariatric endoscopy?
Dr. Kenneth Park: Bariatric endoscopy is a weight loss procedure done completely through the patient's mouth to access the stomach and the small intestine. There's no external cutting and no scarring, and the risk of complications is significantly lower than with traditional weight loss surgery.
---
---
What is the process?
KP: There are currently two main procedures for bariatric endoscopy: intragastric balloon and endoscopic sleeve gastroplasty. Both are performed under anesthesia and are completely outpatient procedures.
With the intragastric balloon procedure, we endoscopically place a balloon made of silicone inside the stomach and fill it with saline. Once inflated, it occupies space in the stomach so the patient feels full more quickly and food stays in the stomach longer, further helping to curb the patient's appetite.
After six months, when the patient's stomach has adjusted to smaller portions of food, we remove the balloon. This procedure can be repeated for more prolonged effect. The goal of the intragastric balloon is to serve as a catalyst to help patients kickstart their own weight loss journey in the right direction.
With endoscopic sleeve gastroplasty, we advance a thin, flexible scope through the patient's mouth and perform multiple sutures within the stomach to reduce the overall volume of the stomach up to 80%. Patients who have this procedure feel fuller faster and stay full longer, helping them to lose weight.  
We also use bariatric endoscopic procedures to address and correct issues arising after traditional bariatric surgeries (sleeve gastrectomy and Roux-en-Y gastric bypass). In these cases, the primary goal is to restore restriction for patients who have regained weight after a traditional bypass or sleeve gastrectomy.
How is bariatric endoscopy different from traditional bariatric surgery?
KP: Whether you get an intragastric balloon or sleeve gastroplasty, bariatric endoscopy is an outpatient procedure. Patients are in the procedure room for about one hour, and they go home the same day. In fact, most patients are back to their usual activities within a few days.
With traditional bariatric surgeries, doctors use small incisions to surgically remove portions of the stomach or to resect and reroute the bowel. These surgeries often take longer to perform, and patients usually stay in the hospital for two to three days afterward.
In terms of expected weight loss, patients can expect to lose about 50% of their excess weight with endoscopic procedures, as compared to about 60% with traditional surgery. Major complications with endoscopic procedures are very rare (less than 1%), whereas the rate can be higher for traditional surgeries.
It is important to note that bariatric endoscopy usually isn't covered by insurance.
---
---
How do you decide which procedure is best for a given patient?
KP: It can be confusing and difficult to decide which weight loss therapies are best for you.
At the Cedars-Sinai Center for Weight Management and Metabolic Health, our team of weight loss specialists, bariatric surgeons and interventional gastroenterologists work together to determine which approach is the best for each individual patient.
Sometimes surgery is the best choice, and other times a less invasive endoscopic approach is more suitable. We provide patients with all the options and guide them based on their personal preferences and unique risk factors.
What are the risks associated with endoscopic weight loss procedures?
KP: Endoscopic weight loss procedures are remarkably safe, with a complication rate of less than 1%. The most common side effects after bariatric endoscopy include sore throat, abdominal pain and nausea, and they typically subside within a few days. Of course, there's also a risk that a patient will regain lost weight after a while.
No matter which type of procedure you choose, assisted weight loss is not a simple fix. Instead, it's a tool to help you lead a healthier lifestyle. Just like patients who undergo conventional weight loss surgeries, patients who undergo endoscopic weight loss procedures work with a multidisciplinary team of experts—including a doctor, registered dietitian and psychologist—to ensure they have the necessary support for successful long-term weight loss.
Tags:
Make an Appointment
---
Find a Doctor
Call Us 7 Days a Week, 6 am - 9 pm PT