Alcohol Intolerance: What You Need to Know
Nov 03, 2023 Nikolas Charles
If you have ever had an alcoholic drink, you likely already know whether you have alcohol intolerance, a hereditary condition that poses serious health risks.
"You either get red and feel uncomfortable, or you don't," said Alexander Kuo, MD, medical director of Liver Transplantation in the Karsh Division of Gastroenterology and Hepatology at Cedars-Sinai.
Between 30%-50% of people of East Asian descent have alcohol intolerance, a fact which leads many to refer to the condition as "Asian flush" or "Asian glow." But although people of Asian ancestry are most at risk for alcohol intolerance, the condition can affect people of all races and ethnicities.
"You don't have to be Asian to have this negative reaction to alcohol," said Kuo, who treats patients with alcohol-use disorder and alcohol-associated liver disease. "It affects a large population of Americans who have this variation in their DNA."

---
---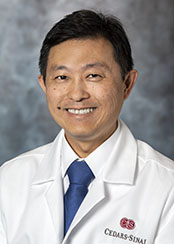 IM Gastroenterology
,
Hepatology
IM Gastroenterology
,
Hepatology
Accepting New Patients
Symptoms and Complications
People with alcohol intolerance have a genetic mutation that makes it hard for their bodies to break down alcohol when they drink.
Whether you're drinking beer, wine or hard liquor, the symptoms of alcohol intolerance are the same. They include flushing (such as a red face), rapid heart rate, headache, low blood pressure, hives, runny nose and stomach pain. This reaction can lead to major health problems, including cancers of the mouth, throat, esophagus, stomach and liver.
"If you have this inherited genetic mutation and you drink alcohol regularly, there's a greater probability that you can develop these types of cancers of the upper GI tract," Kuo said. There is also an increased risk of heart disease and stroke.

---
---
Alcohol Intolerance or Allergic Reaction?
It's important to understand the differences between alcohol allergies and alcohol intolerance. While alcohol intolerance is a digestive system disorder, an alcohol allergy is an immune system response to the ingredients in the beverages, such as chemicals, grains or preservatives.
Allergic reactions to alcohol can cause symptoms similar to alcohol intolerance, such as difficulty breathing, coughing, runny nose or stomach upset. These symptoms could be triggered by as little as one sip and are a result of your body creating antibodies against these allergens.
If you are experiencing any of these symptoms after consuming alcohol and you are unsure if you have alcohol allergies or alcohol intolerance, raise your concerns with your doctor at your next checkup.

---
"You can't just gut through it even though you don't feel great. The negative side effects are your body's way of telling you loud and clear that alcohol is not safe for you."
---
Drinking and Social Pressure
According to the National Institutes of Health, "peer relationships are consistently linked to alcohol use in college students." A recent study conducted by the North Carolina Alcoholic Beverage Control System concluded that 61% of teens and young adults surveyed admitted that friends and peers influenced their decision to drink alcohol.
"Understanding the severity of alcohol intolerance is especially relevant for those who are having their first experiences with alcohol," said Kuo.
He noted that young people are particularly vulnerable "because they don't know how they're supposed to feel and could end up confusing the symptoms of alcohol intolerance with those of intoxication."
"You can't just gut through it even though you don't feel great," said Kuo. "The negative side effects are your body's way of telling you loud and clear that alcohol is not safe for you. In addition, if you have chronic hepatitis B and you drink excessively, your chances of developing cirrhosis or cancer of the liver increase significantly."

---
---
Dangers of Masking the Effects
While some people try to treat the symptoms of alcohol intolerance with cold medicines such as antihistamines, such medications do not reduce the users' susceptibility to the critical risks of the condition.
People who experience the tell-tale symptoms of alcohol intolerance should be aware that there's no treatment or cure for the condition and—more importantly—the long-term effects of overlooking the symptoms may be severe.
"There's an easy way to sidestep all of the negative health consequences of alcohol intolerance," said Kuo. "Just don't drink."

Make an Appointment
---
Find a Doctor
Call Us 7 Days a Week, 6 am - 9 pm PT