Adult Cardiothoracic Anesthesiology Fellowship Faculty
Meet the distinguished faculty of the Adult Cardiothoracic Anesthesiology Fellowship at the Smidt Heart Institute. The teaching staff comprises the top clinicians and investigators in the field.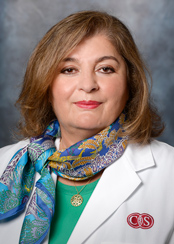 Roya Yumul, MD, PhD
Fellowship Director James D. Grant, MD, MBA, FACA Emily Anton, MD Christian Consilvio, MD Diba Daneshrad, MD Maria DeCastro, MD Omar Durra, MD Robert Frantz, MD Arnold Friedman, MD Terrence Lai, MD Lorraine Lubin, MD
Kaveh Navab, MD
Deena Perotti, MD Daniel Sullivan, MD
Justin Tong, MD Robert Wong, MD Stephen Yang, MD Vida Zhang, MD Manxu Zhao, MD Laura Zung, MD
Have Questions or Need Help?
If you have questions or would like to learn more about the Adult Cardiothoracic Anesthesiology Fellowships at Cedars-Sinai, please call or send us a message.
Leticia Diaz
Residency and Fellowship Coordinator
Chamnan Nann
Residency and Fellowship Associate Coordinator