Finding Support in a Food Crisis
Mar 29, 2021 Victoria Pelham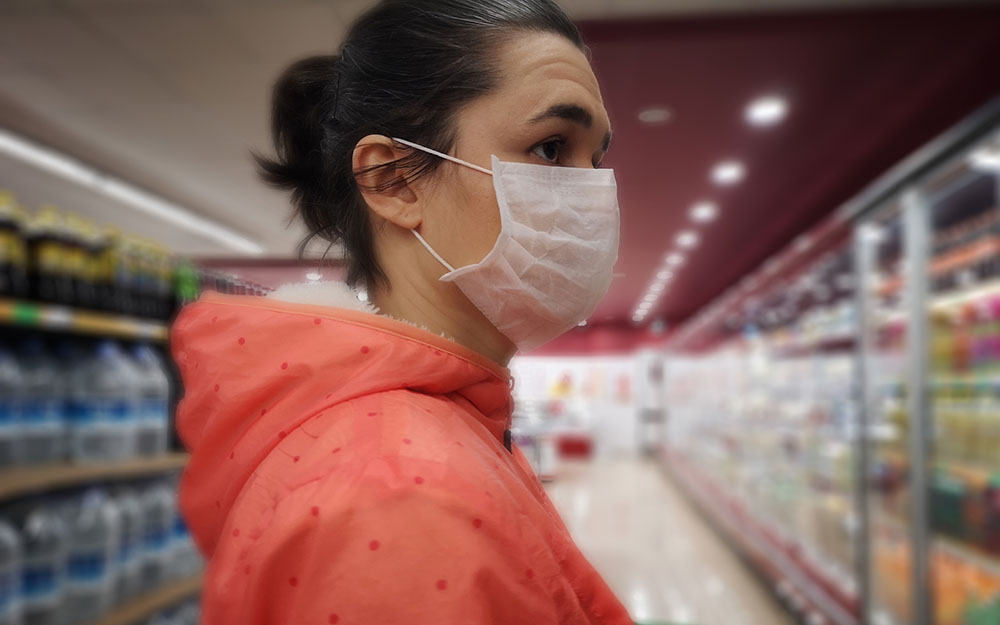 Skipping dinner to pay rent, cutting meal sizes to make your food last, going to a gas station for food versus a grocery store—these are tough choices millions face every day.
In L.A. County, 42.6% of adults are not able to consistently afford food on their own, and 29.2% lack reliable access to nutritious food, according to the 2019
Cedars-Sinai
Community Health Needs Assessment
. The problem is skyrocketing during the COVID-19 pandemic, with the loss of
250,000 jobs
locally and more children eating at home instead of at school.
Those shifts are felt acutely in an area that already has so many barriers to accessing healthy food. L.A. County is dotted with food deserts, low-income communities where few grocery stores or supermarkets exist. For those without transportation, the only options tend to be convenience stores stocked with cheaper but highly processed, unhealthy options.

"It is definitely a tough reality," says Premere Session, associate director of community health for
Healthy Habits
at
Cedars-Sinai
.
---
---
Proper nutrition, on the other hand, can make all the difference. If you or a loved one is struggling,
Cedars-Sinai
's Community Benefit team shares suggestions for getting the right foods onto your table.
---
"Some organizations have seen an increased volume of food distribution by upwards of 150%."

---
Lean on community resources
"Some organizations have seen an increased volume of food distribution by upwards of 150%," says Erin Jackson-Ward, director of
Cedars-Sinai
's
Community Benefit Giving Office
.
They can also point you to other resources. In response to growing food insecurity, many organizations have either stepped in or scaled up existing hunger-relief efforts.
Check with your local schools, churches, grocery stores, health clinics and providers, and keep monitoring for food distribution events such as drive-throughs.

---
---
Erin says Cedars-Sinai and partner organizations are "aiming to strike a balance between addressing the immense need prompted by the pandemic, while exploring sustainable solutions to the systemic food access problems that have existed for years."
Consider food assistance
Emergency food relief isn't sustainable—it's a "reactive system that requires consistent replenishment," Erin says.

Government assistance can be a longer-term solution.

California residents making up to $16,558—or $34,060 for a family of four—qualify for
CalFresh
. The federally subsidized nutrition program has been expanded to accommodate for additional COVID-19-related need. You can
sign up
online in 10 minutes or less.
Premere says many people are hesitant to apply because they don't realize they qualify for it. It's an easy, quick process with minimal requirements, including for immigration status.

If you need help navigating the system or know someone who does, there are options for counseling. For example, the Healthy Habits program offers workshops at partner sites where it walks applicants through the process.

---
"The gratitude and smiles are shared both ways, because it provides a moment of positivity and better days to come."

---
Stretch supplies
To do this, try combining different food groups in your meals, Premere says. One-pot dishes—chili, for example—have more mileage and are heartier.

She suggests incorporating frozen or canned vegetables, along with sweet potato or whole grain rice, instead of focusing on more costly proteins.
Pasta dishes are also easy to stretch—and sneak in vegetables. This can be a "fun way for kids to enjoy a meal but also get nutritional range," Premere says.
If you do have access to high-protein food, dice it and spread it out over various dishes. That can mean shredding a chicken or putting meats into a soup or casserole, rather than serving them whole.
---
---
Try to find nutritious options
If you live in a food desert, it might be tempting to turn to highly processed snacks available at nearby corner stores and fast-food restaurants. But that doesn't mean you have to indulge in junk food.

Focus on finding fruits, snacks and beverages with fewer additives and lower sodium and sugar levels.

The closure of restaurants has actually increased the ability of food pantries to serve more fresh fruits and vegetables: a COVID-19 "silver lining," Premere says.
Try to visit on produce delivery days if you can and seek out a balance of different kinds of food.
Churches and nonprofits like SEE-LA also provide targeted relief in harder-hit communities such as Koreatown, Crenshaw and Watts. Their programs include produce box deliveries and farmers markets that accept CalFresh benefits.
"The gratitude and smiles are shared both ways because it provides a moment of positivity and better days to come," Premere adds.


Tags:
Make an Appointment
---
Find a Doctor
Call Us 7 Days a Week, 6 am - 9 pm PT