MS Center Offers Advanced Treatment Options
Sep 01, 2017 Cedars-Sinai Staff
Tysabri Injections Offer Hope for Some Patients With Active or Treatment-Resistant Multiple Sclerosis.

For some patients with multiple sclerosis, the usual course of treatment is enough to manage the disease's symptoms. Deven Townsel, however, needed something with a little more kick.
---
"I've always been an active person and I used to play basketball in the backyard and football with friends. I'd like to get back to that level activity and I'm really looking forward to that."
---
About a year ago, the 23 year old's body stopped responding to the standard "ABC" medications for multiple sclerosis, otherwise known as Avonex, Betaseron/Betaferon and Copaxone. So, he turned to Cedars-Sinai's multiple sclerosis specialist and director of the Multiple Sclerosis Center, Nancy Sicotte, MD, for expert help.
Sicotte's solution was to start a different treatment for multiple sclerosis—the infusion of the antibody called Tysabri. The treatment is one example of Cedars-Sinai's dedication to providing skilled, advanced services to patients with multiple sclerosis.
"For me, Tysabri has been fantastic. My other neurologist was great in diagnosing me and helping me get the learning curve of how to live with the illness but when I switched over to Dr. Sicotte, it was very comforting," Townsel said. "It's an enjoyable experience going to see Dr. Sicotte and knowing that I'm in good hands. You would never think that going to your doctors office, especially having MS, would be so enjoyable, but it is—it's fantastic."
Townsel wasn't thinking about doctors or disease on Christmas Day in 2007. After opening presents, he collapsed and had a seizure.
---
---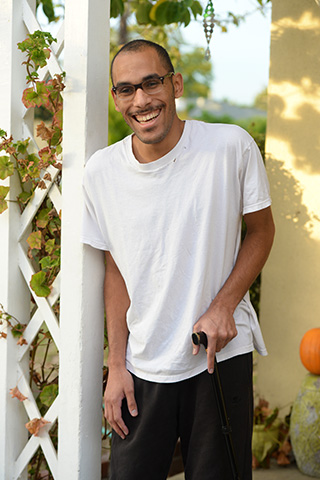 Two months later, at 16 years old, he was diagnosed with multiple sclerosis.
As the disease progressed, it stopped him from playing basketball, riding his bike and even walking. When Townsel first came to Cedars-Sinai in 2013, he was in a wheelchair. Now, because of the specialized treatment, he is able to walk.
"I've always been an active person and I used to play basketball in the backyard and football with friends," he said. "I'd like to get back to that level activity and I'm really looking forward to that."
While Tysabri is a very effective drug, it can have a very serious side effect called progressive multifocal leukoencephalopathy (PML), which is a rare brain infection, Sicotte said. Because of this, the administration of Tysabri is monitored through a specialized system called the TOUCH Prescribing Program. Only prescribers, infusion sites and their associated pharmacies enrolled with the program are able to prescribe, distribute, or infuse the drug.
Sicotte is a TOUCH-certified neurologist, and Cedars-Sinai administers the drug to a limited number of patients.
---
---
"Because it's a potentially risky drug, you have to have expert care," Sicotte said. "You really have to go to a neurologist who is a MS specialist."
Clinical Care Associate Stephanie Urias schedules appointments and handles the paperwork that comes along with the administration of Tysabri. She said before taking the drug, patients will also need to fill out a form in order to be compliant. Urias is also responsible for making sure patients have been checked for the virus that can cause PML.
"Patients get the infusion every four weeks and if the patient goes past that, we have to check with Dr. Sicotte," Urias said.
Rachel Hieronimczak, BSN, RN, works closely with Sicotte in coordinating the care of multiple sclerosis patients and getting them started on medications, Tysabri included, while also educating patients about the disease, their visit and next steps.
Hieronimczak recognizes the diagnosis of multiple sclerosis can be intimidating, which is why she's by the patients side the whole time.
"Having MS can bring up a lot of feelings, which isn't a bad thing—it's good to talk things out when they are emotional about their diagnosis," she said. "This is why it's important to be very sensitive and offer them support and resources they may need."
---
---
What is Tysabri?
Tysabri is an alternative treatment being used for adults with relapsing forms of multiple sclerosis. It may be recommended for patients who have not responded to other treatments.
The drug also puts patients at risk of a rare brain infection called progressive multifocal leukoencephalopathy, or PML, that is caused by the John Cunningham virus.
Patients on Tysabri are tested regularly for evidence of exposure to the virus.
Tags:
Make an Appointment
---
Find a Doctor
Call Us 7 Days a Week, 6 am - 9 pm PT