U-GROW Program Prepares Future Scientists for Graduate School
Jan 11, 2023 Nicole Levine
When it comes to predicting, preventing, treating and potentially curing cancer, providing excellent care for today's cancer patients and supporting breakthrough research are two essential missions—but there's another equally important endeavor: training the next generation of diverse cancer scientists dedicated to addressing cancer equity for all communities.
Cedars-Sinai Cancer is reaching out to talented undergraduates from diverse backgrounds to introduce them to the wide range of cancer research careers available to them through the Undergraduates Gaining Research Opportunities for the Cancer Workforce (U-GROW) internship program, a partnership with Cedars-Sinai and eight California State University (CSU) campuses across Southern California. The CSU system is the largest and one of the most diverse undergraduate programs in the United States—making it an ideal partner for fostering multicultural talent.
---
"This experience opened my eyes to the problems we're currently seeing in cancer and how we can potentially work to prevent the disease."

---
Educational opportunities in clinical and community cancer research
The yearlong program includes an intensive summer internship that pairs undergraduate participants with Cedars-Sinai Cancer researchers. It offers interns training opportunities in clinical, translational and community cancer research. Introducing scholars to cancer health disparities and underscoring the important role that diversity in research plays in achieving equity are also important aims of the program. Throughout the rest of the year, participants attend scientific writing and discovery workshops that prepare them for doctoral programs to train as cancer researchers in a variety of disciplines.
We prompted a few of the interns from this pilot program to reflect on their experience—and to ask their mentors for insights on how to pursue career goals and impact the future of cancer care.
Aaron Denmark: Exploring a career in oncology
Aaron is a recent CSU Dominguez Hills graduate with a bachelor of science in cellular and molecular biology. He plans to attend medical school and pursue a master's degree in public health, but first he will spend more time working in the laboratory of Dr. Megan Hitchins, director of Translational Genomics at Cedars-Sinai. During his internship, he's been working with scientists developing blood tests to detect colorectal cancer.
Key takeaway: "This program really helped me understand my potential and the kind of impact I could make in this field. I'm very interested in a career in oncology, and this experience opened my eyes to the problems we're currently seeing in cancer and how we can potentially work to prevent the disease."
One question for Dr. Hitchins: "How can the next generation push forward cancer research?"

Dr. Hitchins: "A lot of the work that's been done across the gamut of cancer research has largely been conducted in white populations, especially in the United States. Access to cancer care is largely based on insurance and socioeconomic status. Often, the people and populations who can benefit most from cancer research have been left out of it—so now we're playing catch-up. My hope is that we will see an increase in epidemiology study and cancer prevention work among minority groups who are at particularly high risk. We need to do that work here, and we need to reach out to the developing world and be more global with cancer prevention, research and care to make all of it more accessible. That's my hope for future generations of researchers and physicians."
---
---
Carina Gregorio: From business to science
Carina is a senior at CSU Los Angeles who will graduate this winter with a degree in healthcare administration. She is a triplet and was born at Cedars-Sinai.
"It was always my dream to work at Cedars-Sinai," she says.
Dr. Brennan Spiegel, director of Health Services Research for Cedars-Sinai and a pioneer in medical virtual reality, served as her mentor and guided her participation in a variety of projects, including using virtual reality to ease pain in cancer patients. She is interested in researching environmental and chronic disease epidemiology with a focus on cancer and lung disease.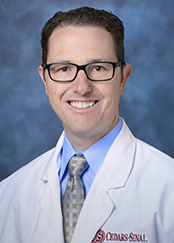 Key takeaway: "This program really made me rethink my postgraduation plans. I thought I wanted to study business administration and public health, but now I want to pursue a master's degree in epidemiology and biostatistics—or maybe a PhD in epidemiology."
One question for Dr. Spiegel: "What are you most proud of professionally?"

Dr. Spiegel: "I'm probably most proud of helping to develop this new field of medical extended reality, where we use technologies like virtual reality to support health and wellbeing. It started off as an interesting and fun project and culminated in the FDA creating a new branch of medicine they call MXR. It integrates multiple disciplines of science and ways of thinking across technology, clinical medicine, psychology, neuroscience and philosophy into a new form of medical therapeutics. It is a joy to teach students about this new field and to hear their innovative ideas about how to advance the use of technology in medicine."
---
---
Katrina Silos: Learning to thrive in a new environment
Katrina is a senior at CSU Northridge, where she is majoring in psychology. She plans on going to graduate school to become a clinical child psychologist. Her U-GROW mentor was Dr. Katelyn Atkins, medical director of Radiation Oncology at Cedars-Sinai, and Katrina took part in two studies examining how radiation therapy affected the hearts of patients who had lung or breast cancer.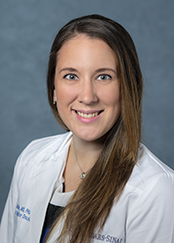 Radiation Oncology
Accepting New Patients
Key takeaway: "My U-GROW internship allowed me to gain a deeper understanding of the many different factors that play a role in an individual's wellbeing. With that in mind, I feel even more motivated to concentrate on improving psychological health within the medical field."
One question for Dr. Atkins: "What is one piece of advice you wish someone had given you before you entered graduate school?"
Dr. Atkins: "Always be sure you're on a pathway and making decisions that are best for you—and not just doing what you think people expect from you. When you choose what to study, where to study, and how to study, understand what you're interested in and what you want to do."
---
---
Make an Appointment
---
Find a Doctor
Call Us 7 Days a Week, 6 am - 9 pm PT