Conversion to Gastric Bypass Reduces GERD Following Laparoscopic Sleeve Gastrectomy
Jan 24, 2022 Cedars-Sinai Staff
Laparoscopic sleeve gastrectomy (LSG) has become a go-to option for weight-loss surgery and is often very successful. However, gastroesophageal reflux (GERD) has emerged as a bothersome postoperative condition for some patients. 
---
"We don't want to simply offer patients the most popular procedure today. We take the time to understand everything that's going on, discuss all the options and work to find the right path forward."
---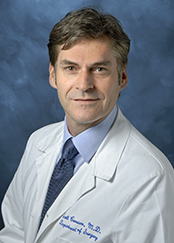 "Overall, the sleeve gastrectomy is a good operation, but we have to be careful with certain populations, such as people who have reflux, indigestion or heartburn after surgery," says Scott Cunneen, MD, director of Bariatric Surgery at Cedars-Sinai. "About 15% to 20% of people who get a sleeve gastrectomy experience GERD as a significant postoperative factor."
With limited data available to guide treatment options, researchers at Cedars-Sinai conducted a study to determine the effectiveness of conversion to Roux-en-Y gastric bypass (RYGB) in treating GERD symptoms following an LSG. 
Getting rid of GERD through conversion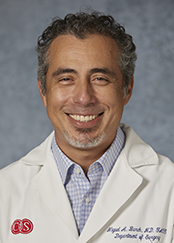 The popularity of LSG has been driven by its simplicity and the apparent absence of negative side effects. 
"It took some time to figure out that the sleeve gastrectomy may be causing or worsening reflux in a small percentage of patients," says Miguel Burch, MD, chief of Minimally Invasive and GI Surgery. "It's hard to know exactly what's causing the problem—it could be someone's esophagus being overly challenged by the sleeve or a weakening of the esophageal valve allowing stomach contents to go backward and up into the esophagus."
When converting LSG to RYGB, surgeons bypass the remaining stomach by creating a detour around the bottom part through the small intestine and using the top third of the sleeve as a stomach pouch. This separates the esophagus from the part of the stomach that makes most of the acid and also prevents bile from the small intestine from coming back up into the esophagus. 
To gauge the success of conversion to RYGB to treat GERD, the team reviewed the cases of 54 patients, 41 of whom underwent conversion for indication including GERD. They obtained symptom severity scores using the GERD HRQL questionnaire to determine symptom severity before and after conversion. 
Overall, patients experienced markedly reduced GERD symptoms, significant improvement in HRQL severity scores and even some additional weight loss after conversion—with a few caveats. 
"Some patients—about one-third—remained on antisecretory medication even after the conversion to fully manage their GERD symptoms," says Burch. "Also, we saw that the longer patients waited to get the conversion, the more likely they were to have continued symptoms afterwards."
If GERD symptoms did not present until at least three months after the original LSG surgery, the conversion was also less likely to be completely successful. 
"Conversion to bypass corrected significant reflux most of the time," says Cunneen. "If it did not work 100%, it generally reduced the medication patients needed to feel well. When deciding to have a major operation, I encourage patients to evaluate how much the reflux and the corresponding medications are impacting their life."
Finding the right path
Reflux should be taken seriously and addressed with an open mind. Many physicians and patients consider LSG the first and only option when considering weight-loss surgery, but Cunneen advises digging deeper before making a final decision.
"Patients should know that medication is not the only avenue, that there are surgical options out there to address GERD after sleeve," says Cunneen. "Some people think gastric bypass surgery is automatically too complicated, but if a patient has significant reflux, a sleeve may not be the best choice. Both procedures work most of the time, but patients should make the decision only after a complete medical examination, so they have all the information and the best chance of getting the desired result." 
At Cedars-Sinai, a multidisciplinary team takes medical, behavioral and surgical factors into account to create an individualized care plan for each patient that will yield the best results with the fewest number of procedures.
"We don't want to simply offer patients the most popular procedure today," says Cunneen. "We take the time to understand everything that's going on, discuss all the options and work to find the right path forward."
Make an Appointment
---
Find a Doctor
Call Us 7 Days a Week, 6 am - 9 pm PT