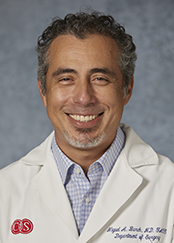 Miguel A. Burch, MD
Surgery Bariatric Surgery
,
Surgery-General Surgery
Accepting New Patients
Locations
General Surgery
34.074011
-118.380771
General Surgery
8635 W. 3rd St., Medical Offices West,
Suites 770 West and 795 West
Los Angeles, CA
Get Directions
Monday: 8:00AM - 4:30PM
Tuesday: 8:00AM - 4:30PM
Wednesday: 8:00AM - 4:30PM
Thursday: 8:00AM - 4:30PM
Friday: 8:00AM - 4:30PM
Medical Offices West is located at 8635 W. 3rd Street between Sherbourne Drive and George Burns Road. Self-parking is available in the Medical Offices West parking lot, located on George Burns Road between 3rd Street and Gracie Allen Drive. Building entries are located on Street Level and Plaza Level. Once inside, take the Medical Offices West elevators to your desired destination. For parking rates and hours of operation, please visit cedars-sinai.org/parking. Take a photo of your parking spot location to help find your parked car.
Experience
Specialties
Area in which a healthcare provider is highly trained and often board certified.
2
Surgery Bariatric Surgery
Surgery-General Surgery
Programs
Cedars-Sinai clinical programs this provider is part of:
5
Minimally Invasive Surgery
Research Areas
Titles
Director

,

Division of General Surgery

Director

,

Advanced Gastrointestinal Minimally Invasive & Bariatric Surgery Fellowship Program

Director

,

Gastrointestinal & Robotic Research Fellowship Program

Director

,

Bariatric Surgery Program at Torrance Memorial Medical Center

Chief

,

Minimally Invasive and Gastrointestinal Surgery

Associate Director

,

General Surgery

Associate Professor

,

Surgery
Education & Training
Cedars-Sinai

Fellowship - Completed 2005

Boston Medical Center

Residency - Completed 2004

Medical College of Virginia

Medical School - Completed 1999
Achievements
1

Board Certifications

5

Awards and Honors
Board Certifications
Surgery-General Surgery

American Board of Surgery
Awards and Honors
Lester Williams, MD, Teaching Award, Boston University Surgical Residency
Excellence in Surgical Critical Care, Boston University Surgical Residency
Latino Leadership Award, Latino Leaders Magazine
America's Top GI Surgeons Award, Consumers Research Council of America
Medical College of Virginia Merit Scholarship
Publications
Burch M, Carmine B, Mishkin D, Matteotti R. Laparoscopic Management of Small Bowel Tumors. Minimally Invasive Surgical Oncology. 2011;183-195.
Hunter JG, Kahrilas PJ, Bell RC, Wilson EB, Trad KS, Dolan JP, Perry KA, Oelschlager BK, Soper NJ, Snyder BE, Burch MA. Efficacy of transoral fundoplication vs omeprazole for treatment of regurgitation in a randomized controlled trial. Gastroenterology. 2015 Feb;148(2):324-333. doi: 10.1053/j.gastro.2014.10.009 PMID: 25448925
Barrett AM, Vu KT, Sandhu KK, Phillips EH, Cunneen SA, Burch MA. Primary sleeve gastrectomy compared to sleeve gastrectomy as revisional surgery: weight loss and complications at intermediate follow-up. J Gastrointest Surg. 2014 Oct;18(10):1737-1743. doi: 10.1007/s11605-014-2592-3. PMID: 25118640
Ionut V, Castro AV, Woolcott OO, Stefanovski D, Iyer MS, Broussard JL, Burch M, Elazary R, Kolka CM, Mkrtchyan H, et al. Am J Physiol Endocrinol Metab. 2014 Oct 15;307(8):E644-652. doi: 10.1152/ajpendo.00244.2014. PMID: 25117408
Ionut V, Burch M, Youdim A, Bergman RN. Gastrointestinal Hormones and Bariatric Surgery Induced Weight Loss. Obesity. 2013 Jun;21(6):1093-1103. doi: 10.1002/oby.20364. PMID: 23512841.
Burch M, Misra M, Phillips EH. Splenic malignancy: a minimally invasive approach. Cancer Journal. 2005;11(1):36-42. PMID: 15831222.
Insurances
Before scheduling, we recommend checking with your insurance plan to see if an authorization is required to see this doctor. Primary Care Physicians (adult and pediatrics) do not require prior approval.