The Ljubimova Laboratory, led by Julia Ljubimova, MD, PhD, and physician-scientists in the Nanomedicine Research Center in the Department of Neurosurgery are joining forces to advance the field of treatment of brain, breast and lung primary and metastatic cancers, focusing in particular on cancers that have a poor prognosis or are largely incurable with current therapies. Nanoimmunology is a new field, in which nanodrugs are designed to treat cancer with simultaneous stimulation of general and local tumor immune response. Work in the Ljubimova Lab has led to the development of new nanomedicines and nanoimaging agents with high specificity in tumor diagnosis and treatment efficacy based on the latest achievements in molecular biology.
These nanotherapeutic or nanoimaging agents are synthesized on a bio-derived, biodegradable, nontoxic and nonimmunogenic polymer with unique biochemical properties, not achievable with synthetic polymers. The Ljubimova Laboratory was one of the first to introduce a multifunctional macromolecular nanodrug on the basis of rational design and the latest achievements in molecular and cell biology. These nanodrugs can be intravenously administrated and delivered across a number of biological barriers, including the most difficult to cross, the blood-brain barrier. The ultimate goal is to bring these novel classes of imaging and treatment nanomedicines to the clinical practice. Compared with conventional chemotherapy, the novel nanodrugs developed at the Cedars-Sinai Nanomedicine Research Center are more effective for treating experimental primary and secondary tumors by increasing the concentration of the anti-cancer drug directly at the tumor site while decreasing general toxicity and immunogenicity.
These nanodrugs and nanoimaging agents use an innovative delivery method allowing anti-cancer agents to accumulate directly in solid tumors and to help in fighting multi-drug-resistant cells.
The Ljubimova Laboratory is affiliated with the Nanomedicine Research Center and the Department of Neurosurgery.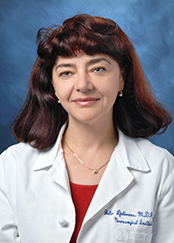 I am the director of the Nanomedicine Research Center for drug delivery and nanomedicine in the Department of Neurosurgery at Cedars-Sinai. My main interests are in differential cancer genomic and proteomic signatures as a tool for finding novel, early markers of cancer growth, and in development and design of new nanomedicine drugs against these and other tumor targets."
---
Julia Ljubimova, MD, PhD
The Ljubimova Laboratory is working to create a new generation of nanomedicine imaging agents and nanodrugs to bring them to clinical practice. The nanodrugs are biodegradable and nontoxic for patients and deliver multiple antitumor inhibitors, at the same time, directly to cancer cells, overcoming drug resistance and improving treatment efficacy and the quality of cancer patients' lives.
Claus-Michael Lehr, PhD
Professor, Head, Department of Drug Delivery (DDEL) of the 
Helmholtz Institute for Pharmaceutical Research Saarland (HIPS)
Saarland University
Manuel Penichet, MD, PhD
Professor, Surgery
Microbiology, Immunology and Molecular Genetics
Member, Clinical and Translational Science Institute
California NanoSystems Institute
Jonsson Comprehensive Cancer Center Tumor Immunology Program Area
Faculty, Molecular Biology Interdepartmental PhD
UCLA
Paula T. Hammond, PhD
Bayer Professor and Executive Officer
Department of Chemical Engineering
Koch Institute for Integrative Cancer Research
Associate Editor, ACS Nano
Massachusetts Institute of Technology, Cambridge, Mass.
Meng Ellis, PhD
Professor of Biomedical Engineering
Chair of the Women in Science and Engineering Program
Viterbi School of Engineering
University of Southern California, Los Angeles
Carlos Lodero, PhD, and Jose Capello, PhD
Nova University of Lisbon
Department of Chemistry
Faculty of Science and Technology
Caprica, Portugal
Alexander Lyubimov, MD, PhD
University of Illinois 
Department of Toxicology
Diplomate of the American Board of Toxicology Director
---
Learn more about the scientists, faculty members, investigators and other healthcare professionals of the Ljubimova Laboratory, whose dedicated efforts lead to groundbreaking discoveries.
Ding H, Gangalum PR, Galstyan A, Fox I, Patil R, Hubbard P, Murali R, Ljubimova JY, Holler E.
2017, Nanomedicine. 2017 Feb;13(2):631-639. 
Anchordoquy TJ, Barenholz Y, Boraschi D, Chorny M, Decuzzi P, Dobrovolskaia MA, Farhangrazi ZS, Farrell D, Gabizon A, Ghandehari H, Godin B, La-Beck NM, Ljubimova J, et al. 
ACS Nano. 2017 Jan 24;11(1):12-18. 
Ding H, Fox I, Patil R, Galstyan A, Black KL, Ljubimova JY, Holler E.
J Nanomater. 2017;2017. pii: 4238697. 
Contact the Ljubimova Lab
127 S. San Vicente Blvd.
Advanced Health Sciences Pavilion, Eighth Floor
Los Angeles, CA 90048