The Ljubimova Laboratory, led by Julia Ljubimova, MD, PhD, and physician-scientists within the Nanotechnology and Drug Delivery research area in the Neurosurgery Department, are joining to advance the treatment field for brain, breast and lung primary and metastatic cancers. The Ljubimova Lab focuses on cancers that have a poor prognosis or are largely incurable with current therapies.
Nanoimmunology is a new field in which nanodrugs are designed to treat cancer with simultaneous stimulation of general and local tumor immune response. Work in the Ljubimova Lab has led to the development of new nanomedicines and nanoimaging agents with high specificity in tumor diagnosis and treatment efficacy based on the latest achievements in cancer biology.
The Ljubimova Laboratory is affiliated with the Nanotechnology and Drug Delivery research area and the Neurosurgery Department.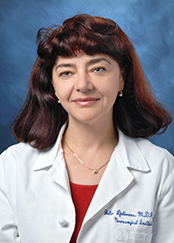 In addition to leading the Ljubimova Laboratory, I am the director of the Nanotechnology and Drug Delivery research area for drug delivery and nanomedicine in the Neurosurgery Department at Cedars-Sinai. My main interests are in differential cancer genomic and proteomic signatures as a tool for finding novel, early markers of cancer growth, and in developing and designing new nanomedicine drugs against these and other tumor targets."
---
Julia Ljubimova, MD, PhD
Nanodrugs and Nanoimaging Agents
MRI Virtual Biopsy for Brain Lesions 
Discovery of the New Cancer Biomarker, Laminin 411
Mini Nanodrugs: A Powerful Improvement in Synthesis and Function of Nanomedicines
Introduction of Mini Platforms for Delivery Through Blood-Brain Barrier
Mini Nano Agents Can Be Used as Tumor "Paints"
Claus-Michael Lehr, PhD
Professor, Head, Department of Drug Delivery (DDEL) of the 
Helmholtz Institute for Pharmaceutical Research Saarland (HIPS)
Saarland University
Manuel Penichet, MD, PhD
Professor, Surgery
Microbiology, Immunology and Molecular Genetics
Member, Clinical and Translational Science Institute
California NanoSystems Institute
Jonsson Comprehensive Cancer Center Tumor Immunology Program Area
Faculty, Molecular Biology Interdepartmental PhD
UCLA
Paula T. Hammond, PhD
Bayer Professor and Executive Officer
Department of Chemical Engineering
Koch Institute for Integrative Cancer Research
Associate Editor, ACS Nano
Massachusetts Institute of Technology, Cambridge, Mass.
Meng Ellis, PhD
Professor of Biomedical Engineering
Chair of the Women in Science and Engineering Program
Viterbi School of Engineering
University of Southern California, Los Angeles
Carlos Lodero, PhD, and Jose Capello, PhD
Nova University of Lisbon
Department of Chemistry
Faculty of Science and Technology
Caprica, Portugal
Alexander Lyubimov, MD, PhD
University of Illinois 
Department of Toxicology
Diplomate of the American Board of Toxicology Director
Meet Our Team
---
Learn more about the scientists, faculty members, investigators and other healthcare professionals of the Ljubimova Laboratory, whose dedicated efforts lead to groundbreaking discoveries.
Galstyan A, Markman JL, Shatalova ES, Antonella Chiechi, Korman AJ, Patil R, Klymyshyn D, Tourtellotte WG, Israel LL, Braubach O, Ljubimov VA, Mashouf LA, Ramesh A, Grodzinski ZB, Penichet ML, Black KL, Holler E, Sun T, Ding H, Ljubimov AV, Ljubimova JY. 
Nat Commun. 2019 Aug 28;10(1):3850.
Israel LL, Braubach O, Galstyan A, Chiechi A, Shatalova ES, Grodzinski Z, Ding H, Black KL, Ljubimova JY, Holler E.
ACS Nano. 2019;13(2):1253-1271.
Patil R, Sun T, Galstyan A, Butte P, Mamelak A, Carico C, Kittle D, Shatalova E, Ding H, Black KL, Ljubimova JY, Holler E. 
Biomaterials. 2019 Jun;206:146-159. 
Contact the Ljubimova Lab
127 S. San Vicente Blvd.
Advanced Health Sciences Pavilion, Eighth Floor
Los Angeles, CA 90048