The scope of our research seeks to understand a wide array of issues specific to women's health, including reproduction, heart disease and determinants of preterm delivery, among many others.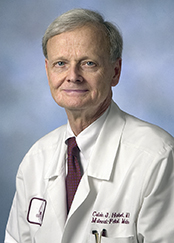 Maternal-Fetal Medicine
The Division of Maternal-Fetal Medicine is researching determinants of preterm delivery, early placental tissue, safety in childbirth and maternal severe morbidity. Calvin J. Hobel, MD, is analyzing the links between psychosocial and prenatal stresses and preterm delivery. The division has established a bio-repository for chorionic villa sampling (CVS) procedures. Cedars-Sinai is the only institution in the nation that stores placental tissue from the first trimester, so our researchers can investigate the origins of diseases that affect babies and mothers at the earliest stages of pregnancy.
---
Calvin J. Hobel, MD
---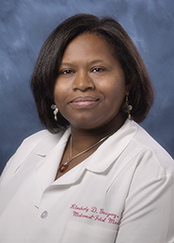 Maternal Quality of Care
Kimberly D. Gregory, MD, MPH, has developed maternal quality of care indicators and linked vaginal birth after cesarean delivery policies on labor and delivery to birth outcomes. She continues to evaluate physician behavior and patient views of delivery as it impacts obstetric outcomes. 
---
Kimberly D. Gregory, MD, MPH
---
Maternal Morbidity
Sarah Kilpatrick, MD, PhD, has researched severe maternal morbidity evaluation and potential preventability and continues to work nationally on this area.
---
Sarah J. Kilpatrick, MD, PhD
---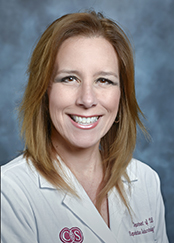 Reproductive Endocrinology & Infertility
Led by Margareta D. Pisarska, MD, the Division of Reproductive Endocrinology and Infertility is researching the process of ovulation to determine why some women experience early menopause. Specific areas of research involve oocyte development, infertility and abnormalities in reproductive endocrinology, fibroids and premature ovarian failure.
---
Margareta D. Pisarska, MD
---
Ovarian Cancer: Initiation and Metastasis
Christine Walsh, MD, MS, is studying the genetic changes occurring in ovarian cancer DNA, with the goals of better defining the events that lead to ovarian cancer initiation and progression, and identifying novel therapeutic targets and treatments.
---
Christine Walsh, MD, MS
Ovarian Cancer
Reproductive Endocrinology & Fertility
Have Questions or Need Help?
Contact us if you have questions, or wish to learn more about women's research at Cedars-Sinai.