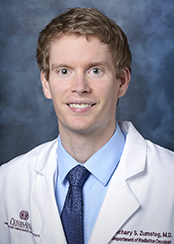 Zachary S. Zumsteg, MD
310-423-2523
Fax: 310-659-3332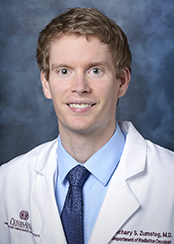 Scheduling
In person visits
Radiation Oncology - Cedars-Sinai Medical Center
8720 Beverly Blvd, Lower Level, Suite AC1010
Los Angeles, CA
34.075652
-118.380949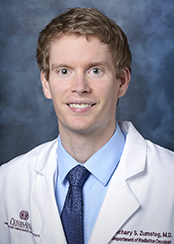 Back to Top
Locations
Radiation Oncology - Cedars-Sinai Medical Center
34.075652
-118.380949
Radiation Oncology - Cedars-Sinai Medical Center
8720 Beverly Blvd, Lower Level, Suite AC1010
Los Angeles, CA 90048
Get Directions
310-423-4208
310-659-3332 (Fax)
Monday: 8:30AM - 5:00PM
Tuesday: 8:30AM - 5:00PM
Wednesday: 8:30AM - 5:00PM
Thursday: 8:30AM - 5:00PM
Friday: 8:30AM - 5:00PM
---
Valet parking only at Beverly Building parking lot. Self-parking available in Lot P1 or P2. The cost is: 1st hour free, $5 each hour thereafter and $15 daily maximum. Valet parking is the same price as self-parking. Gratuities are not accepted. Valet is available at the Beverly Building parking lot Monday-Friday, 6:30 a.m.-8:30 p.m. For all additional parking rate information and discounted tickets, please visit cedars-sinai.org/patients-visitors/map.html.
Experience
Specialties
Area in which a healthcare provider is highly trained and often board certified.
1
Programs
Cedars-Sinai clinical programs this provider is part of:
5
Research Areas
Zachary S. Zumsteg, MD, is a faculty member in the Department of Radiation Oncology at Cedars-Sinai Samuel Oschin Comprehensive Cancer Institute. He completed his training in radiation oncology at Memorial Sloan Kettering Cancer Center. Dr. Zumsteg specializes in the treatment of head and neck, and genitourinary cancers. In addition to his clinical practice, he is actively engaged in research spanning epidemiology, health services, clinical trials and translational applications. Through this work, Dr. Zumsteg has developed a novel risk stratification system for patients with intermediate risk prostate cancer that is currently widely used by oncologists in clinical practice and cited in National Comprehensive Cancer Network Guidelines. Additionally, he has helped identify changing epidemiologic patterns and studied novel therapeutic paradigms for head and neck cancers arising in older adults. He is the author of numerous peer reviewed publications, with articles appearing in journals such as Lancet Oncology, Journal of Clinical Oncology, JAMA Oncology, European Urology, Clinical Cancer Research, Cancer, and the International Journal of Radiation Oncology, Biology and Physics. Dr. Zumsteg's research program attempts to bridge epidemiology, clinical outcomes, and biology, thereby utilizing tumor, and patient, associated factors to optimize personalization of treatment for head and neck and genitourinary cancers.
Titles
Assistant Professor

,

Radiation Oncology
Education & Training
Memorial Sloan Kettering Cancer Center

Residency - Completed 2015

UCLA-Olive View Medical Center

Internship - Completed 2011

UCLA David Geffen School of Medicine

Medical School - Completed 2010

Stanford University

Degrees - Completed 2005

University of Miami

Degrees - Completed 2003
Achievements
1

Board Certifications

5

Awards and Honors

6

Publications
Board Certifications
Radiation Oncology

American Board of Radiology
Awards and Honors
ASTRO Annual Meeting Scientific Abstract Travel Award
Radiation Research Society Scholars-In-Training Award
Best of ASTRO Abstract Selection
Alpha Omega Alpha Medical Honor Society
Howard Hughes Medical Institute Research Training Fellowship
Publications
A full list of this provider's research publications can be found on their research profile or PubMed.
Ho AS, Kim S, Tighiouart, Gudino C, Mita A, Scher KS, Laury A, Prasad R, Shiao SL, Van Eyk JE, Zumsteg ZS. Metastatic Lymph Node Burden and Survival in Oral Cavity Cancer. J Clin Oncol. 2017.
Zumsteg ZS, Cooks-Wiens G, Yoshida E, Shiao SL, Lee NY, Mita A, Jeon C, Goodman MT, Ho AS. Incidence of Oropharyngeal Cancer Among Elderly Patients in the United States. JAMA Oncol. 2016 Dec 1;2(12):1617-1623.
Zumsteg ZS, Kim S, David J, Yoshida E, Tighiouart M, Shiao SL, Scher K, Mita A, Sherman E, Lee NY, Ho AS. The Impact of Chemoradiation on Survival for Patients with T1-2N1 Head and Neck Cancer. Cancer. 2016 Dec 21. doi: 10.1002/cncr.30508. [Epub ahead of print]
Zumsteg ZS, Spratt DE, Pei I, Zhang Z, Yamada Y, Kollmeier M, Zelefsky MJ. A new risk classification system for therapeutic decision making with intermediate-risk prostate cancer patients undergoing dose-escalated external-beam radiation therapy. Eur Urol. 2013 Dec;64(6):895-902.
Zumsteg ZS, Morse N, Krigsfeld G, Gupta G, Higginson DS, Lee NY, Morris L, Ganly I, Shiao SL Powell SN, et al. Taselisib (GDC-0032), a Potent β-Sparing Small Molecule Inhibitor of PI3K, Radiosensitizes Head and Neck Squamous Carcinomas Containing Activating PIK3CA Alterations. 2016 Apr 15;22(8):2009-2019.
Zumsteg ZS, Daskivich TJ, Sandler HS. Salvage Radiotherapy for Biochemically Recurrent Prostate Cancer After Prostatectomy. J Clin Oncol. 2016 Aug 29. [Epub ahead of print].
View Publications on PubMed