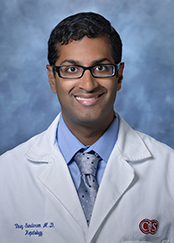 Vinay Sundaram, MD
310-423-6000
Fax: 310-423-2356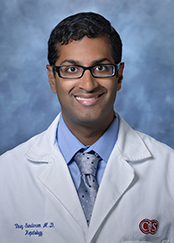 Scheduling
In person visits
Los Angeles
8900 Beverly Blvd
Fl 2
Los Angeles, CA
34.076992
-118.3861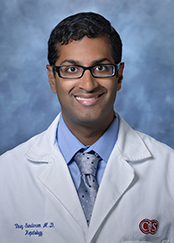 Back to Top
Locations
Los Angeles
34.076992
-118.3861
Los Angeles
310-423-6000
310-423-2356 (Fax)
Experience
Specialties
Area in which a healthcare provider is highly trained and often board certified.
1
Sub Specialties
A focused area of clinical knowledge and skills within a specialty. Example: a neurology specialist focused on stroke treatment.
2
Hepatology
Fatty Liver Disease
Programs
Cedars-Sinai clinical programs this provider is part of:
5
Titles
Director

,

Hepatology Outcomes Research

Assistant Medical Director

,

Liver Transplantation
Education & Training
Beth Israel Deaconess Medical Center (Harvard Medical School)

Fellowship - Completed 2011

University of Pittsburgh Medical Center

Fellowship - Completed 2010

University of Pittsburgh

Degrees - Completed 2010

University of Virginia Medical Center

Residency - Completed 2007

New York University School of Medicine

Medical School - Completed 2004
Achievements
2

Board Certifications

6

Awards and Honors

6

Publications
Board Certifications
IM/Hepatology

American Board of Internal Medicine

IM/Gastroenterology

American Board of Internal Medicine
Awards and Honors
Member, American Society for Transplantation
Board Certification, Gastroenterology
Member, American Association for Study of Liver Disease
Fellow, American College of Physicians
Board Certification, Transplant Hepatology
Board Certification, Internal Medicine
Publications
A full list of this provider's research publications can be found on their research profile or PubMed.
Sundaram V, Shneider BL, Dhawan A, Ng VL, Im K, Belle S, Squires RH. King's College Hospital criteria for non-acetaminophen induced acute liver failure in an international cohort of children. J Pediatr. 2013;162(2):319-323.e1.
Sundaram V, May FP, Manne V, Saab S. Effects of Clostridium difficile Infection in Patients With Alcoholic Hepatitis. Clin Gastroenterol Hepatol. 2014;12(10):1745-1752.e2. Epub 2014 Mar 27.
Sundaram V, Choi G, Ayoub WS, Nissen NN, Klein AS, Tran TT. Donation after cardiac death liver transplantation in primary sclerosing cholangitis: proceed with caution. Transplantation. 2015 May;99(5):973-978.
Sundaram V, Kaung A, Rajaram A, Lu SC, Tran TT, Nissen NN, Klein AS, Jalan R, Charlton M, Jeon CY. Obesity is independently associated with infection in hospitalised patients with end-stage liver disease. Aliment Pharmacol Ther. 2015;42(11-12):1271-1280. Epub 2015 Oct 13.
Sundaram V, Lim J, Tholey DM, Iriana S, Kim I, Manne V, Nissen NN, Klein AS, Tran TT, Ayoub WS, et al. The Braden Scale, a standard tool for assessing pressure ulcer risk, predicts early outcomes after liver transplantation. Liver Transpl. 2017;23(9):1153-1160.
Kowdley KV*, Sundaram V*, Jeon CY, Qureshi K, Latt NL, Sahota A, Lott S, Curry MP, Tsai N, Chaiyakunapruk N, et al. Eight weeks of ledipasvir/sofosbuvir is effective for selected patients with genotype 1 hepatitis C virus infection. Hepatology. 2017 Apr;65(4):1094-1103. Epub 2017 Feb 25.
View Publications on PubMed