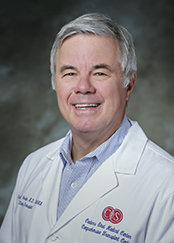 Stanley C. Jordan, MD
Peds - Nephrology
,
IM Nephrology
Guerin Children's Provider
Locations
Los Angeles
34.0769926
-118.3861037
Experience
Specialties
Area in which a healthcare provider is highly trained and often board certified.
2
Peds - Nephrology
IM Nephrology
Programs
Cedars-Sinai clinical programs this provider is part of:
3
Titles
Director

,

Division of Nephrology

Director

,

Nephrology

Director

,

HLA and Transplant Immunology Laboratory

Medical Director

,

Human Leukocyte Antigen and Transplant Immunology Laboratory

Medical Director

,

Kidney Transplant Program

Medical Director

,

Kidney Transplant Program

Professor

,

Medicine
Education & Training
UCLA

Residency - Completed 1976

UCLA

Internship - Completed 1974

University of North Carolina

Medical School - Completed 1973
Achievements
3

Board Certifications

9

Awards and Honors
Board Certifications
Pediatrics

American Board of Pediatrics

Peds - Nephrology

American Board of Pediatrics

Diagnostic Laboratory Immunology

American Board of Pediatrics
Awards and Honors
Prize for Research In Scientific Medicine (PRISM)
UCLA Alumni Association Medical Science Award
American Society of Nephrology
American Society of Immunology
Pioneer in Medicine Award
American Society of Transplantation
Established Clinical Investigator Award, American Society of Transplantation
Outstanding Clinical Investigator Award, Western Society for Clinical Investigation
National Kidney Foundation Gift of Life Award
Publications
Yang T, Nast CC, Vo A, Jordan SC: Rapid remission of steroid and mycophenolate mofetil (mmf)-resistant minimal change nephrotic syndrome after rituximab therapy. Nephrol. Dial. Transplant., 23(1): 377-80, 2007
Wu GD, He Y, Chai NN, Toyoda M, Dunn R, Kehry MR, Klein AS, Jordan SC: Anti-CD20 antibody suppresses anti-HLA antibody formation in a HLA-A2 transgenic mouse model of sensitization. Transpl. Immunol., 19(3-4): 178-86, 2008
Wechsler E, Yang T, Jordan SC, Vo A, Nast CC: Anti-glomerular basement membrane disease in an HIV-infected patient. Nature clinical practice. Nephrology, 4(3): 167-71, 2008
Vo AA, Wechsler EA, Wang J, Peng A, Toyoda M, Lukovsky M, Reinsmoen N, Jordan SC: Analysis of subcutaneous (SQ) alemtuzumab induction therapy in highly sensitized patients desensitized with IVIG and rituximab. Am. J. Transplant., 8(1): 144-9, 2007
Vo AA, Lukovsky M, Toyoda M, Wang J, Reinsmoen NL, Lai CH, Peng A, Villicana R, Jordan SC: Rituximab and intravenous immune globulin for desensitization during renal transplantation. N. Engl. J. Med., 359(3): 242-51, 2008
Toyoda M, Moudgil A, Warady BA, Puliyanda DP, Jordan SC: Clinical significance of peripheral blood Epstein-Barr viral load monitoring using polymerase chain reaction in renal transplant recipients. Pediatric transplantation, , 2008
Insurances
Before scheduling your appointment, we strongly recommend you contact your insurance company to verify that the Cedars-Sinai location or provider is included in your network.
Insurances
Insurances
3

3

4

3

1

2

3

1

1

3

2

1

1

2

3

4