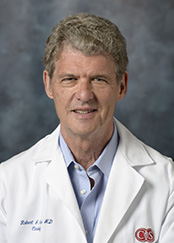 Robert J. Siegel, MD
310-423-2726
Fax: 310-423-6795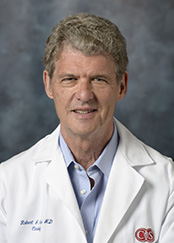 Scheduling
In person visits
Smidt Heart Institute
127 S San Vicente Blvd #A3600
Los Angeles, CA
34.074653
-118.378972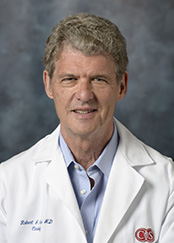 Back to Top
Locations
Smidt Heart Institute
34.074653
-118.378972
Smidt Heart Institute
Monday: 8:00AM - 5:00PM
Tuesday: 8:00AM - 5:00PM
Wednesday: 8:00AM - 5:00PM
Thursday: 8:00AM - 5:00PM
Friday: 8:00AM - 5:00PM
---
Self-parking is available in Cedars-Sinai parking lot P4. The cost is: 1st hour free, $5 each hour thereafter and $15 daily maximum. Valet parking is the same price as self-parking. Gratuities are not accepted. Valet is available at lot P4 Pavilion M-F, 5 a.m.-10 p.m.
Experience
Specialties
Area in which a healthcare provider is highly trained and often board certified.
1
Programs
Cedars-Sinai clinical programs this provider is part of:
3
Research Areas
Internationally recognized as one of the leading experts in the field of cardiovascular ultrasound, Robert J. Siegel, MD specializes in Cardiac Ultrasound including transthoracic and transesophageal echocardiography. His research interests include valvular heart disease, therapeutic applications of ultrasound energy, 2D and 3D transesophageal echo for the guidance and monitoring of percutaneous procedures such as mitral valve repair and aortic valve replacement as well as intraoperative echocardiography. He is also involved in clinical studies related to Marfan Syndrome and other aortopathies, hypertrophic cardiomyopathy, pericardial disease as well as valvular heart disease. Dr. Siegel is on the editorial board of two cardiovascular journals. He has edited three textbooks on ultrasound-related topics and he is a reviewer for more than a dozen journals. Dr. Siegel has authored more than 400 peer-reviewed scientific papers. He is also a contributing author to more than sixty cardiovascular textbooks. He has previously served as President of the California Chapter American College of Cardiology. He has been the Co-Chair of the Annual Meeting of The American College of Cardiology (2014) and The Annual Marfan Foundation (2011). He is a past president of the Los Angeles Society of Echocardiography and is active in several cardiovascular societies including the American Heart Association, American College of Cardiology, and American Society of Echocardiography.
Titles
Medical Director

,

Clinic for Hypertrophic Cardiomyopathy and Aortopathies

S. Rexford Kennamer MD Chair

,

Cardiac Ultrasound

Professor

,

Medicine
Education & Training
Harbor-UCLA Medical Center

Fellowship - Completed 1980

Los Angeles County + USC Medical Center

Residency - Completed 1978

Grady Memorial Hospital

Residency - Completed 1976

Baylor College of Medicine

Medical School - Completed 1974
Achievements
2

Board Certifications

3

Awards and Honors

6

Publications
Board Certifications
General Internal Medicine

American Board of Internal Medicine

IM/Cardiology

American Board of Internal Medicine
Awards and Honors
• Distinguished Professor of Medicine, UCLA, 2020-Present
• Kennamer Chair in Cardiac Ultrasound, Cedars-Sinai Medical Center, 2001-Present
The Distinguished teacher award 2015
Publications
A full list of this provider's research publications can be found on their research profile or PubMed.
Beigel R, Wunderlich NC, Kar S, Siegel RJ. The evolution of percutaneous mitral valve repair therapy: lessons learned and implications for patient selection. J Am Coll Cardiol. 2014 Dec 23;64(24):2688-2700.
Grayburn PA, Carabello B, Hung J, Gillam LD, Liang D, Mack MJ, McCarthy PM, Miller DC, Trento A, Siegel RJ. Defining "severe" secondary mitral regurgitation: emphasizing an integrated approach. J Am Coll Cardiol. 2014 Dec 30;64(25):2792-2801.
Beigel R, Wunderlich NC, Ho SY, Arsanjani R, Siegel RJ. The left atrial appendage: anatomy, function, and noninvasive evaluation. JACC Cardiovasc Imaging. 2014 Dec;7(12):1251-1265.
Wunderlich NC, Beigel R, Siegel RJ. Management of mitral stenosis using 2D and 3D echo-Doppler imaging. JACC Cardiovasc Imaging. 2013 Nov;6(11):1191-1205.
Beigel R, Cercek B, Luo H, Siegel RJ. Noninvasive evaluation of right atrial pressure. J Am Soc Echocardiogr. 2013 Sep;26(9):1033-1042.
Siegel RJ, Biner S, Rafique AM, Rinaldi M, Lim S, Fail P, Hermiller J, Smalling R, Whitlow PL, et al. The acute hemodynamic effects of MitraClip therapy. J Am Coll Cardiol. 2011 Apr 19;57(16):1658-1665.