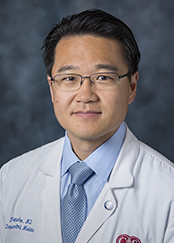 Peter Chen, MD
310-423-8784
Fax: 310-423-2665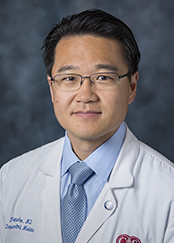 Scheduling
In person visits
Advanced Lung Disease
8723 Alden Dr #260
Los Angeles, CA
34.075788
-118.382428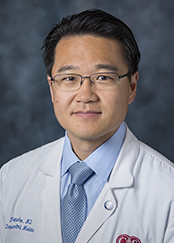 Back to Top
Languages
English

,

Chinese (Mandarin)

,
Locations
Advanced Lung Disease
34.075788
-118.382428
Advanced Lung Disease
310-423-8784
310-423-2665 (Fax)
Please call for hours information.
---
Self-parking is available in Cedars-Sinai parking lots P1, P2 and P4. 1st hour free, $5 each hour thereafter and $15 daily maximum. Valet parking is the same price as self-parking. Gratuities are not accepted.
Experience
Specialties
Area in which a healthcare provider is highly trained and often board certified.
1
Programs
Cedars-Sinai clinical programs this provider is part of:
7
Research Areas
Peter Chen, MD has had a long-standing interest in the lung epithelial response to injury and how aberrant responses acutely lead to lung injury and chronically promote pathological outcomes such as lung fibrosis. The initial work from his laboratory focused on epithelial interactions with the matrix identifying specific mechanisms regulating re-epithelialization. More recently, his research group has investigated mechanisms by which the lung mucosal immunity regulates acute lung injury after infectious insults. They have had a particular interest in influenza-mediated lung injury as a model to understand host innate immunity that regulates lung injury. After the COVID-19 pandemic, they also started studying the immunology of the disease and determining the traits that define more severe illness after infection by the SARS-CoV-2 virus. Furthermore, he has been conducting clinical trials into novel therapies for COVID-19.
Titles
Professor

,

Medicine and Biomedical Sciences

Assistant Director

,

Women's Guild Lung Institute

Medallion Chair

,

Molecular Medicine

Director

,

Division of Pulmonary and Critical Care Medicine
Education & Training
University of Washington Medical Center

Fellowship - Completed 2005

University of Texas Southwestern Medical Center

Residency - Completed 2002
Achievements
2

Board Certifications

6

Awards and Honors

11

Publications
Board Certifications
IM/Pulmonary Medicine

American Board of Internal Medicine

IM/Critical Care

American Board of Internal Medicine
Awards and Honors
Editorial Board: American Journal of Respiratory Cell and Molecular Biology
VA Merit Study Section
Medallion Chair in Molecular Medicine
NIH Lung Injury, Repair, and Regeneration (LIRR) Study Section
Chair, Ziskind Clinical Scholars Program, American Thoracic Society (ATS) Foundation
Jo Rae Wright Award for Outstanding Science, American Thoracic Society
Publications
A full list of this provider's research publications can be found on their research profile or PubMed.
Modes ME, Directo MP, Melgar M, Johnson LR, Yang H, Chaudhary P, Bartolini S, Kho N, Noble PW*, Isonaka S*, Chen P*. Clinical characteristics and outcomes among adults hospitalized with laboratory-confirmed SARS-CoV-2 infection during periods of B.1.617.2 (Delta) and B.1.1.529 (Omicron) variant predominance — one hospital, California, July 15–September 23, 2021 and December 21, 2021–January 27, 2022. MMWR Morb Mortal Wkly Rep. 2022 Feb 11;71(6):217-223.
Yao C, Bora SA, Parimon T, Zaman T, Friedman OA, Palatinus JA, Surapaneni NS, Matusov YP, Cerro Chiang G, Kassar AG, Patel N, Green CER, Aziz AW, Suri H, Suda J, Lopez AA, Martins GA, Stripp BR, Gharib SA*, Goodridge HS*, Chen P*. Cell type-specific immune dysregulation in severely ill COVID-19 patients. Cell Rep. 2021; 34:108590.
Gottlieb RL, Nirula A, Chen P, Boscia J, Heller B, Morris J, Huhn G, Cardona J, Mocherla B, Stosor V, Shawa I, Kumar P, Adams CS, Van Naarden J, Custer K, Durante M, Oakley G, Shade Ae, Holzer TR, Ebert PJ, Higgs RE, Kallewaard NL, Sabo J, Patel DR, Klekotka P, Shen L, Skovronsky DM. Effect of neutralizing monoclonal antibody bamlanivimab as monotherapy or in combination with etesevimab on viral load among patients with mild-to-moderate COVID-19: A randomized clinical trial. JAMA. 2021 Feb 16;325(7):632-644. doi: 10.1001/jama.2021.0202. PubMed PMID: 33475701; PubMed Central PMCID: PMC7821080.
Chen P, Nirula A, Heller B, Gottlieb RL, Boscia J, Morris J, Huhn G, Cardona J, Mocherla B, Stosor V, Shawa I, Adams AC, Van Naarden J, Custer KL, Shen L, Durante M, Oakley G, Schade AE, Sabo J, Patel DR, Klekotka P, Skovronsky DM. SARS-CoV-2 Neutralizing Antibody LY-CoV555 in Outpatients with Covid-19. N Engl J Med 2021 Jan 21;384(3):229-237.
Parimon T, Yao C, Habiel DM, Ge L, Bora S, Brauer R, Evans CM, Xie T, Jiang D, Noble PW, Hogaboam CM, Deng N, Burgy O, Antes TJ, Konigshoff M, Stripp BR, Gharib S, Chen P. Syndecan-1 promotes lung fibrosis by regulating epithelial reprogramming through extracellular vesicles. JCI Insight. 2019 4(17):e129359.
Hornick EE, Dagvadorj J, Zacharias ZR, Miller AM, Langlois RA, Chen P, Legge KL, Bishop GA, Sutterwala FS, Cassel SL. Dendritic cell NLRC4 regulates influenza A virus-specific CD4 T cell responses through FasL expression. J Clin Invest. 2019 Apr 30;130:2888-2897.
Parimon T, Brauer R, Schlesinger SY, Xie T, Jiang D, Ge L, Huang Y, Birkland TP, Parks WC, Habiel DM, Hogaboam CM, Gharib SA, Deng N, Liu Z, Chen P. Syndecan-1 Controls Lung Tumorigenesis by Regulating miRNAs Packaged in Exosomes. Am J Pathol. 2018 Apr;188(4):1094-1103.
Ge L, Habiel DM, Hansbro PM, Kim RY, Gharib SA, Edelman JD, Königshoff M, Parimon T, Brauer R, Huang Y, Allen J, Jiang D, Kurkciyan AA, Mizuno T, Stripp BR, Noble PW, Hogaboam CM, Chen P. miR-323a-3p regulates lung fibrosis by targeting multiple pro-fibrotic pathways. JCI Insight. 2016. 1(20):e90301.
Brauer R, Ge L, Schlesinger SY, Birkland TP, Huang Y, Parimon T, Lee V, McKinney BL, McGuire JK, Parks WC, Chen P. Syndecan-1 Attenuates Lung Injury during Influenza Infection by Potentiating c-Met Signaling to Suppress Epithelial Apoptosis. Syndecan-1 Activates c-Met to Potentiate Lung Injury During Influenza Infection. Am J Resp Crit Care Med. 2016. 194(3):333-44.
Altemeier WA, Schlesinger SY, Buell CA, Rapraeger AC, Parks WC, Chen P. The Transmembrane and Extracellular Domains of Syndecan-1 Have Distinct Functions in Regulating Lung Epithelial Migration and Adhesion. J Biol Chem. 2012. 287(42): 34927-35.
Altemeier WA, Schlesinger SY, Buell CA, Parks WC, Chen P. Syndecan-1 Controls Cell Migration by Activating Rap1 to Regulate Focal Adhesion Disassembly. J Cell Sci. 2012. 125:5188-95.