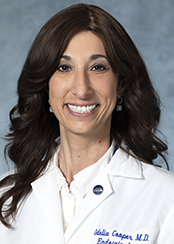 Odelia B. Cooper, MD
Accepting New Patients
Locations
Pituitary Center
34.074508
-118.37909
Pituitary Center
127 S. San Vicente Blvd., Pavilion, Suite A6600
Los Angeles, CA 90048
Get Directions
Monday: 8:00AM - 4:30PM
Tuesday: 8:00AM - 4:30PM
Wednesday: 8:00AM - 4:30PM
Thursday: 8:00AM - 4:30PM
Friday: 8:00AM - 4:30PM
Pavilion is located at 127 S. San Vicente Boulevard between West 3rd Street and Gracie Allen Drive. Valet parking and self-parking are available in the Pavilion Parking lot, located on Sherbourne Drive between West 3rd Street and Gracie Allen Drive. Park in the Gold Zone (Levels B2 and B3) and take the Gold Parking elevators to the Plaza Level. Follow the signs for the Pavilion elevators, and take the elevator up to your destination. For parking rates and hours of operation, please visit cedars-sinai.org/parking
Endocrinology Program
34.075907
-118.38248
Endocrinology Program
8723 Alden Drive, Spielberg, Suite 290
Los Angeles, CA 90048
Get Directions
Monday: 8:00AM - 5:00PM
Tuesday: 8:00AM - 5:00PM
Wednesday: 8:00AM - 5:00PM
Thursday: 8:00AM - 5:00PM
Friday: 8:00AM - 5:00PM
Spielberg is located at 8723 Alden Drive at the corner of George Burns Road. Self-parking is available in the Spielberg Parking lot, located on George Burns Road between Alden Drive and Beverly Boulevard. Enter the building, take the Spielberg elevators to Level 2 and find your destination. Valet parking and additional self-parking are available in the North Tower Parking lot, located on George Burns Road between Beverly Boulevard and Gracie Allen Drive. For parking rates and hours of operation, please visit cedars-sinai.org/parking
Experience
Specialties
Area in which a healthcare provider is highly trained and often board certified.
1
Programs
Cedars-Sinai clinical programs this provider is part of:
10
Research Areas
Titles
Director

,

Endocrine Fellowship Program

Professor

,

Cedars-Sinai Medical Center
Education & Training
Cedars-Sinai

Fellowship - Completed 2009

Cedars-Sinai

Fellowship - Completed 2008

Cedars-Sinai

Residency - Completed 2006

Johns Hopkins University School of Medicine

Medical School - Completed 2002

Johns Hopkins University

Degrees - Completed 1998
Achievements
2

Board Certifications

4

Awards and Honors
Board Certifications
General Internal Medicine

American Board of Internal Medicine

IM/Endocrinology

American Board of Internal Medicine
Awards and Honors
Outstanding PBL Tutor Award, UCLA
R21 Grant, National Institute of Diabetes and Digestive and Kidney Diseases
Member, Endocrine Society and Pituitary Society
K23 Career Development Award, National Institutes of Health
Publications
Schell MJ, Cooper OB, Snyder SH. D-aspartate localizations imply neuronal and neuroendocrine roles. Proc Natl Acad Sci USA. 1997;(5):2013-2018.
Cooper O, Geller JL, Melmed S. Ovarian hyperstimulation syndrome caused by an FSH-secreting pituitary adenoma. Nat Clin Pract Endocrinol Metab. 2008;(4):234-238.
Vlotides G, Cooper O, Chen YH, Ren SG, Greenman Y, Melmed S. Heregulin regulates prolactinoma gene expression. Cancer Res. 2009;(10):4209-4216.
Cooper O, Ben-Shlomo A, Bonert V, Bannykh S, Mirocha J, Melmed S. Silent corticogonadotroph adenomas: clinical and cellular characteristics and long term outcomes. Horm Cancer. 2010;1(1):80-92.
Cooper O, Vlotides G, Fukuoka H, Greene MI, Melmed S. Expression and function of ErbB receptors and ligands in the pituitary. Endocr Relat Cancer. 2011;18(6):R197-R211.
Cooper O, Mamelak A, Bannykh S, Carmichael JD, Bonert V, Lim S, Cook-Wiens G, Ben-Shlomo A. Prolactinoma ErbB receptor expression and targeted therapy for aggressive tumors. Endocrine. 2014;46(2):318-327.
Altered Pituitary Gland Structure and Function in Posttraumatic Stress Disorder. Journal of Endocrine Society. 1:577-587 (2017).
EGFR/ErbB2 targeting lapatinib therapy for aggressive prolactinomas.J Clin Endocrinol Metab. 106: e917-25 (2021).
Insurances
Before scheduling your appointment, we strongly recommend you contact your insurance company to verify that the Cedars-Sinai location or provider is included in your network.
Insurances
Insurances
3

3

4

3

1

2

3

1

1

3

2

1

1

2

3

4