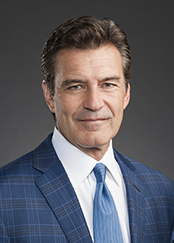 Locations
Cedars-Sinai Kerlan-Jobe Institute - Howard Hughes Center/LAX
33.977652
-118.393305
Cedars-Sinai Kerlan-Jobe Institute - Howard Hughes Center/LAX
Monday: 8:00AM - 5:00PM
Tuesday: 8:00AM - 5:00PM
Wednesday: 8:00AM - 5:00PM
Thursday: 8:00AM - 5:00PM
Friday: 8:00AM - 5:00PM
We offer partial parking validation. Enter parking structure from Park Terrace Drive. Temporary drop off or pick up for patient at building main entrance. Call 310-665-7200.
Experience
Specialties
Area in which a healthcare provider is highly trained and often board certified.
1
Sub Specialties
A focused area of clinical knowledge and skills within a specialty. Example: a neurology specialist focused on stroke treatment.
1
Programs
Cedars-Sinai clinical programs this provider is part of:
2
Education & Training
Kerlan-Jobe Orthopaedic Clinic- Sports Medicine

Fellowship - Completed 1991

Univeristy of Pittsburgh Medical Center- Orthopaedic Surgery

Residency - Completed 1990

Univeristy of Pittsburgh Medical Center- General Surgery

Internship - Completed 1986

University of Pittsburgh School of Medicine

Medical School - Completed 1985
Achievements
2

Board Certifications

7

Awards and Honors
Board Certifications
Orthopaedics

American Board of Orthopedic Surgery

Orthopaedic Sports Medicine

American Board of Orthopedic Surgery
Awards and Honors
Member-American Academy of Orthopaedic Surgeons
Member-NFL Physicians Society
Member-Vice President, American Orthopaedic Society for Sports Medicine
Member-President, Herodicus Society
Member-Alpha Omega Alpha Medical Honor Society
Member-American Orthopaedic Association
Member-American Shoulder and Elbow Surgeons