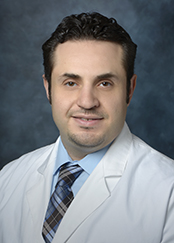 Mazen Noureddin, MD
310-423-6000
Fax: 310-423-2356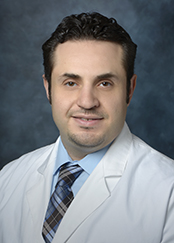 Liver Disease & Transplant Center
8900 Beverly Blvd - 3rd Floor
Los Angeles, CA
34.076914
-118.386289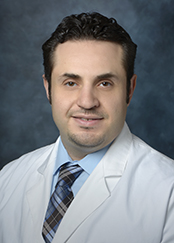 Back to Top
Locations
Liver Disease & Transplant Center
34.076914
-118.386289
Liver Disease & Transplant Center
310-423-2641
310-423-6086 (Fax)
Monday: 8:00AM - 5:00PM
Tuesday: 8:00AM - 5:00PM
Wednesday: 8:00AM - 5:00PM
Thursday: 8:00AM - 5:00PM
Friday: 8:00AM - 5:00PM
---
Valet parking is located on Swall Drive and is $5 with validation.
Experience
Specialties
Area in which a healthcare provider is highly trained and often board certified.
1
Sub Specialties
A focused area of clinical knowledge and skills within a specialty. Example: a neurology specialist focused on stroke treatment.
2
Hepatology
Fatty Liver Disease
Programs
Cedars-Sinai clinical programs this provider is part of:
5
Research Areas
Titles
Director

,

Cedars-Sinai Fatty Liver Program
Education & Training
University of California, San Diego School of Medicine

Fellowship - Completed 2011

Duke University School of Medicine

Degrees - Completed 2009

National Institutes of Health

Fellowship - Completed 2008

University of Southern California

Residency - Completed 2005
Achievements
2

Board Certifications

9

Awards and Honors

5

Publications
Board Certifications
IM/Gastroenterology

American Board of Internal Medicine

General Internal Medicine

American Board of Internal Medicine
Awards and Honors
Sabina Brautbar Resident Scholar Award of Research, University of Southern California, Department of Medicine
Top Doctors, Pasadena Magazine
AGA-AASLD Academic Skill Workshop. San Diego CA (invited)
Young Investigator Travel Award, European Association of Liver Diseases EASL-AASLD HCV Special Conference in Prague
2nd Award of Research Poster Competition in San Diego Gastroenterology Society
Junior Resident of the Year, University of Southern California, Department of Medicine
Clinical Scholar Program, Cedars Sinai
Resident Scholar Travel Award, American Association of Liver Disease
American Liver Foundation (ALF): Health Care Visionary Award
Publications
Noureddin M, Yates KP, Vaughn IA, Neuschwander-Tetri BA, Sanyal AJ, McCullough A, Merriman R, Hameed B, Doo E, Kleiner DE, et al. Clinical and histological determinants of nonalcoholic steatohepatitis and advanced fibrosis in elderly patients. Hepatology. 2013;58(5):1644-1654.
Noureddin M, Lam J, Peterson M, Middleton M, Hamilton G, Le TA, Bettencourt R, Changchien C, Brenner DA, Sirlin C, et al. Utility of magnetic resonance imaging versus histology for quantifying changes in liver fat in nonalcoholic fatty liver disease trials. Hepatology. 2013;58(6):1930-1940.
Noureddin M, Rinella ME. Nonalcoholic Fatty liver disease, diabetes, obesity, and hepatocellular carcinoma. Clin Liver Dis. 2015;19(2):361-379.
Noureddin M, Mato JM, Lu SC. Nonalcoholic fatty liver disease: update on pathogenesis, diagnosis, treatment and the role of S-adenosylmethionine. Exp Biol Med (Maywood). 2015;240(6):809-820.
Noureddin M, Khoyliar C, Palmer SL. MRI, CT scan and ultrasound in the diagnosis of nonalcoholic fatty liver disease. J Clin Gastroenterol. 2015;49(4):351-352.
View Publications on PubMed