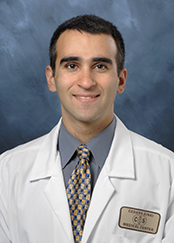 Mark O. Goodarzi, MD, PhD
310-423-3870
Fax: 310-423-0429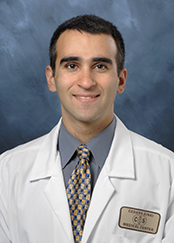 Mark O. Goodarzi, MD, PhD
Los Angeles
8723 Alden Dr
Ste 290
Los Angeles, CA
34.0759269
-118.3824887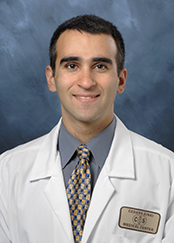 Mark O. Goodarzi, MD, PhD
Back to Top
Locations
Los Angeles
34.0759269
-118.3824887
Experience
Specialties
Area in which a healthcare provider is highly trained and often board certified.
1
Programs
Cedars-Sinai clinical programs this provider is part of:
9
Research Areas
Titles
Director

,

Endocrinology

Director

,

Endocrine Genetics Laboratory

Professor

,

Medicine

Eris M. Field Chair

,

Diabetes Research
Education & Training
UCLA Medical Center

Fellowship - Completed 2004

UCLA

Degrees - Completed 2004

UCLA Medical Centerr

Residency - Completed 1999

University of California, San Franscisco

Medical School - Completed 1997

Harvard University

Degrees - Completed 1993
Achievements
2

Board Certifications

5

Awards and Honors

6

Publications
Board Certifications
General Internal Medicine

American Board of Internal Medicine

IM/Endocrinology

American Board of Internal Medicine
Awards and Honors
Endocrine Society Richard E. Weitzman Memorial Award
Fellowship in the American College of Physicians
Outstanding Investigator Award, Western Section, American Federation for Medical Research
Young Investigator Award, Androgen Excess Society
Golden Tiger Award for Working Group Leadership, CHARGE (Cohorts for Heart and Aging Research in Genomic Epidemiology) Consortium
Publications
Wessel J, Chu AY, Willems SM, Wang S, Yaghootkar H, Brody JA, Dauriz M, Hivert MF, Raghavan S, Lipovich L, Hidalgo B, Fox K, Huffman JE, An P, Lu Y, Rasmussen-Torvik LJ, Grarup N, Ehm MG, Li L, Baldridge AS, Stančáková A, Abrol R, Besse C, Boland A, Bork-Jensen J, Fornage M, Freitag DF, Garcia ME, Guo X, Hara K, Isaacs A, Jakobsdottir J, Lange LA, Layton JC, Li M, Hua Zhao J, Meidtner K, Morrison AC, Nalls MA, Peters MJ, Sabater-Lleal M, Schurmann C, Silveira A, Smith AV, Southam L, Stoiber MH, Strawbridge RJ, Taylor KD, Varga TV, Allin KH, Amin N, Aponte JL, Aung T, Barbieri C, Bihlmeyer NA, Boehnke M, Bombieri C, Bowden DW, Burns SM, Chen Y, Chen YD, Cheng CY, Correa A, Czajkowski J, Dehghan A, Ehret GB, Eiriksdottir G, Escher SA, Farmaki AE, Frånberg M, Gambaro G, Giulianini F, Goddard WA 3rd, Goel A, Gottesman O, Grove ML, Gustafsson S, Hai Y, Hallmans G, Heo J, Hoffmann P, Ikram MK, Jensen RA, Jørgensen ME, Jørgensen T, Karaleftheri M, Khor CC, Kirkpatrick A, Kraja AT, Kuusisto J, Lange EM, Lee IT, Lee WJ, Leong A, Liao J, Liu C, Liu Y, Lindgren CM, Linneberg A, Malerba G, Mamakou V, Marouli E, Maruthur NM, Matchan A, McKean-Cowdin R, McLeod O, Metcalf GA, Mohlke KL, Muzny DM, Ntalla I, Palmer ND, Pasko D, Peter A, Rayner NW, Renström F, Rice K, Sala CF, Sennblad B, Serafetinidis I, Smith JA, Soranzo N, Speliotes EK, Stahl EA, Stirrups K, Tentolouris N, Thanopoulou A, Torres M, Traglia M, Tsafantakis E, Javad S, Yanek LR, Zengini E, Becker DM, Bis JC, Brown JB, Cupples LA, Hansen T, Ingelsson E, Karter AJ, Lorenzo C, Mathias RA, Norris JM, Peloso GM, Sheu WH, Toniolo D, Vaidya D, Varma R, Wagenknecht LE, Boeing H, Bottinger EP, Dedoussis G, Deloukas P, Ferrannini E, Franco OH, Franks PW, Gibbs RA, Gudnason V, Hamsten A, Harris TB, Hattersley AT, Hayward C, Hofman A, Jansson JH, Langenberg C, Launer LJ, Levy D, Oostra BA, O'Donnell CJ, O'Rahilly S, Padmanabhan S, Pankow JS, Polasek O, Province MA, Rich SS, Ridker PM, Rudan I, Schulze MB, Smith BH, Uitterlinden AG, Walker M, Watkins H, Wong TY, Zeggini E; EPIC-InterAct Consortium, Laakso M, Borecki IB, Chasman DI, Pedersen O, Psaty BM, Tai ES, van Duijn CM, Wareham NJ, Waterworth DM, Boerwinkle E, Kao WH, Florez JC, Loos RJ, Wilson JG, Frayling TM, Siscovick DS, Dupuis J, Rotter JI, Meigs JB, Scott RA, Goodarzi MO. Low-frequency and rare exome chip variants associate with fasting glucose and type 2 diabetes susceptibility. Nat Commun. 2015 Jan 29;6:5897
Goodarzi MO. Genetics of obesity: what genetic association studies have taught us about the biology of obesity and its complications. Lancet Diabetes Endocrinol. 2018;6:223-236
Brower MA, Jones MR, Rotter JI, Krauss RM, Legro RS, Azziz R, Goodarzi MO. Further investigation in Europeans of susceptibility variants for polycystic ovary syndrome discovered in genome-wide association studies of Chinese individuals. J Clin Endocrinol Metab. 2015 Jan;100(1):E182-186.
Goodarzi MO, Guo X, Cui J, Jones MR, Haritunians T, Xiang AH, Chen YDI, Taylor KD, Buchanan TA, Hsueh WA, et al. Systematic evaluation of validated type 2 diabetes and glycemic trait loci for association with insulin clearance. Diabetologia. 2013 Jun;56(6):1282-1290.
Goodarzi MO, Taylor KD, Guo X, Quinones MJ, Cui J, Li X, Hang T, Yang H, Holmes E, Hsueh WA, et al. Variation in the gene for muscle-specific AMP deaminase is associated with insulin clearance, a highly heritable trait. Diabetes. 2005 Apr;54(4):1222-1227.
Guo X, Cui J, Jones MR, Haritunians T, Xiang AH, Chen YD, Taylor KD, Buchanan TA, Davis RC, Hsueh WA, Raffel LJ, Rotter JI, Goodarzi MO. Insulin clearance: confirmation as a highly heritable trait, and genome-wide linkage analysis. Diabetologia. 2012 Aug;55(8):2183-2192.
View Research Profile
View Publications on PubMed
Insurances
Before scheduling your appointment, we strongly recommend you contact your insurance company to verify that the Cedars-Sinai location or provider is included in your network.
Insurances
Insurances
3

3

4

3

1

2

3

1

1

3

2

1

1

2

3

4