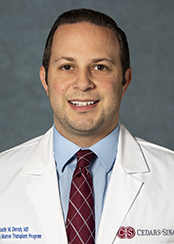 Justin M. Darrah, MD
Accepting New Patients
Locations
Samuel Oschin Cancer Center
34.074713
-118.379418
Samuel Oschin Cancer Center
127 S. San Vicente Blvd., Pavilion, 7th Floor
Los Angeles, CA 90048
Get Directions
Monday: 8:00AM - 5:30PM
Tuesday: 8:00AM - 5:30PM
Wednesday: 8:00AM - 5:30PM
Thursday: 8:00AM - 5:30PM
Friday: 8:00AM - 5:30PM
Pavilion is located at 127 S. San Vicente Boulevard between West 3rd Street and Gracie Allen Drive. Valet parking and self-parking are available in the Pavilion Parking lot, located on Sherbourne Drive between West 3rd Street and Gracie Allen Drive. Park in the Gold Zone (Levels B2 and B3) and take the Gold Parking elevators to the Plaza Level. Follow the signs for the Pavilion elevators, and take the elevator up to your destination. For parking rates and hours of operation, please visit cedars-sinai.org/parking
Blood & Marrow Transplant Program
34.074713
-118.379418
Blood & Marrow Transplant Program
127 S. San Vicente Blvd., Pavilion, 7th Floor
Los Angeles, CA 90048
Get Directions
Monday: 8:00AM - 5:00PM
Tuesday: 8:00AM - 5:00PM
Wednesday: 8:00AM - 5:00PM
Thursday: 8:00AM - 5:00PM
Friday: 8:00AM - 5:00PM
Pavilion is located at 127 S. San Vicente Boulevard between West 3rd Street and Gracie Allen Drive. Valet parking and self-parking are available in the Pavilion Parking lot, located on Sherbourne Drive between West 3rd Street and Gracie Allen Drive. Park in the Gold Zone (Levels B2 and B3) and take the Gold Parking elevators to the Plaza Level. Follow the signs for the Pavilion elevators, and take the elevator up to your destination. For parking rates and hours of operation, please visit cedars-sinai.org/parking
Experience
Specialties
Area in which a healthcare provider is highly trained and often board certified.
1
Programs
Cedars-Sinai clinical programs this provider is part of:
2
Research Areas
Titles
Assistant Professor
Director

,

CAR T-Cell Program

Co-Director

,

Lymphoma Program
Education & Training
Harbor-UCLA Medical Center

Fellowship - Completed 2018

City of Hope

Fellowship - Completed 2018

Temple University Hospital

Residency - Completed 2014

Lewis Katz School of Medicine at Temple University

Medical School - Completed 2011

University of Pittsburgh, Cedars-Sinai Medical Center

Degrees
Achievements
3

Board Certifications

7

Awards and Honors
Board Certifications
IM/Hematology

American Board of Internal Medicine

General Internal Medicine

American Board of Internal Medicine

IM/Oncology

American Board of Internal Medicine
Awards and Honors
Board Certified in Internal Medicine
Member, American Society for Blood and Marrow Transplantation
Member, American Medical Association
Board Certified in Hematology
Member, American Society of Clinical Oncology
Member, American Society of Hematology
Board Certified in Medical Oncology
Publications
Herrera AF, Chen L, Khajavian S, Chase M, Darrah J, Maloney D, Ho VT, Soiffer RJ, Antin JH, Forman SJ, Nademanee AP, Chen Y, Armand P, Shadman M. Allogeneic Stem Cell Transplantation Provides Durable Remission in Patients with Primary Mediastinal Large B Cell Lymphoma. Biol Blood Marrow Transplant. 2019;25(12):2383-2387.
Darrah JM, Herrera AF. Updates on Circulating Tumor DNA Assessment in Lymphoma. Curr Hematol Malig Rep. 2018 Oct;13(5):348-355.
Autologous stem cell transplantation after anti-PD-1 therapy for multiply relapsed or refractory Hodgkin lymphoma. Blood Adv. 2021 Mar 23;5(6):1648-1659.
Current Management and New Developments in the Treatment of ALL/Lymphoblastic Lymphoma. Biology and Treatment of Leukemia and Bone Marrow Neoplasms. Springer. 2021
Haematopoietic cell transplantation for blastic plasmacytoid dendritic cell neoplasm: a North American multicentre collaborative study. Br J Haematol. 2017 Dec;179(5):781-789.
Insurances
Before scheduling your appointment, we strongly recommend you contact your insurance company to verify that the Cedars-Sinai location or provider is included in your network.
Insurances
Insurances
3

3

4

3

1

2

3

1

1

3

2

1

1

2

3

4