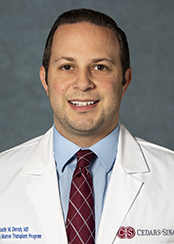 Justin M. Darrah, MD
310-423-1160
Fax: 310-423-4646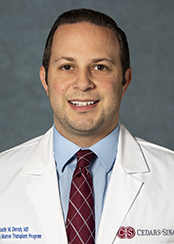 Scheduling
In person visits
Samuel Oschin Cancer Center
127 S San Vicente Blvd - 7th Floor
Los Angeles, CA
34.074713
-118.379418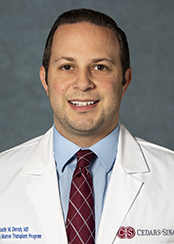 Back to Top
Locations
Samuel Oschin Cancer Center
34.074713
-118.379418
Samuel Oschin Cancer Center
127 S San Vicente Blvd - 7th Floor
Los Angeles, CA 90048
Get Directions
Monday: 8:00AM - 5:30PM
Tuesday: 8:00AM - 5:30PM
Wednesday: 8:00AM - 5:30PM
Thursday: 8:00AM - 5:30PM
Friday: 8:00AM - 5:30PM
---
Self-parking is available in Cedars-Sinai parking lot P4. The cost is: 1st hour free, $5 each hour thereafter and $15 daily maximum. Valet parking is the same price as self-parking. Gratuities are not accepted. Valet is available at lot P4 Pavilion M-F, 5 a.m.-10 p.m.
Los Angeles
34.0761098
-118.3799992
Experience
Specialties
Area in which a healthcare provider is highly trained and often board certified.
1
Sub Specialties
A focused area of clinical knowledge and skills within a specialty. Example: a neurology specialist focused on stroke treatment.
4
Stem Cell Transplantation
Lymphoma
Chronic Lymphoid Leukemia
CAR T Cell Therapy
Programs
Cedars-Sinai clinical programs this provider is part of:
2
Titles
Assistant Professor
Director

,

CAR T-Cell Program
Education & Training
Harbor-UCLA Medical Center

Fellowship - Completed 2018

City of Hope

Fellowship - Completed 2018

Temple University Hospital

Residency - Completed 2014

Lewis Katz School of Medicine at Temple University

Medical School - Completed 2011

University of Pittsburgh, Cedars-Sinai Medical Center

Degrees
Achievements
3

Board Certifications

6

Awards and Honors

3

Publications
Board Certifications
General Internal Medicine

American Board of Internal Medicine

IM/Hematology

American Board of Internal Medicine

IM/Oncology

American Board of Internal Medicine
Awards and Honors
Board Certified in Internal Medicine
Member, American Society for Blood and Marrow Transplantation
Member, American Medical Association
Board Certified in Hematology
Member, American Society of Hematology
Board Certified in Medical Oncology
Publications
A full list of this provider's research publications can be found on their research profile or PubMed.
Herrera AF, Chen L, Khajavian S, Chase M, Darrah J, Maloney D, Ho VT, Soiffer RJ, Antin JH, Forman SJ, Nademanee AP, Chen Y, Armand P, Shadman M. Allogeneic Stem Cell Transplantation Provides Durable Remission in Patients with Primary Mediastinal Large B Cell Lymphoma. Biol Blood Marrow Transplant. 2019;25(12):2383-2387.
Darrah JM, Herrera AF. Updates on Circulating Tumor DNA Assessment in Lymphoma. Curr Hematol Malig Rep. 2018 Oct;13(5):348-355.
Autologous stem cell transplantation after anti-PD-1 therapy for multiply relapsed or refractory Hodgkin lymphoma. Blood Adv. 2021 Mar 23;5(6):1648-1659.