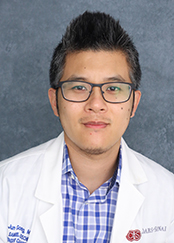 Languages
English

,

Cantonese

,

Spanish

,
Locations
Samuel Oschin Cancer Center
34.074713
-118.379418
Samuel Oschin Cancer Center
127 S San Vicente Blvd - 7th Floor
Los Angeles, CA 90048
Get Directions
Monday: 8:00AM - 5:30PM
Tuesday: 8:00AM - 5:30PM
Wednesday: 8:00AM - 5:30PM
Thursday: 8:00AM - 5:30PM
Friday: 8:00AM - 5:30PM
Self-parking is available in Cedars-Sinai parking lot P4. The cost is: 1st hour free, $5 each hour thereafter and $15 daily maximum. Valet parking is the same price as self-parking. Gratuities are not accepted. Valet is available at lot P4 Pavilion M-F, 5 a.m.-10 p.m.
Experience
Specialties
Area in which a healthcare provider is highly trained and often board certified.
1
Programs
Cedars-Sinai clinical programs this provider is part of:
4
Research Areas
Education & Training
City of Hope Comprehensive Cancer Center

Fellowship - Completed 2015

Cedars-Sinai

Residency - Completed 2013

Cedars-Sinai

Internship - Completed 2012

New York Medical College

Medical School - Completed 2008
Achievements
3

Board Certifications

6

Awards and Honors
Board Certifications
IM/Hematology

American Board of Internal Medicine

General Internal Medicine

American Board of Internal Medicine

IM/Oncology

American Board of Internal Medicine
Awards and Honors
NCCN Oncology Fellows Program
Merit Scholarship, New York Medical College
Best Abstract Award, University of Southern California Research Center for Alcoholic Liver and Pancreatic Diseases and Cirrhosis 9th Annual Symposium
Young Investigator's Think Tank, 15th International Kidney Cancer Symposium, Kidney Cancer Association
ASCO/AACR Workshop on Methods in Clinical Cancer Research
Travel Award, 15th International Kidney Cancer Symposium, Kidney Cancer Association
Publications
Lugea A, Gong J, Nguyen J, Nieto J, French SW, Pandol SJ. Cholinergic mediation of alcohol-induced experimental pancreatitis. Alcohol Clin Exp Res. 2010 Oct;34(10):1768-1781.
Lugea A, Tischler D, Nguyen J, Gong J, Gukovsky I, French SW, Gorelick FS, Pandol SJ. Adaptive unfolded protein response attenuates alcohol-induced pancreatic damage. Gastroenterology. 2011 Mar;140(3):987-997.
Gong J, Chen Y, Yang L, Pillai R, Shirasawa S, Fakih M. MEK162 Enhances Antitumor Activity of 5-Fluorouracil and Trifluridine in KRAS-mutated Human Colorectal Cancer Cell Lines. Anticancer Res. 2017 Jun;37(6):2831-2838.
Cho M1 Gong J, Frankel P, Synold TW, Lim D, Chung V, Chao J, Li D, Chen Y, Sentovich S, et al. A phase I clinical trial of binimetinib in combination with FOLFOX in patients with advanced metastatic colorectal cancer who failed prior standard therapy. Oncotarget. 2017 Jul 18;8(45):79750-79760.
Gong J, Omlin A, Pal SK, Hsu J, Tombal B, Sydes MR, Gillessen S. Influence of an International Consensus Conference on Practice Patterns in Advanced Prostate Cancer. Eur Urol. 2018 Aug;74(2):239-240.
Wang C, Gong J, Tu TY, Lee PP, Fakih M. Immune profiling of microsatellite instability-high and polymerase ε (POLE)-mutated metastatic colorectal tumors identifies predictors of response to anti-PD-1 therapy. J Gastrointest Oncol. 2018 Jun;9(3):404-415.
Insurances
Before scheduling your appointment, we strongly recommend you contact your insurance company to verify that the Cedars-Sinai location or provider is included in your network.
Insurances
Insurances
3

3

4

3

1

2

3

1

1

3

2

1

1

2

3

4