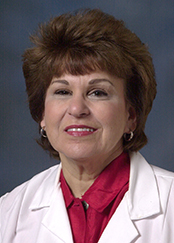 Joyce N. Fox, MD
Accepting New Patients
Locations
Dermatology
34.067173
-118.376632
Dermatology
Monday: 8:00AM - 5:00PM
Tuesday: 8:00AM - 5:00PM
Wednesday: 8:00AM - 5:00PM
Thursday: 8:00AM - 5:00PM
Friday: 8:00AM - 5:00PM
1/2 block North of Wilshire Blvd. next to the Stinking Rose restaurant. Parking is available in the underground parking structure. There is some street parking in front of the building but please observe the posted street signs. No validation available.
Experience
Specialties
Area in which a healthcare provider is highly trained and often board certified.
1
Programs
Cedars-Sinai clinical programs this provider is part of:
3
Education & Training
Los Angeles County Hospital/University of Southern California Medical Center- Dermatology

Residency - Completed 1976

Mercy Hospital and Medical Center- Rotating Medicine

Internship - Completed 1973

University of Miami School of Medicine

Medical School - Completed 1972
Achievements
1

Board Certifications

12

Awards and Honors
Board Certifications
Dermatology

American Board of Dermatology
Awards and Honors
Board Member- American Academy of Dermatology
Member- Society for Pediatric Dermatology
Recipient- Certificate of Merit, American Cancer Society
President- Los Angeles Academy of Medicine
Board Member - Sun Safety For Kids
Member- California Dermatology Society
Chairman- California Medical Association Dermatology Section
Member- American Academy of Dermatology
Clinicial Instructor- Los Angeles Children's Hospital
Member- Pacific Dermatologic Association
Member- National Leaders Society
Assistant Clinical Professor- University of California, Los Angeles Davide Geffen School of Medicine Department of Dermatology
Insurances
Before scheduling, we recommend checking with your insurance plan to see if an authorization is required to see this doctor. Primary Care Physicians (adult and pediatrics) do not require prior approval.