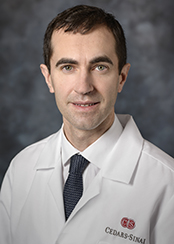 Jon Mallen-St. Clair, MD, PhD
Locations
Ear, Nose & Throat
34.074031
-118.380732
Ear, Nose & Throat
Monday: 8:00AM - 4:30PM
Tuesday: 8:00AM - 4:30PM
Wednesday: 8:00AM - 4:30PM
Thursday: 8:00AM - 4:30PM
Friday: 8:00AM - 4:30PM
Saturday: 8:00AM - 3:30PM
Medical Offices West is located at 8635 W. 3rd Street between Sherbourne Drive and George Burns Road. Self-parking is available in the Medical Offices West parking lot, located on George Burns Road between West 3rd Street and Gracie Allen Drive. Validation is not provided. Building entries are located on Street Level and Plaza Level. Once inside, take the Medical Offices West elevators to your desired destination. For parking rates and hours of operation, please visit cedars-sinai.org/parking
Ear, Nose & Throat
34.074031
-118.380732
Ear, Nose & Throat
Monday: 8:00AM - 4:30PM
Tuesday: 8:00AM - 4:30PM
Wednesday: 8:00AM - 4:30PM
Thursday: 8:00AM - 4:30PM
Friday: 8:00AM - 4:30PM
Saturday: 8:00AM - 3:30PM
Medical Offices East is located at 8631 W. 3rd Street between Sherbourne Drive and George Burns Road. Self-parking is available in the Medical Offices East parking lot, located on Sherbourne Drive between West 3rd Street and Gracie Allen Drive. Validation is not provided. Building entries are located on Street Level and Plaza Level. Once inside, take the Medical Offices East elevators to your desired destination. For parking rates and hours of operation, please visit cedars-sinai.org/parking
Radiation Oncology - Tarzana
34.166337
-118.528248
Radiation Oncology - Tarzana
Monday: 7:30AM - 4:00PM
Tuesday: 7:30AM - 4:00PM
Wednesday: 7:30AM - 4:00PM
Thursday: 7:30AM - 4:00PM
Friday: 7:30AM - 4:00PM
Parking is located for a fee on site. Two entrances on Venture Blvd. Cross streets are Lindley Avenue and Garden Grove Avenue.
Marina del Rey
33.9803656
-118.4400862
Santa Monica
34.0286681
-118.4803611
Experience
Specialties
Area in which a healthcare provider is highly trained and often board certified.
1
Sub Specialties
A focused area of clinical knowledge and skills within a specialty. Example: a neurology specialist focused on stroke treatment.
1
Programs
Cedars-Sinai clinical programs this provider is part of:
9
Research Areas
Education & Training
University of California, San Francisco

Fellowship - Completed 2017

University of California, Los Angeles

Residency - Completed 2016

New York University School of Medicine

Medical School - Completed 2011
Achievements
1

Board Certifications

1

Awards and Honors
Board Certifications
Otolaryngology

American Board of Otolaryngology
Awards and Honors
Assistant Professor, Department of Surgery
Insurances
Before scheduling your appointment, we strongly recommend you contact your insurance company to verify that the Cedars-Sinai location or provider is included in your network.
Insurances
Insurances
3

3

4

3

1

2

3

1

1

3

2

1

1

2

3

4