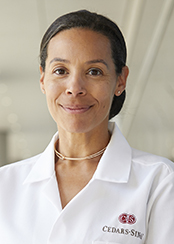 Locations
Smidt Heart Institute
34.074653
-118.378972
Smidt Heart Institute
Monday: 8:00AM - 5:00PM
Tuesday: 8:00AM - 5:00PM
Wednesday: 8:00AM - 5:00PM
Thursday: 8:00AM - 5:00PM
Friday: 8:00AM - 5:00PM
Self-parking is available in Cedars-Sinai parking lot P4. The cost is: 1st hour free, $5 each hour thereafter and $15 daily maximum. Valet parking is the same price as self-parking. Gratuities are not accepted. Valet is available at lot P4 Pavilion M-F, 5 a.m.-10 p.m.
Experience
Specialties
Area in which a healthcare provider is highly trained and often board certified.
1
Programs
Cedars-Sinai clinical programs this provider is part of:
6
Research Areas
Titles
The Irina and George Schaeffer Distinguished Chair

,

Cardiac Surgery

Chair

,

Cardiac Surgery
Education & Training
Cardiac Surgery, Mount Sinai Medical Center, New York

Fellowship - Completed 2008

Cardiothoracic Surgery, Royal Brompton & Harefield Hospitals, London

Residency - Completed 2006

General Surgery, Cambridge University Hospitals

Residency - Completed 2000

Oxford University School of Medicine

Medical School - Completed 1997
Awards and Honors
Solomon Silver Award in Clinical Medicine, Icahn School of Medicine at Mount Sinai
Thoracic Surgery Foundation for Research and Education Award
Cardiac Surgery Scholarship, Society of Cardiothoracic Surgeons of Great Britain & Ireland
Research Supervisor, Dr. Harold Lamport Biomedical Research Prize
Nina Braunward Visiting Professor, Harvard Medical School
Bergquist Reed Memorial Lectureship, Providence Portland Medical Center, Oregon
Alpha Omega Alpha Visiting Professor, Icahn School of Medicine at Mount Sinai
Hedwig van Ameringen Fellow, Executive Leadership in Academic Medicine
Publications
Chikwe J, Lee T, Itagaki S, Adams DH, Egorova NN. Reply: Off-Pump Surgeons' Experience Is Paramount to Delivering High-Quality CABG Outcomes: But What Constitutes Experience? J Am Coll Cardiol. 2019 Feb 19;73(6):738-739.
Chikwe J, Lee T, Itagaki S, Adams DH, Egorova NN. Long-Term Outcomes After Off-Pump Versus On-Pump Coronary Artery Bypass Grafting by Experienced Surgeons.J Am Coll Cardiol. 2018 Sep 25;72(13):1478-1486.
Chikwe J, Blackstone EH, Adams DH. Prosthesis Type for Aortic- and Mitral-Valve Replacement. N Engl J Med. 2018 Feb 22;378(8):778.
Hannan EL, Samadashvili Z, Smith CR, Lahey SJ, Gold JP, Jordan D, Sundt TM 3rd, Girardi L, Ashraf MH, Chikwe J. Mitral valve repair versus replacement for patients with preserved left ventricular function without heart failure symptoms. J Thorac Cardiovasc Surg. 2019 Apr;157(4):1432-1439.e2.
Samadashvili Z, Sundt TM 3rd, Wechsler A, Chikwe J, Adams DH, Smith CR, Jordan D, Girardi L, Lahey SJ, Gold JP, Ashraf MH, Hannan EL. Multiple Versus Single Arterial Coronary Bypass Graft Surgery for Multivessel Disease. J Am Coll Cardiol. 2019 Sep 10;74(10):1275-1285.
Chikwe J, Sun E, Hannan EL, Itagaki S, Lee T, Adams DH, Egorova NN. Impact of a second arterial conduit in multivessel coronary bypass grafting: long-term clinical and angiographic outcomes. J Am Coll Cardiol. 2019.
Insurances
Before scheduling your appointment, we strongly recommend you contact your insurance company to verify that the Cedars-Sinai location or provider is included in your network.
Insurances
Insurances
3

3

4

3

1

2

3

1

1

3

2

1

1

2

3

4