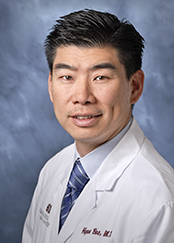 Hyun W. Bae, MD
Accepting New Patients
Locations
Cedars-Sinai Spine Center
34.069847
-118.375276
Cedars-Sinai Spine Center
Monday: 8:00AM - 5:00PM
Tuesday: 8:00AM - 5:00PM
Wednesday: 8:00AM - 5:00PM
Thursday: 8:00AM - 5:00PM
Friday: 8:00AM - 5:00PM
The Cedars-Sinai Spine Center is located within the Mark Goodson Building at 444 S. San Vicente Blvd., Los Angeles, CA 90048. Self-parking is available via the parking garage entrance on Colgate Street. Validation is not available. For all parking rate information and discounted tickets, please visit cedars-sinai.org/patients-visitors/map.html.
Santa Monica
34.0379064
-118.4753998
Experience
Specialties
Area in which a healthcare provider is highly trained and often board certified.
1
Programs
Cedars-Sinai clinical programs this provider is part of:
2
Clinical Expertise
Area in which a healthcare provider has additional training or expertise.
5
Artificial Disc Replacement
Back Pain
Minimally Invasive Spine Surgery
Motion Preservation Surgery
Navigated and Robotic Surgery
Research Areas
Titles
Co-Medical Director

,

Spine Education

Professor

,

Surgery

Professor

,

Orthopaedics
Education & Training
University Hospitals of Cleveland

Fellowship - Completed 2001

Hospital for Special Surgery

Residency - Completed 2000

North Shore University Hospital

Internship - Completed 1996

Yale School of Medicine

Medical School - Completed 1995
Achievements
1

Board Certifications

14

Awards and Honors
Board Certifications
Orthopaedics

American Board of Orthopedic Surgery
Awards and Honors
Spine Arthroplasty Society Outstanding Paper Award
Cum Laude, Yale School of Medicine
Scoliosis Research Society Outstanding Poster Award
Cervical Research Society
Orthopaedic Research Program Translational Research Partnership Award
CIRM TR2-01780 Grant "Systemic Adult Cell Therapy for Osteoporosis-Related Vertebral Compression Fractures"
Scoliosis Research Society Outstanding Basic Science Paper Award
North American Spine Society Outstanding Paper Award
North American Spine Society Research Grant
CIRM DR2-05288 Grant "Genetically Engineered Mesenchymal Stem Cells For The Treatment of Vertebral Compression Fractures
International Society for the Advancement of Spine Outstanding Clinical Paper Award
Cervical Spine Research Society Basic Science Grant Award
National Institute of Health Grant
North American Spine Society
Publications
Rajaee SS, Kanim LE, Bae HW. National trends in revision spinal fusion in the USA: patient characteristics and complications. Bone Joint J. 2014 Jun;96-B(6):807-816.
Patel VV, Zhao L, Wong P, Pradhan BB, Bae HW, Kanim L, Delamarter RB. An in vitro and in vivo analysis of fibrin glue use to control bone morphogenetic protein diffusion and bone morphogenetic protein-stimulated bone growth. Spine J. 2006 Jul-Aug;6(4):397-403.
Bae HW, Zhao L, Kanim LE, Wong P, Marshall D, Delamarter RB. Bone marrow enhances the performance of rhBMP-2 in spinal fusion: a rodent model. J Bone Joint Surg Am. 2013 Feb 20;95(4):338-347.
Bae HW, Zhao L, Kanim LE, Wong P, Delamarter RB, Dawson EG. Intervariability and intravariability of bone morphogenetic proteins in commercially available demineralized bone matrix products. Spine (Phila Pa 1976). 2006 May 20;31(12):1299-1306.
Bae HW, Strenge KB, Ashraf N, Badura JM, Peckham SM, McKay WF. Transient soft-tissue edema associated with implantation of increasing doses of rhBMP-2 on an absorbable collagen sponge in an ectopic rat model. J Bone Joint Surg Am. 2012 Oct 17;94(20):1845-1852.
Bae H, Zhao L, Zhu D, Kanim LE, Wang JC, Delamarter RB. Variability across ten production lots of a single demineralized bone matrix product. J Bone Joint Surg Am. 2010 Feb;92(2):427-435.