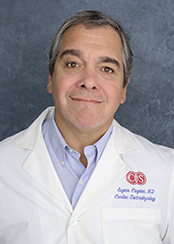 Eugenio Cingolani, MD
IM Cardiology
,
Cardiac Electrophysiology
310-248-6679
Fax: 310-423-6795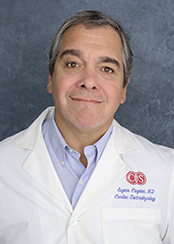 Eugenio Cingolani, MD
IM Cardiology
,
Cardiac Electrophysiology
Scheduling
In person visits
Smidt Heart Institute
127 S San Vicente Blvd #A3600
Los Angeles, CA
34.074653
-118.378972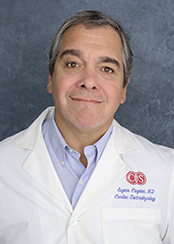 Eugenio Cingolani, MD
IM Cardiology
,
Cardiac Electrophysiology
Back to Top
Locations
Smidt Heart Institute
34.074653
-118.378972
Smidt Heart Institute
Monday: 8:00AM - 5:00PM
Tuesday: 8:00AM - 5:00PM
Wednesday: 8:00AM - 5:00PM
Thursday: 8:00AM - 5:00PM
Friday: 8:00AM - 5:00PM
---
Self-parking is available in Cedars-Sinai parking lot P4. The cost is: 1st hour free, $5 each hour thereafter and $15 daily maximum. Valet parking is the same price as self-parking. Gratuities are not accepted. Valet is available at lot P4 Pavilion M-F, 5 a.m.-10 p.m.
Experience
Specialties
Area in which a healthcare provider is highly trained and often board certified.
2
IM Cardiology
Cardiac Electrophysiology
Programs
Cedars-Sinai clinical programs this provider is part of:
4
Research Areas
Eugenio Cingolani,MD is Director of the Cardiogenetics-Familial Arrhythmia Clinic at Clinical Cardiac Electrophysiology Section of the Cedars-Sinai Heart Institute. He is board certified in internal medicine and cardiovascular disease. Dr. Cingolani's research and clinical practice focus on heart rhythm disorders and electrophysiology. His clinical interests are focused on familial arrhythmia syndromes (such as Brugada syndrome, Long QT syndrome, ARVD, idiopathic ventricular fibrillation), pacemaker and ICD implantation and catheter ablation for cardiac arrhythmias.He has been involved in multiple research projects, investigating basic mechanism of arrhythmias and developing novel therapies for heart rhythm disorders. He has authored multiple peer-reviewed publications in the field and his work has been presented at national cardiology and cardiac electrophysiology meetings. In addition to being a member of the American Heart Association, Dr. Cingolani is a member of the Cardiac Electrophysiological Society, the Heart Rhythm Society, and the Biophysical Society. As a member of the Heart Rhythm Society Communications Committee, he is actively involved in educational campaigns at the national level. Dr. Cingolani earned his medical degree from the University of La Plata - School of Medicine in Argentina. He completed his residency training in internal medicine at CEMIC University Hospital in Buenos Aires, where he served as chief resident. Dr. Cingolani followed his residency with a postdoctoral fellowship in molecular cardiology and cellular electrophysiology at the Johns Hopkins University School of Medicine, where he also completed an internal medicine residency. He went on to complete a fellowship in cardiovascular disease and subspecialty training in clinical cardiac electrophysiology at Cedars-Sinai.
Titles
Director

,

Preclinical Research

Director

,

Cardiogenetics Program

Associate Professor

,

Cardiology
Education & Training
Cedars Sinai Medical Center

Fellowship - Completed 2012

Johns Hopkins University School of Medicine

Residency - Completed 2008

CEMIC, Buenos Aires

Residency - Completed 2003

University of La Plata, Argentina

Medical School - Completed 1999
Board Certifications
IM/Cardiology

American Board of Internal Medicine

General Internal Medicine

American Board of Internal Medicine