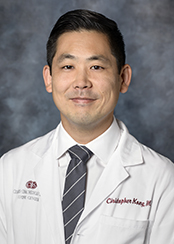 Locations
Cedars-Sinai Spine Center
34.069847
-118.375276
Cedars-Sinai Spine Center
Monday: 8:00AM - 5:00PM
Tuesday: 8:00AM - 5:00PM
Wednesday: 8:00AM - 5:00PM
Thursday: 8:00AM - 5:00PM
Friday: 8:00AM - 5:00PM
The Cedars-Sinai Spine Center is located within the Mark Goodson Building at 444 S. San Vicente Blvd., Los Angeles, CA 90048. Self-parking is available via the parking garage entrance on Colgate Street. Validation is not available. For all parking rate information and discounted tickets, please visit cedars-sinai.org/patients-visitors/map.html.
Experience
Specialties
Area in which a healthcare provider is highly trained and often board certified.
1
Sub Specialties
A focused area of clinical knowledge and skills within a specialty. Example: a neurology specialist focused on stroke treatment.
1
Programs
Cedars-Sinai clinical programs this provider is part of:
2
Education & Training
Cedars-Sinai Medical Center

Fellowship - Completed 2017

Oregon Health & Science University Hospital

Fellowship - Completed 2016

University of British Columbia

Residency - Completed 2015

University of Western Ontario

Medical School - Completed 2010
Board Certifications
Orthopaedics

American Board of Orthopedic Surgery
Publications
Measuring Temperature and Force Outcomes with Three Different Bone-Cutting Saws
Arthroscopy Assisted Closed Reduction and Percutaneous Nail Fixation of Unstable Ankle Fractures: Description of a Minimally Invasive Procedure
A Prospective Evaluation of Hemodynamic Management in Acute Spinal Cord Injury Patients
Early Outcome and Predictors of Early Outcome in Patients Treated Surgically for Central Cord Syndrome
Fluoroscopy Guided Reduction and Fibular Nail Fixation to Manage Unstable Ankle Fractures in Patients with Diabetes: A Retrospective Cohort Study
Patient Satisfaction after Adult Spinal Deformity Surgery Does Not Strongly Correlate with Health-Related Quality of Life Scores, Radiographic Parameters or Occurrence of Complications
A Staged Protocol for Circumferential Minimally Invasive Surgical Correction of Adult Spinal Deformity
Proximal Junctional Kyphosis: Inter- and Intraobserver Reliability of Radiographic Measurements in Adult Spinal Deformity