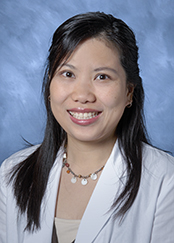 Celia Kong, PA-C
Dermatology
,
Physician Assistant
Accepting New Patients
Locations
Dermatology
34.067173
-118.376632
Dermatology
Monday: 8:00AM - 5:00PM
Tuesday: 8:00AM - 5:00PM
Wednesday: 8:00AM - 5:00PM
Thursday: 8:00AM - 5:00PM
Friday: 8:00AM - 5:00PM
1/2 block North of Wilshire Blvd. next to the Stinking Rose restaurant. Parking is available in the underground parking structure. There is some street parking in front of the building but please observe the posted street signs. No validation available.
Experience
Specialties
Area in which a healthcare provider is highly trained and often board certified.
2
Dermatology
Physician Assistant
Programs
Cedars-Sinai clinical programs this provider is part of:
2
Insurances
Before scheduling, we recommend checking with your insurance plan to see if an authorization is required to see this doctor. Primary Care Physicians (adult and pediatrics) do not require prior approval.