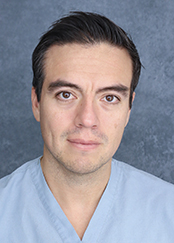 Carlos A. Uquillas, MD
Accepting New Patients
Guerin Children's Provider
This provider practices at Guerin Children's . Learn more.
Experience
Specialties
Area in which a healthcare provider is highly trained and often board certified.
1
Sub Specialties
A focused area of clinical knowledge and skills within a specialty. Example: a neurology specialist focused on stroke treatment.
2
Pediatric Orthopaedics
Sports Medicine
Programs
Cedars-Sinai clinical programs this provider is part of:
3
Clinical Expertise
Area in which a healthcare provider has additional training or expertise.
5
Adolescent Sports Medicine 
Knee Ligament Injuries
Meniscus and Cartilage Restoration
Overhead Throwing Athlete
Shoulder Instability 
Titles
Co-Director

,

Fellowship Research
Education & Training
Children's Hospital, Los Angeles

Fellowship - Completed 2017

Kerlan-Jobe Orthopaedic Clinic

Fellowship - Completed 2016

New York University Langone Medical Center / Hospital for Joint Diseases

Residency - Completed 2015

Stanford University School of Medicine

Medical School - Completed 2010
Achievements
2

Board Certifications

9

Awards and Honors
Board Certifications
Orthopaedics

American Board of Orthopedic Surgery

Orthopaedic Sports Medicine

American Board of Orthopedic Surgery
Awards and Honors
L.A.'s Top Doctors Orthopedic Surgery, Los Angeles Magazine
Member- American Academy of Orthopaedic Surgeons
Member- Arthroscopy Associations of North America
Director Sports Medicine, Shriner's Hospitals Pasadena
Kerlan Jobe Fellowship Orthopedic Sports Medicine Faculty
Super Doctors, Rising Stars, Orthopaedic Surgery (Pediatric)
L.A.'s Top Doctors Sports Medicine, Los Angeles Magazine
Cedars Sinai Orthopedic Residency Faculty
Member- American Orthopaedic Society for Sports Medicine
Insurances
Before scheduling, we recommend checking with your insurance plan to see if an authorization is required to see this doctor. Primary Care Physicians (adult and pediatrics) do not require prior approval.