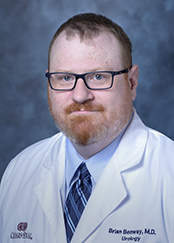 Brian M. Benway, MD
Accepting New Patients
Locations
Urology - Third
34.07402
-118.380782
Urology - Third
8635 W. 3rd St.
Medical Offices West, Suite 1070 West
Los Angeles, CA 90048
Get Directions
Monday: 8:00AM - 5:00PM
Tuesday: 8:00AM - 5:00PM
Wednesday: 8:00AM - 5:00PM
Thursday: 8:00AM - 5:00PM
Friday: 8:00AM - 5:00PM
Medical Offices West is located at 8635 W. 3rd Street between Sherbourne Drive and George Burns Road.

Self-parking is available in the Medical Offices West parking lot, located on George Burns Road between West 3rd Street and Gracie Allen Drive. Validation is not provided.

Building entries are located on Street Level and Plaza Level. Once inside, take the Medical Offices West elevators to your desired destination.

For parking rates and hours of operation, please visit cedars-sinai.org/parking
Experience
Specialties
Area in which a healthcare provider is highly trained and often board certified.
1
Programs
Cedars-Sinai clinical programs this provider is part of:
5
Living Donor Kidney Transplant
Research Areas
Titles
Associate Professor

,

Surgery
Education & Training
Washington University/Barnes-Jewish Hospital

Fellowship - Completed 2010

University of Wisconsin Hospital and Clinics

Residency - Completed 2008

Indiana Univeristy School of Medicine

Medical School - Completed 2003

Princeton University

Degrees - Completed 1999
Board Certifications
Urology

American Board of Urology
Publications
Potretzke, AM, Knight, BA, Brockman, JA, Vetter, J, Figenshau, RS, Bhayani, SB, Benway, BM. The role of the assistant during robot-assisted partial nephrectomy: does experience matter? J Robot Surg, 2016;10:129-34
Heningburg, AM, Mohapatra, A, Potretzke, AM, Park, A, Paradis, AG, Vetter, J, Kuxhausen, AN, McIntosh, LD, Juehne, A, Desai, AC, Andriole, GL, Benway, BM. Electronic nutritional intake assessment in patients with urolithiasis: a decision impact analysis. Investig Clin Urol, 2016;57;196-201
Potretzke, AM, Mohapatra, A, Benway, BM. Transmesenteric robot-assisted pyeloplasty in adults with horseshoe kidney: illustration of technique. Int Braz J Urol, 2016;42:626-7
Benway, BM, Bhayani, SB, Rogers, CG, Porter, JR, Buffi, NM, Figenshau, RS, and Mottrie, A. Robot-assisted partial nephrectomy: an international experience. European Urology, 2010;57:815-820
Benway, BM, Wang, AJ, Cabello, JM, and Bhayani, SB. Robotic partial nephrectomy with sliding-clip renorrhaphy: technique and outcomes. European Urology 2009;55:592-599
Benway, BM, Rogers, CG, Dulabon, L, Bhayani, SB, Patel, M, Lipkin, M, Wang, AJ, and Stifelman, MD. Robot Assisted partial nephrectomy versus laparoscopic partial nephrectomy: a multi-institutional analysis of perioperative outcomes. Journal of Urology 2009;182:866-872
Insurances
Before scheduling your appointment, we strongly recommend you contact your insurance company to verify that the Cedars-Sinai location or provider is included in your network.
Insurances
Insurances
3

3

4

3

1

2

3

1

1

3

2

1

1

2

3

4