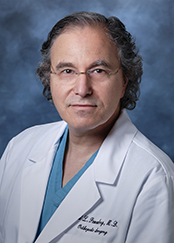 Locations
Beverly Hills
34.0662882
-118.4085184
Experience
Specialties
Area in which a healthcare provider is highly trained and often board certified.
1
Sub Specialties
A focused area of clinical knowledge and skills within a specialty. Example: a neurology specialist focused on stroke treatment.
1
Programs
Cedars-Sinai clinical programs this provider is part of:
2
Education & Training
Jacobi Medical Center

Residency - Completed 1979

George Washington University

Medical School - Completed 1978
Board Certifications
Orthopaedics

American Board of Orthopedic Surgery

Orthopedics

American Board of Orthopedic Surgery
Insurances
Before scheduling your appointment, we strongly recommend you contact your insurance company to verify that the Cedars-Sinai location or provider is included in your network.
Insurances
Insurances
2

1

2

1

1

2

1

1

1

2

1

1

2

3

2