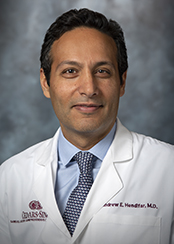 Andrew E. Hendifar, MD
Accepting New Patients
Locations
Pancreatic Cancer Screening and Early Detection Program
34.075676
-118.380808
Pancreatic Cancer Screening and Early Detection Program
8720 Beverly Blvd., Beverly Building, Lower Level
Los Angeles, CA
Get Directions
Monday: 9:00AM - 4:00PM
Tuesday: 9:00AM - 4:00PM
Wednesday: 9:00AM - 4:00PM
Thursday: 9:00AM - 4:00PM
Friday: 9:00AM - 4:00PM
Beverly Building is located at 8720 Beverly Blvd. between George Burns Road and San Vicente Boulevard. Valet parking and limited self-parking are available in the Beverly Building Parking lot, located on Beverly Boulevard between George Burns Road and San Vicente Boulevard. Additional self-parking is available in the North Tower and Spielberg Parking lots. Enter the building, take the Beverly Building elevators down to the Lower Level and find your destination. For parking rates and hours of operation, please visit cedars-sinai.org/parking
Samuel Oschin Cancer Center
34.074713
-118.379418
Samuel Oschin Cancer Center
127 S. San Vicente Blvd., Pavilion, 7th Floor
Los Angeles, CA
Get Directions
Monday: 8:00AM - 5:30PM
Tuesday: 8:00AM - 5:30PM
Wednesday: 8:00AM - 5:30PM
Thursday: 8:00AM - 5:30PM
Friday: 8:00AM - 5:30PM
avilion is located at 127 S. San Vicente Boulevard between West 3rd Street and Gracie Allen Drive. Valet parking and self-parking are available in the Pavilion Parking lot, located on Sherbourne Drive between West 3rd Street and Gracie Allen Drive. Park in the Gold Zone (Levels B2 and B3) and take the Gold Parking elevators to the Plaza Level. Follow the signs for the Pavilion elevators, and take the elevator up to your destination. For parking rates and hours of operation, please visit cedars-sinai.org/parking .
Experience
Specialties
Area in which a healthcare provider is highly trained and often board certified.
1
Programs
Cedars-Sinai clinical programs this provider is part of:
7
Research Areas
Titles
Co-Director

,

Hematology/Oncology Fellowship Program

Associate Professor of Medicine

,

Cedars-Sinai

Medical Director

,

Pancreatic Cancer
Education & Training
University of Southern California

Fellowship - Completed 2010

Los Angeles County + USC Medical Center

Residency - Completed 2007

Los Angeles County + USC Medical Center

Internship - Completed 2006

Tulane University School of Medicine

Medical School - Completed 2003
Achievements
2

Board Certifications

7

Awards and Honors
Board Certifications
IM/Hematology

American Board of Internal Medicine

IM/Oncology

American Board of Internal Medicine
Awards and Honors
Super Doctors
Member, Neuroendocrine Tumors Task Force (NET TF) of the National Cancer Institute (NCI) Gastrointestinal Steering Committee
Steering Committee Member, Precision Promise Clinical Trial Consortium
Course Director, LACNETS & CFCF Annual Neuroendocrine Tumor Patient & Caregiver Educational Conference
Course Director, Gastrointestinal Cancer Conference
Supportive Care Medicine Chair, Precision Promise Consortium, Pancreatic Cancer Action Network
Editorial Board: Journal of Pancreatology
Publications
Insurances
Before scheduling, we recommend checking with your insurance plan to see if an authorization is required to see this doctor. Primary Care Physicians (adult and pediatrics) do not require prior approval.