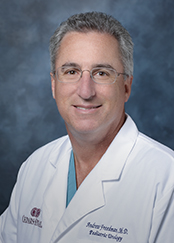 Andrew L. Freedman, MD
310-423-4700
Fax: 310-423-4711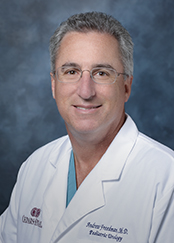 Scheduling
In person visits
Urology - Third
8635 W Third St #1070W
Los Angeles, CA
34.07402
-118.380782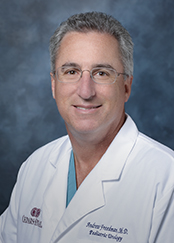 Back to Top
Locations
Urology - Third
34.07402
-118.380782
Urology - Third
310-423-4700
310-423-4711 (Fax)
Monday: 8:00AM - 5:00PM
Tuesday: 8:00AM - 5:00PM
Wednesday: 8:00AM - 5:00PM
Thursday: 8:00AM - 5:00PM
Friday: 8:00AM - 5:00PM
---
Validation will be provided to patients who park in Lot 4 (off of Third St. and Sherbourne Drive).
Los Angeles
34.076992
-118.3861
Los Angeles
310-423-2641
310-423-0234 (Fax)
Experience
Specialties
Area in which a healthcare provider is highly trained and often board certified.
1
Sub Specialties
A focused area of clinical knowledge and skills within a specialty. Example: a neurology specialist focused on stroke treatment.
1
Programs
Cedars-Sinai clinical programs this provider is part of:
7
Research Areas
The research of Andrew Freedman, MD, focuses on prenatal evaluation and treatment of obstructive uropathy, urinary tract reconstruction in children with neurogenic incontinence, and minimally invasive techniques in pediatric urology.
Titles
Director

,

Pediatric Urology Program in the Minimally Invasive Urology Institute

Vice Chair

,

Surgery

Walter and Shirley Wang Chair

,

Pediatric Surgery

Professor

,

Surgery
Education & Training
Children's Hospital of Michigan

Fellowship - Completed 1996

UCLA

Residency - Completed 1994

UCLA

Internship - Completed 1990

Northwestern University

Medical School - Completed 1988
Achievements
2

Board Certifications

5

Awards and Honors

7

Publications
Board Certifications
Urology

American Board of Urology

Pediatric Urology

American Board of Urology
Awards and Honors
Society for Fetal Urology
Certificate of Added Qualification in Pediatric Urology, American Board of Urology
American Urological Association
Society for Pediatric Urology
American Academy of Pediatric
Publications
A full list of this provider's research publications can be found on their research profile or PubMed.
Freedman AL. Task Force on Circumcision: Technical Report: Male circumcision. PEDIATRICS Volume 130, Number 3, September 2012
Johnson MP, Freedman AL. Fetal uropathy. Curr Opin Obstet Gynecol. 1999;11(2):185-194.
Freedman AL, Qureshi F, Shapiro E, Lepor H, Jacques SM, Evans MI, Smith CA, Gonzalez R, Johnson MP. Smooth muscle development in the obstructed fetal bladder. Urology. 1997;49(1):104-107.
Freedman AL, Johnson MP, Smith CA, Gonzalez R, Evans MI. Long-term outcome in children after antenatal intervention for obstructive uropathies. Lancet. 1999;354(9176):374-377.
Freedman AL, Johnson MP, Gonzalez R. Fetal therapy for obstructive uropathy: past, present.future?. Pediatr Nephrol. 2000;14(2):167-176.
Freedman AL, Bukowski TP, Smith CA, Evans MI, Berry SM, Gonzalez R, Johnson MP. Use of urinary beta-2-microglobulin to predict severe renal damage in fetal obstructive uropathy. Fetal Diagn Ther. 1997;12(1):1-6.
Freedman AL. Urologic diseases in North America Project: trends in resource utilization for urinary tract infections in children. J Urol. 2005;173(3):949-954.